Set Details
Set '90'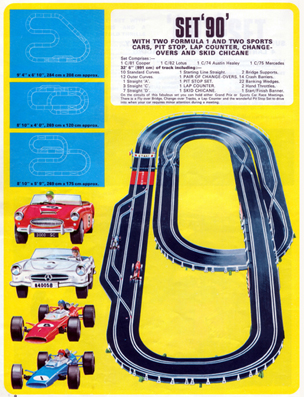 Years Released: 1966 1967 (Item Year pages)
Item released for 2 years.
Item:
Set '90'
Information:
---
Category:
Sets

Category Details:
Scalextric sets from all eras.
Logo & Box Style:

1966
1967
Set Year Details
(2)
Set Items
(4)
Set Year Information
YEAR
INFORMATION
1967
WITH TWO FORMULA 1 AND TWO SPORTS CARS, PIT STOP, LAP COUNTER, CHANGE-OVERS AND SKID CHICANE
Set Comprises:
1 C/81 Cooper
1 C/82 Lotus
1 C/74 Austin Healey
1 C/75 Mercedes
36' 6" (991 cm) of track including:
10 Standard Curves
12 Outer Curves
1 Straight "A"
3 Straight "C"
7 Straight "D"
1 Starting Line Straight
1 PAIR OF CHANGE-OVERS
1 PIT STOP SET
1 LAP COUNTER
1 SKID CHICANE
2 Bridge Supports
14 Crash Barriers
22 Banking Wedges
2 Hand Throttles
1 Start/Finish Banner
On the circuits of this fabulous set you can hold either Grand Prix or Sports Car Race Meetings. There is Fly-over Bridge, Change-over Tracks, a Lap Counter and the wonderful Pit Stop Set to drive into when your car requires minor attention during a meeting.
Service Sheets
(0)
| SHEET NO | SERVICE SHEET NAME | ISSUE DATE |
| --- | --- | --- |
Catalogue Images
(2)
Set '90' on ebay UK

Search For: 'scalextric 90 set'
Ending Soonest
Set '90' on ebay US

Search For: 'scalextric 90 set'
Ending Soonest
Set '90' on ebay Australia

Search For: 'scalextric 90 set'
Ending Soonest