Set Details
Road Racing Set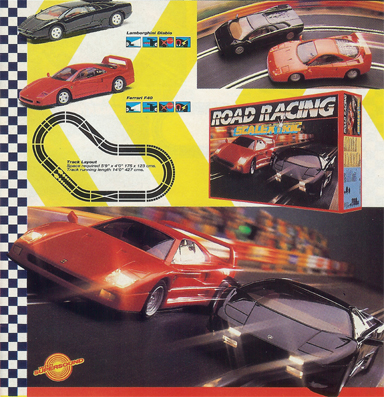 Years Released: 1992 1993 1994 (Item Year pages)
Item released for 3 years.
Item:
Road Racing Set
Information:
---
Category:
Sets

Category Details:
Scalextric sets from all eras.
Logo & Box Style:

1992
1993
1994
Set Year Details
(3)
Set Items
(2)
Set Year Information
YEAR
INFORMATION
1992
Mains Power Pack included.
Unofficial road racing as depicted in many films is illegal in the USA but this does not stop the determined drivers who wish to prove that their super cars are superior to any other on the road.
The sinister black Lamborghini Diablo is challenged by the superb Ferrari F40 on this simple but effective circuit. Both cars are fitted with headlights, brakelights and Magnatraction.
The changeover tracks provide an interesting challenge for the skilled driver who can either 'cut off' his opponent or drive him off the track. Near misses abound at the cars ran at break-neck speeds around the banked curves situated at one end at the circuit.
1993
Contents: Mains Power Pack Included.
Supersound Unit. Requires 2 x Ever Ready HP7 batteries (not included).
The 'gauntlet' is thrown down and tho challenge is accepted. One driver climbs into his Lamborghini Diablo while the other settles himself into the drivers seat of the Ferrari F40. Which car is the fastest? There can only be one winner.
The scenario is therefore set for this superb Scalextric set. Both cars are equally matched and fully equipped with Magnatraction, headlights, tail lights and brakelights.
The fast circuit, which is banked at one end, includes two changeover tracks for equal distance racing and hair raising moments as the cars appear to swap lanes. Just missing each other!
The Supersound unit with its three distinct racing car sounds adds even more to a truly exciting set.
1994
Contents: Mains Power Pack Included. Supersound Unit requires 2 x Ever Ready LR6 batteries (not included)
The two Italian stallions of the Super Car breed meet wheel to wheel in this set with its drama filled circuit. The sinister black Lamborghini Diablo is a worthy challenger to the world famous Ferrari F40 and all is set to see which one will be the ultimate champion. Will it be the Diablo with its sleek and menacing lines? Or will the Ferrari, whose mechanical ancestors were consistent world champions in motor racing year after year, fight off the impudent newcomer? Both have fitted head, tail and brakelights as well as Magnatraction, so the difference must be in the handling and that depends on the driver.
The circuit will demand much more from the driver, not only skill but daring when both cars race towards the crossover tracks.
The Supersound unit adds atmosphere to the occasion, so switch it on and race the cream of Italian sports cars to the limit.
Service Sheets
(0)
| SHEET NO | SERVICE SHEET NAME | ISSUE DATE |
| --- | --- | --- |
Catalogue Images
(3)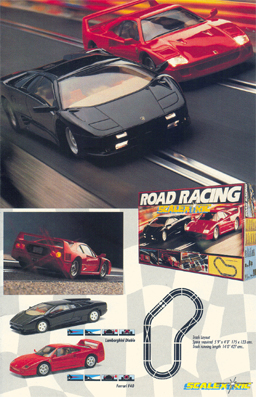 C.770 Road Racing Set - 1992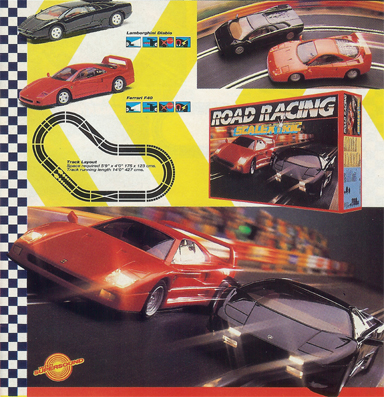 C.770 Road Racing Set - 1993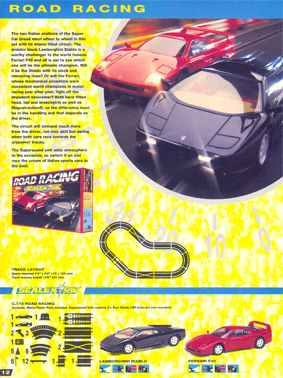 C.770 Road Racing Set - 1994
Road Racing Set on ebay UK

Search For: 'scalextric road racing set'
Ending Soonest
Road Racing Set on ebay US

Search For: 'scalextric road racing set'
Ending Soonest
Road Racing Set on ebay Australia

Search For: 'scalextric road racing set'
Ending Soonest