Car Year Details
1995 - Ford 3L

3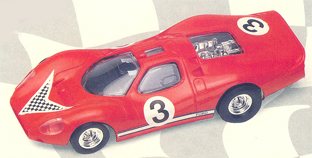 Car:
Ford 3L
(Overall Item page)
Number:
3
Information:
Length - 5 3/4" - 145mm.
The Power And The Glory.
Category:
Cars

Category Details:
Classic cars from all eras.
Car Category:
Endurance

Car Category Details:
A car racing class concentrating on the ability of manufacturers to build reliable yet sporty cars.
Make:
Ford

Logo:
Ford Emblem
Logo Years:
Since 1927
Make Details:
Ford revolutionised car production by expanding and refining the car assembly line concept in the early 1900's.
Make Country:
United States
Model:
3L GT

Model Details:
Also known as a Ford P68 the 3L GT was a sports prototype racing car, which was built in the U.K.
Model Production Years:
1968
Base Colour:
Orange

Colour Details:
Yellow red.
Year:
1995
Catalogue Number:
C.095
Year Information:
The enthralling and generally informative BBC television and video series. The Power and the Glory, traced the history of motor racing from its early days right through to the high tech racing cars of today. By the clever use of existing archive film, mixed in with new film footage of the 'old-soldiers', a wonderful picture emerged of the trials and tribulations the pioneers in the auto-world went through to achieve what is now common place on the roads of this and other countries.
Scalextric is, therefore, honoured to be associated with such a prestigious programme because of its own long standing relationship with the motoring world. The models illustrated on this page are representative of those cars manufactured over the decades and trace the development of Scalextric over the years. All the cars are now fitted with the latest Scalextric motor and some even have Magnatraction.
The Power and the Glory series - Vintage racing at its best.
Motor:
---
Publication Name:
Scalextric - 36th Edition
Publication Type:
Catalogue
Publication Edition:
36th Edition

Logo & Box Design:


Item Ranking:
Current: 142 -
August 2018
Previous: 113 -
July 2018
Movement:

(-29)
Car Year Details
(4)
Service Sheets
(1)
| SHEET NO | SERVICE SHEET NAME | ISSUE DATE |
| --- | --- | --- |
| 163 (Back) | Ferrari P4, Ford 3L | August 1992 |
Ford 3L on ebay UK

Search For: 'scalextric (095,ford 3l)'
Ending Soonest
Ford 3L on ebay US

Search For: 'scalextric (095,ford 3l)'
Ending Soonest
Ford 3L on ebay Australia

Search For: 'scalextric (095,ford 3l)'
Ending Soonest