Car Year Details
1979 - BRM P160

Various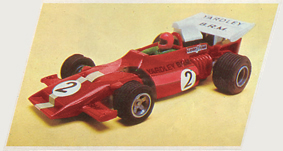 Car:
BRM P160
(Overall Item page)
Number:
Various
Information:
---
Category:
Cars

Category Details:
Classic cars from all eras.
Car Category:
F1GP

Car Category Details:
Formula One Grand Prix.
Make:
BRM

Logo:
BRM Logo
Logo Years:
---
Make Details:
British Racing Motors was a British Formula 1 team based in Britain from the 50's to the 70's. In 1962, BRM won both the Formula 1 driver and constructor championships.
Make Country:
United Kingdom
Model:
P160

Model Details:
The BRM P160 was powered by a 3.0 litre V12 engine.
Model Production Years:
1972 - 1974
Base Colour:
Red

Colour Details:
Various shades of red.
Year:
1979
Catalogue Number:
C.051
Year Information:
One of the classic racing cars of all time, the BRM proved a dominant force in Formula One Motor racing. Its most radical features were a V12 engine and rear-mounted radiators. Jackie Stewart and Graham Hill raced together for the BRM team but it was Graham Hill who brought the World Championship to BRM with wins in four Grand Prix in 1962. Jackie Stewart later became World Champion driving for Team Tyrrell. The BRM remains a firm favourite with Scalextric enthusiasts and is available either as a white or green model.
* Original catalogue image not available for this year. Using alternative image.
Motor:
---
Publication Name:
Scalextric - Electric Model Racing - 20th Edition
Publication Type:
Catalogue
Publication Edition:
20th Edition

Logo & Box Design:


Item Ranking:
Current: 193 -
December 2020
Previous: 197 -
November 2020
Movement:

(+4)
Car Year Details
(5)
Sets Included In
(1)
Service Sheets
(2)
| SHEET NO | SERVICE SHEET NAME | ISSUE DATE |
| --- | --- | --- |
| 99A | C.051 Yardley BRM P.160, C.120 Martini Brabham BT44B, C.123 UOP Shadow, C.124 Ferrari 312T | September 1976 |
| 99A (Back) | C.051 Yardley BRM P.160, C.120 Martini Brabham BT44B, C.123 UOP Shadow, C.124 Ferrari 312T - Back | September 1976 |
BRM P160 on ebay UK

Search For: 'scalextric (51,brm p160)'
Ending Soonest
ITEM
DETAILS
Scalextric Vintage x2 Curves - 1960s Track - Auction

Location: Halesowen, United Kingdom
Condition: Used
Current Price: £1.50 GBP
Time Left: 0d 4h 6m 40s
Bids: 0
Job Lot x 8 Classic Tri-ang Scalextric Ref No. PT/51 Plastic Curved Track Pieces - Fixed Price

Location: Stourbridge, United Kingdom
Condition: Used
Current Price: £12.99 GBP
Time Left: 0d 11h 43m 4s
Bids: 0
Vintage Scalextric Tri-ang PT/51 Standard Curves 45 Degree x 6 pcs - Auction

Location: Ledbury, United Kingdom
Condition: Used
Current Price: £6.99 GBP
Time Left: 0d 15h 37m 54s
Bids: 0
SCALEXTRIC C4026 McLaren F1 GTR 24 hours Le Mans 1995 No.51 Harrods BRAND NEW - Store Inventory

Location: Eastleigh, United Kingdom
Condition: New
Current Price: £39.95 GBP
Time Left: 0d 17h 5m 14s
Bids: 0
Scalextric 2010 Catalogue 51st Edition Mint Ex Shop Stock - Auction

Location: Birchington, United Kingdom
Condition: New
Current Price: £2.00 GBP
Time Left: 0d 19h 4m 51s
Bids: 0
**REDUCED** Vintage Scalextric Track 1960's - Straights PT60 PT59 Curves PT51 - Fixed Price

Location: Newcastle, United Kingdom
Condition: Used
Current Price: £6.00 GBP
Time Left: 0d 23h 22m 51s
Bids: 0
X 7 Scalextric Pt/51 (blob) - Auction

Location: Berkhamsted, United Kingdom
Condition: Used
Current Price: £7.00 GBP
Time Left: 1d 16h 49m 39s
Bids: 0
Vintage Scalextric Track Controllers Retro Classic 60s Slot Car PT51 56 58 60 - Auction

Location: St. Austell, United Kingdom
Condition: Used
Current Price: £15.00 GBP
Time Left: 1d 17h 7m 13s
Bids: 1
Scalextric 2010 Catelogue Edition 51 Excellent condition - Fixed Price

Location: Hythe, United Kingdom
Condition: Used
Current Price: £3.99 GBP
Time Left: 1d 17h 21m 24s
Bids: 0
Vintage 1975 Scalextric 1:32 C51 Yardley BRM P160 British RacingV12 Formula 1 F1 - Store Inventory

Location: Broadstairs, United Kingdom
Condition: Used
Current Price: £12.99 GBP
Time Left: 1d 18h 2m 50s
Bids: 0
Scalextric - PT/51 -x16 val - Auction

Location: Berkhamsted, United Kingdom
Condition: Used
Current Price: £20.00 GBP
Time Left: 1d 20h 5m 49s
Bids: 0
Greenhills Scalextric Electronic Model Racing Catalogue 51st Edition 2010 - N... - Fixed Price

Location: Wetherby, United Kingdom
Condition: Used
Current Price: £10.99 GBP
Time Left: 1d 22h 25m 17s
Bids: 0
Vintage Scalextric Tyres Porsche 911 935, TR7, Rover SDI BMW CSL F1 Mini Escort - Store Inventory

Location: Broadstairs, United Kingdom
Condition: New
Current Price: £3.99 GBP
Time Left: 2d 0h 20m 23s
Bids: 0
Scalextric vintage Train Classic Track PT 60s,CPT 51s Job Lot of 19 Tracks - Auction

Location: London, United Kingdom
Condition: Used
Current Price: £14.00 GBP
Time Left: 2d 2h 55m 39s
Bids: 0
Scalextric C/3504 - Lotus Evora GT4 Richard Adams (cased, racing no.51) - Store Inventory

Location: Salisbury, United Kingdom
Condition: Used
Current Price: £32.00 GBP
Time Left: 2d 15h 39m 12s
Bids: 0
SCALEXTRIC C51 BRM P160 ORIGINAL TRANSFER SHEET(e) - Fixed Price

Location: Chelmsford, United Kingdom
Condition: New
Current Price: £2.00 GBP
Time Left: 2d 16h 41m 16s
Bids: 0
vintage scalextric Track Pieces 10 X Parts 151 & Part 51 Corners - Auction

Location: Gravesend, United Kingdom
Condition: Used
Current Price: £2.60 GBP
Time Left: 2d 18h 24m 46s
Bids: 0
Scalextric 3 TVR Challenge Boxed Set T400R Mobil 1 #51 T400R Texaco #55 Unopened - Auction

Location: Cambridge, United Kingdom
Condition: New
Current Price: £250.00 GBP
Time Left: 2d 21h 50m 52s
Bids: 0
Vintage lot Of Scalextric 7 X PT 51 Curves,Fair Cond - Auction

Location: Leicester, United Kingdom
Condition: Used
Current Price: £2.99 GBP
Time Left: 3d 1h 21m 18s
Bids: 0
Scalextric 51st edition catalogue 2010 - Auction

Location: Skipton, United Kingdom
Condition: Used
Current Price: £2.50 GBP
Time Left: 3d 3h 14m 17s
Bids: 0
Scalextric Lap counter, black borders and barriers 51 pieces! - Auction

Location: Horley, United Kingdom
Condition: Used
Current Price: £35.99 GBP
Time Left: 3d 3h 58m 0s
Bids: 0
Scalextric C051 Yardley BRM P160 Green Spares Repair - Auction

Location: Lymington, United Kingdom
Condition: Used
Current Price: £5.00 GBP
Time Left: 3d 19h 46m 48s
Bids: 0
17 pcs Scalextric PT51 C151 Standard Curve - Auction

Location: Watford, United Kingdom
Condition: Used
Current Price: £13.37 GBP
Time Left: 3d 20h 10m 6s
Bids: 0
17 pcs Scalextric PT51 C151 Standard Curve - Auction

Location: Watford, United Kingdom
Condition: Used
Current Price: £13.37 GBP
Time Left: 3d 20h 15m 23s
Bids: 0
17 pcs Scalextric PT51 C151 Standard Curve - Auction

Location: Watford, United Kingdom
Condition: Used
Current Price: £13.37 GBP
Time Left: 3d 20h 15m 45s
Bids: 0
18 pcs Scalextric PT51 C151 Standard Curve - Auction

Location: Watford, United Kingdom
Condition: Used
Current Price: £13.37 GBP
Time Left: 3d 20h 16m 1s
Bids: 0
Vintage Rovex Limited Boxed Scalextric BRM P160 Racing Car C.051 in Original Box - Auction

Location: Wisbech, United Kingdom
Condition: Used
Current Price: £25.00 GBP
Time Left: 4d 0h 7m 2s
Bids: 0
Scalextric F1 Grand Prix Car White Yardley BRM P160 working 1970s C051 - Fixed Price

Location: Uttoxeter, United Kingdom
Condition: Used
Current Price: £7.29 GBP
Time Left: 4d 14h 1m 25s
Bids: 0
SCALEXTRIC CLASSIC PT51 CURVE X 18 - Auction

Location: Warwick, United Kingdom
Condition: Used
Current Price: £1.00 GBP
Time Left: 5d 1h 13m 31s
Bids: 0
Scalextric Spares and Repairs. Rover 3500, Super Stox and BRM P160 - Auction

Location: Budleigh Salterton, United Kingdom
Condition: Used
Current Price: £0.99 GBP
Time Left: 5d 1h 27m 20s
Bids: 1
Vintage Scalextric Classic Track 7 x PT60 2 x PT 59 1 x PT91 10 x PT51 1X A251 - Auction

Location: London, United Kingdom
Condition: Used
Current Price: £4.99 GBP
Time Left: 5d 2h 1m 44s
Bids: 0
SCALEXTRIC CLASSIC PT51 CURVE X 16 - Auction

Location: Warwick, United Kingdom
Condition: Used
Current Price: £1.00 GBP
Time Left: 5d 2h 3m 15s
Bids: 1
RS51 Repro Scalextric Decal 4055 LANCIA STRATOS T2 #5 STICKERS require cutting - Store Inventory

Location: Stockport, United Kingdom
Condition: New
Current Price: £4.00 GBP
Time Left: 5d 23h 15m 2s
Bids: 0
Vintage Triang SCALEXTRIC CLASSIC TRACK PT51.... CURVE - TRI-ANG X 8…... - Auction

Location: Poulton-le-Fylde, United Kingdom
Condition: Used
Current Price: £4.00 GBP
Time Left: 6d 0h 23m 31s
Bids: 0
Triang Scalextric Standard Curved Track Sections PT 51 X 6 - Auction

Location: Enfield, United Kingdom
Condition: Used
Current Price: £1.00 GBP
Time Left: 6d 2h 8m 16s
Bids: 0
8 x Vintage Scalextric Triang PT/51 Standard Curves 45 Degree - Auction

Location: United Kingdom
Condition: Used
Current Price: £3.00 GBP
Time Left: 6d 14h 50m 0s
Bids: 0
Scalextric classic 12x chicane track PT51 curve corner curved - Fixed Price

Location: Lytham St. Annes, United Kingdom
Condition: Used
Current Price: £19.99 GBP
Time Left: 7d 2h 12m 55s
Bids: 0
Vintage Retro Scalextric Track Curved PT/51 x 10 - Store Inventory

Location: Stafford, United Kingdom
Condition: Used
Current Price: £10.00 GBP
Time Left: 7d 18h 53m 14s
Bids: 0
6 x SCALEXTRIC pt51 Classic Vintage curved bends - Store Inventory

Location: Braintree, United Kingdom
Condition: New
Current Price: £7.00 GBP
Time Left: 7d 20h 38m 40s
Bids: 0
Scalextric BMW M1 #51 BLACK C347 MB Sports GT Car. - Fixed Price

Location: Birmingham, United Kingdom
Condition: Used
Current Price: £55.00 GBP
Time Left: 7d 23h 21m 11s
Bids: 0
Scalextric ORIGINAL FRONT TYRES C12 C25 C26 C36 Type 2 C43 C50 C51 (NOS) x 2 - Store Inventory

Location: Bristol, United Kingdom
Condition: New
Current Price: £4.99 GBP
Time Left: 8d 21h 1m 26s
Bids: 0
Scalextric C51/103 "Yardley" BRM F1 rear wing re make tampo printed New product - Store Inventory

Location: Newark, United Kingdom
Condition: New
Current Price: £4.95 GBP
Time Left: 8d 22h 52m 11s
Bids: 0
Trio of Scalextric Yardley BRM P160s Cat. No. C51 - Auction

Location: Prescot, United Kingdom
Condition: Used
Current Price: £0.99 GBP
Time Left: 9d 3h 20m 16s
Bids: 1
Job Lot x 8 Scalextric Classic Curved Track Pieces Ref No. PT51 - Fixed Price

Location: Stourbridge, United Kingdom
Condition: Used
Current Price: £9.98 GBP
Time Left: 9d 12h 45m 1s
Bids: 0
Job Lot x 8 Classic Scalextric MM/PT51 Plastic Curved Track Pieces - Fixed Price

Location: Stourbridge, United Kingdom
Condition: Used
Current Price: £12.98 GBP
Time Left: 9d 14h 41m 12s
Bids: 0
RL 785 ORIGINAL SCALEXTRIC C51 BRM AIRBOX - Store Inventory

Location: Stockport, United Kingdom
Condition: Used
Current Price: £2.25 GBP
Time Left: 9d 16h 35m 14s
Bids: 0
Vintage Scalextric Track - 3 pieces of PT/51 Standard Curve PT51 - Fixed Price

Location: Solihull, United Kingdom
Condition: Used
Current Price: £2.50 GBP
Time Left: 9d 18h 59m 24s
Bids: 0
Scalextric Standard Curves X 9 Vintage Original 1960s MM/PT 51-Tri-ang British / - Auction

Location: Droitwich, United Kingdom
Condition: Used
Current Price: £3.99 GBP
Time Left: 9d 19h 44m 13s
Bids: 0
Scalextric Digital Porsche 911 GT3R No51 Galp Excellent Condition Fully Serviced - Fixed Price

Location: Belper, United Kingdom
Condition: Used
Current Price: £55.00 GBP
Time Left: 9d 20h 46m 53s
Bids: 0
S2400 – DD Slots Scalextric BRM P160 C51 Body Shell – Used - Fixed Price

Location: Wetherby, United Kingdom
Condition: Used
Current Price: £7.00 GBP
Time Left: 10d 13h 39m 49s
Bids: 0
Scalextric Cooper Climax T51 Red) - V/G Condition Used Unboxed C58 - Fixed Price

Location: United Kingdom
Condition: Used
Current Price: £23.99 GBP
Time Left: 10d 22h 58m 36s
Bids: 0
Scalextric Cooper Climax T51 (Green) - V/G Condition Used Unboxed C58 - Fixed Price

Location: United Kingdom
Condition: Used
Current Price: £23.99 GBP
Time Left: 10d 22h 59m 14s
Bids: 0
Scalextric Classic Track 18 x Curved P51/C151; 3 x Banked Curves C187 - Store Inventory

Location: Leicester, United Kingdom
Condition: Used
Current Price: £15.00 GBP
Time Left: 11d 20h 8m 24s
Bids: 0
SCALEXTRIC Slot Car Racing CLASSIC TRACK CURVES 6x PT/51 - Fixed Price

Location: Stockport, United Kingdom
Condition: Used
Current Price: £4.95 GBP
Time Left: 11d 21h 33m 43s
Bids: 0
Scalextric 1:32 Classic Track - Curve Radius Bend - C151 PT51 -x 6 - Fixed Price

Location: London, United Kingdom
Condition: Used
Current Price: £10.00 GBP
Time Left: 12d 13h 36m 54s
Bids: 0
Scalextric PT51 C151 STANDARD CURVE TRACK Model Racing Classic Analogue Lot x10 - Store Inventory

Location: Stevenage, United Kingdom
Condition: Used
Current Price: £19.99 GBP
Time Left: 12d 19h 1m 7s
Bids: 0
Carrera GO scalextric Replacement Braids Track Mercedes Mini Mariokart Car 1:43 - Store Inventory

Location: North Berwick, United Kingdom
Condition: Used
Current Price: £9.00 GBP
Time Left: 12d 19h 39m 12s
Bids: 0
Scalextric Vintage Cars x 2 co51 - Fixed Price

Location: United Kingdom
Condition: Used
Current Price: £9.99 GBP
Time Left: 12d 20h 19m 48s
Bids: 0
Scalextric Lotus Evora GT4 Team Bullrun No 51 C3504 Mint Condition - Fixed Price

Location: Belper, United Kingdom
Condition: Used
Current Price: £45.00 GBP
Time Left: 12d 21h 27m 4s
Bids: 0
Greenhills Scalextric BMW M1 No.51 C347 Front Axle & Wheels Used - P2802 - Fixed Price

Location: Wetherby, United Kingdom
Condition: Used
Current Price: £4.39 GBP
Time Left: 12d 21h 36m 58s
Bids: 0
Vintage Scalextric PT/51 Round Nose Connectors x 7 - Fixed Price

Location: Attleborough, United Kingdom
Condition: Used
Current Price: £5.99 GBP
Time Left: 12d 21h 52m 24s
Bids: 0
Greenhills Scalextric BRM P160 No.2 C51 - Used - 17549 - Fixed Price

Location: Wetherby, United Kingdom
Condition: Used
Current Price: £16.99 GBP
Time Left: 13d 20h 54m 9s
Bids: 0
RL c51-0760 SCALEXTRIC waterslide BRM YARDLEY SHELL ETC #9 #6 ORIGINAL - Store Inventory

Location: Stockport, United Kingdom
Condition: New
Current Price: £2.50 GBP
Time Left: 13d 21h 13m 0s
Bids: 0
Job Lot x 8 Scalextric Classic Curved Track Pieces PT51/C151 - Fixed Price

Location: Stourbridge, United Kingdom
Condition: Used
Current Price: £9.99 GBP
Time Left: 14d 14h 25m 51s
Bids: 0
Scalextric F1 Grand Prix Car Green Yardley BRM P160 working 1970s C051 - Fixed Price

Location: Buckingham, United Kingdom
Condition: Used
Current Price: £12.00 GBP
Time Left: 14d 15h 25m 30s
Bids: 0
VINTAGE SCALEXTRIC CARS.TRACKS POWER PACK C159.C919.C160. C167.PT51.PT74 - Fixed Price

Location: United Kingdom
Condition: Used
Current Price: £45.00 GBP
Time Left: 14d 21h 33m 11s
Bids: 0
JOB LOT OF 51 SCALEXTRIC TRACK C151, HORNBY HOBBIES, SCX, - Fixed Price

Location: Barnstaple, United Kingdom
Condition: Used
Current Price: £17.50 GBP
Time Left: 14d 22h 5m 24s
Bids: 0
Greenhills Scalextric BRM P160 Green No.3 C51 - Used - 17265 - Fixed Price

Location: Wetherby, United Kingdom
Condition: Used
Current Price: £13.99 GBP
Time Left: 15d 1h 49m 50s
Bids: 0
Greenhills Scalextric 51mm Axle - Used - P5460 - Fixed Price

Location: Wetherby, United Kingdom
Condition: Used
Current Price: £3.29 GBP
Time Left: 15d 16h 8m 35s
Bids: 0
VINTAGE TRIANG SCALEXTRIC TRACK PT/51 STANDARD CURVE 9" (24 pcs) - Store Inventory

Location: United Kingdom
Condition: Used
Current Price: £19.99 GBP
Time Left: 15d 20h 46m 38s
Bids: 0
Scalextric C051 BRM P160 Red EXCELLENT - Fixed Price

Location: Colchester, United Kingdom
Condition: Used
Current Price: £13.99 GBP
Time Left: 15d 21h 7m 31s
Bids: 0
Scalextric C051 BRM P160 Green EXCELLENT - Fixed Price

Location: Colchester, United Kingdom
Condition: Used
Current Price: £14.99 GBP
Time Left: 15d 21h 13m 35s
Bids: 0
Scalextric C051 BRM P160 White EXCELLENT - Fixed Price

Location: Colchester, United Kingdom
Condition: Used
Current Price: £14.99 GBP
Time Left: 15d 21h 15m 36s
Bids: 0
Scalextric C051 BRM P160 White BOXED EXCELLENT - Fixed Price

Location: Colchester, United Kingdom
Condition: Used
Current Price: £19.99 GBP
Time Left: 15d 21h 20m 14s
Bids: 0
Scalextric C51brm P160, Used Boxed - Fixed Price

Location: Hassocks, United Kingdom
Condition: Used
Current Price: £15.00 GBP
Time Left: 16d 2h 55m 24s
Bids: 0
Vintage Scalextric Track Curved PT/51 x 15 Made In England Hornby Hobbies LTD - Store Inventory

Location: Northampton, United Kingdom
Condition: Used
Current Price: £19.99 GBP
Time Left: 16d 15h 28m 52s
Bids: 0
Scalextric PT/51 Corner Curved Pieces x 10 - Used Track - Fixed Price

Location: Telford, United Kingdom
Condition: Used
Current Price: £9.99 GBP
Time Left: 16d 19h 12m 31s
Bids: 0
Greenhills Scalextric Axle 51mm Used - P2875 - Fixed Price

Location: Wetherby, United Kingdom
Condition: Used
Current Price: £7.98 GBP
Time Left: 17d 2h 54m 33s
Bids: 0
Greenhills Scalextric Axle (length 51 mm) Used - P2876 - Fixed Price

Location: Wetherby, United Kingdom
Condition: Used
Current Price: £6.64 GBP
Time Left: 17d 12h 50m 27s
Bids: 0
Scalextric Classic Original Half Curve Classic Track PT51 C151 - Store Inventory

Location: Crymych, United Kingdom
Condition: Used
Current Price: £6.85 GBP
Time Left: 17d 19h 15m 50s
Bids: 0
Scalextric Classic Hornby Half Curve Classic Track PT51 C151 - Store Inventory

Location: Crymych, United Kingdom
Condition: Used
Current Price: £6.85 GBP
Time Left: 17d 19h 19m 18s
Bids: 0
1/32 Scale Decals for McLaren M7c / M19a (modifed Scalextric C51 BRM) 3 Versions - Fixed Price

Location: Fareham, United Kingdom
Condition: New
Current Price: £4.00 GBP
Time Left: 17d 19h 51m 33s
Bids: 0
1/32 Scale Decals for McLaren M7c / M19a (modifed Scalextric C51 BRM) 3 Versions - Fixed Price

Location: Fareham, United Kingdom
Condition: New
Current Price: £4.00 GBP
Time Left: 17d 19h 51m 33s
Bids: 0
1/32 Scale Decals for McLaren M7c / M19a (modifed Scalextric C51 BRM) 3 Versions - Fixed Price

Location: Fareham, United Kingdom
Condition: New
Current Price: £4.00 GBP
Time Left: 17d 19h 51m 33s
Bids: 0
BRM P160 on ebay US

Search For: 'scalextric (51,brm p160)'
Ending Soonest
ITEM
DETAILS
MClaren Special MGS51 1/32 Vanquish special edition scalextric slot - Store Inventory

Location: Argentina
Condition: New
Current Price: $145.00 USD
Time Left: 0d 5h 29m 55s
Bids: 0
SCALEXTRIC TRI-ANG RETRECISSEMENT DE VOIES PT/78, Circuit 24 électrique - Fixed Price

Location: France
Condition: Used
Current Price: $5.90
Time Left: 0d 23h 7m 13s
Bids: 0
SCALEXTRIC TRI-ANG Lot de 6 rails courbes relevés NM/PT98, Circuit 24 électrique - Fixed Price

Location: France
Condition: Used
Current Price: $11.90
Time Left: 0d 23h 8m 23s
Bids: 0
C5 - Spare Part Scalextric For Circuit Automobile« PT /51 » . IN Good Condition - Fixed Price

Location: France
Condition: Used
Current Price: $5.09 USD
Time Left: 5d 21h 55m 13s
Bids: 0
C5 - Pièce Détachée Scalextric Pour Circuit Automobile « PT/51 ». En Bon Etat. - Store Inventory

Location: France
Condition: Used
Current Price: $4.00
Time Left: 7d 19h 6m 18s
Bids: 0
Superslot H3314 Chevrolet Camaro #51 Pico Troberg Racing Scalextric UK MB - Fixed Price

Location: Spain
Condition: New
Current Price: $63.64 USD
Time Left: 11d 5h 40m 49s
Bids: 0
Scalextric 3 rails courbes CPT/51 - Fixed Price

Location: France
Condition: Used
Current Price: $10.00
Time Left: 11d 15h 13m 56s
Bids: 0
SCALEXTRIC TRI-ANG Lot de 6 rails courbes MM/PT51, Circuit 24 électrique - Fixed Price

Location: France
Condition: Used
Current Price: $13.90
Time Left: 17d 7h 23m 21s
Bids: 0
SCALEXTRIC HORNBY SPORT 1/32 SLOT CAR STRAIGHT 350mm TRACK ...G51 - Store Inventory

Location: Woodway, TX, USA
Condition: Used
Current Price: $10.00 USD
Time Left: 17d 9h 19m 58s
Bids: 0
SCALEXTRIC C3314 1969 CHEVROLET CAMARO "LIPTON" #51 1/32 SLOT CAR - Store Inventory

Location: Blue Bell, PA, USA
Condition: New
Current Price: $54.95 USD
Time Left: 21d 18h 42m 6s
Bids: 0
Scalextric 6453 Aston Martin Vantage #51 " Hammam " MB - Fixed Price

Location: Spain
Condition: New
Current Price: $63.63 USD
Time Left: 22d 23h 20m 51s
Bids: 0
Scalextric Catalog Slot Car 33 Edicion Year 1990 51 Paginas Excellent Condition - Fixed Price

Location: Spain
Condition: Used
Current Price: $11.44 USD
Time Left: 24d 20h 32m 5s
Bids: 0
vintage Scalextric Track: CURVE, # PT/51, NOS! from Old Slot Set, rubber type - Store Inventory

Location: DeLand, FL, USA
Condition: New
Current Price: $7.99 USD
Time Left: 26d 22h 26m 55s
Bids: 0
Scalextric C4026 McLaren F1 GTR Harrod's, #51 1/32 Slot Car *DPR* - Store Inventory

Location: Philadelphia, PA, USA
Condition: New
Current Price: $39.99 USD
Time Left: 27d 21h 7m 21s
Bids: 0
BRM P160 on ebay Australia

Search For: 'scalextric (51,brm p160)'
Ending Soonest
ITEM
DETAILS
Scalextric 1:32 BRM Yardley Slot Car C51 repair or spares. - Auction

Location: Colac, VIC, Australia
Condition: Used
Current Price: $11.50 AUD
Time Left: 1d 6h 24m 10s
Bids: 2
scalextric vintage c51 brm P160 slotcar 1975 - Auction

Location: Caboolture, QLD, Australia
Condition: Used
Current Price: $34.00 AUD
Time Left: 1d 17h 24m 18s
Bids: 0
Sideways SW44 Schnitzer BMW M1 Lubrifilm #51 - use on Scalextric slot car track - Store Inventory

Location: Artarmon, NSW, Australia
Condition: New
Current Price: $85.00 AUD
Time Left: 8d 10h 57m 37s
Bids: 0
4 Pieces of Scalextric PT51 Curved Track Triang - Store Inventory

Location: Birkenhead, SA, Australia
Condition: Used
Current Price: $35.00 AUD
Time Left: 11d 6h 13m 42s
Bids: 0
Scalextric Black BMW M1 #51 Valvoline Slot Car For Parts Repair - Store Inventory

Location: Brisbane, QLD, Australia
Condition: Used
Current Price: $34.00 AUD
Time Left: 14d 5h 13m 33s
Bids: 0
SCALEXTRIC SOLD HERE V1 Vintage Style Mirror 51cm x 28 cm Freepost Oz - Fixed Price

Location: Macksville, NSW, Australia
Condition: New
Current Price: $45.00 AUD
Time Left: 25d 13h 8m 10s
Bids: 0