Car Year Details
1979 - Renault Turbo RS01

15
Car:
Renault Turbo RS01
(Overall Item page)
Number:
15
Information:
---
Category:
Cars

Category Details:
Classic cars from all eras.
Car Category:
F1GP

Car Category Details:
Formula One Grand Prix.
Make:
Renault

Logo:
Renault Logo
Logo Years:
---
Make Details:
Renault, founded in 1899, has produces a large range of motor vehicles for over 100 years.
Make Country:
France
Model:
RS01

Model Details:
The first Formula 1 car powered by a turbo engine.
Model Production Years:
1977 - 1979
Base Colour:
Yellow

Colour Details:
Various shades of yellow.
All Colours:
Yellow, Black


Year:
1979
Catalogue Number:
C.134
Year Information:
The recent entry of a Renault team into Formula One motor racing has been welcomed by all areas of the sport. Renault won the first ever Grand Prix in 1906. The Renault is unique in Formula One racing in that it is the only car to be powered by a turbo-charged 1,500 c.c. engine which gives the car the advantage of lower fuel consumption. Totally different driving skills are needed in the turbo driven car and Renault will be strong contenders for the 1979 World Championship. The Renault RS 01 is a new addition to the Scalextric range for 1979.
Motor:
---
Publication Name:
Scalextric - Electric Model Racing - 20th Edition
Publication Type:
Catalogue
Publication Edition:
20th Edition

Logo & Box Design:


Item Ranking:
Current: 154 -
December 2020
Previous: 32 -
November 2020
Movement:

(-122)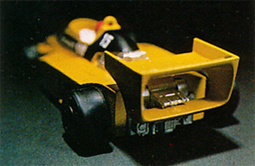 Car Year Details
(5)
Sets Included In
(2)
Service Sheets
(2)
| SHEET NO | SERVICE SHEET NAME | ISSUE DATE |
| --- | --- | --- |
| 102C | C.126 Lotus 77, C.131 March Ford 711, C.134 Elf Renault Turbo RS-01, C.135 Elf Tyrrell 008, C.136 Ferrari 312 T3, C.137 Ligier JS11, C.138 Saudia Leyland Williams FW07B | February 1981 |
| 102C (Back) | C.126 Lotus 77, C.131 March Ford 711, C.134 Elf Renault Turbo RS-01, C.135 Elf Tyrrell 008, C.136 Ferrari 312 T3, C.137 Ligier JS11, C.138 Saudia Leyland Williams FW07B - Back | February 1981 |
Renault Turbo RS01 on ebay UK

Search For: 'scalextric (134,renault turbo rs01)'
Ending Soonest
ITEM
DETAILS
HORNBY SCALEXTRIC YELLOW ELF RENAULT RS-01 SLOT RACE CAR WORKING 1:32 ref: C134 - Store Inventory

Location: Southampton, United Kingdom
Condition: Used
Current Price: £21.99 GBP
Time Left: 0d 16h 55m 2s
Bids: 0
Scalextric Vintage Slot Cars Joblot F1 Ferrari C136 Ford C026 C129 C134... - Auction

Location: Lincoln, United Kingdom
Condition: Used
Current Price: £21.00 GBP
Time Left: 0d 19h 4m 30s
Bids: 12
DD Slots Scalextric Renault Turbo RS03 No.15 C134 - Used - 20152 - Fixed Price

Location: Wetherby, United Kingdom
Condition: Used
Current Price: £11.00 GBP
Time Left: 2d 18h 57m 45s
Bids: 0
Scalextric F1 Car Yellow Renault Pennzoil RS01 working 1980 s C134 - Fixed Price

Location: Uttoxeter, United Kingdom
Condition: Used
Current Price: £9.39 GBP
Time Left: 3d 20h 31m 34s
Bids: 0
Scalextric Teenage Ninja Turtles VW Party Wagon (C421) and "Shredder" (C134) - Auction

Location: Nottingham, United Kingdom
Condition: Used
Current Price: £20.00 GBP
Time Left: 5d 22h 14m 47s
Bids: 0
Scalextric F1 Car Yellow elf Renault RS-01 1980's C134 - Auction

Location: Wincanton, United Kingdom
Condition: Used
Current Price: £20.00 GBP
Time Left: 6d 19h 14m 13s
Bids: 0
CLASSIC SCALEXTRIC C134 ELF RENAULT RS-01 #14 MINT BOXED WITH INSTRUCTIONS - Store Inventory

Location: Stockport, United Kingdom
Condition: New
Current Price: £40.00 GBP
Time Left: 7d 20h 0m 40s
Bids: 0
C134 Scalextric Elf Renault RS-01 Boxed - Fixed Price

Location: Warrington, United Kingdom
Condition: Used
Current Price: £55.00 GBP
Time Left: 13d 16h 1m 59s
Bids: 0
Scalextric Car C134 F1 ELF RENAULT RS-01 No. 15 Boxed Classic - Fixed Price

Location: Stockton-on-Tees, United Kingdom
Condition: Used
Current Price: £24.00 GBP
Time Left: 14d 6h 27m 48s
Bids: 0
Scalextric Car 1979 vintage C134 renault RS 01 F1 No 15 in excellent condition - Fixed Price

Location: Hull, United Kingdom
Condition: Used
Current Price: £14.95 GBP
Time Left: 14d 16h 32m 0s
Bids: 0
1/32 Scale Decals for Scalextric Renault RS01 C134 - 2 Variations - Fixed Price

Location: Fareham, United Kingdom
Condition: New
Current Price: £4.00 GBP
Time Left: 15d 14h 55m 0s
Bids: 0
1/32 Scale Decals for Scalextric Renault RS01 C134 - 2 Variations - Fixed Price

Location: Fareham, United Kingdom
Condition: New
Current Price: £4.00 GBP
Time Left: 15d 14h 55m 0s
Bids: 0
1/32 Scale Decals for Scalextric Renault RS01 C134 - 2 Variations - Fixed Price

Location: Fareham, United Kingdom
Condition: New
Current Price: £4.00 GBP
Time Left: 15d 14h 55m 0s
Bids: 0
Scalextric C134 Renault Rs01 Used Boxed - Fixed Price

Location: Hassocks, United Kingdom
Condition: Used
Current Price: £15.00 GBP
Time Left: 17d 22h 56m 16s
Bids: 0
Scalextric Vintage RS03 Renault C134 - Fixed Price

Location: St. Ives, United Kingdom
Condition: Used
Current Price: £20.00 GBP
Time Left: 18d 14h 5m 47s
Bids: 0
Greenhills Scalextric Renault Elf RS01 No.15 C134 Front Axle & Wheels Used - ... - Fixed Price

Location: Wetherby, United Kingdom
Condition: Used
Current Price: £5.10 GBP
Time Left: 22d 9h 49m 34s
Bids: 0
Scalextric Car C134 F1 ELF RENAULT RS-01 No. 15 Boxed Classic - Store Inventory

Location: Ludlow, United Kingdom
Condition: Used
Current Price: £14.99 GBP
Time Left: 24d 23h 1m 22s
Bids: 0
Greenhills Scalextric Foot Soldier/Shredder C134/C339 Chassis Used - P2691 - Fixed Price

Location: Wetherby, United Kingdom
Condition: Used
Current Price: £3.84 GBP
Time Left: 26d 14h 30m 6s
Bids: 0
Scalextric C/134 - Elf Renault RS-01 (racing no.15) - cased - Fixed Price

Location: Salisbury, United Kingdom
Condition: Used
Current Price: £22.00 GBP
Time Left: 27d 19h 34m 51s
Bids: 0
Vintage Scalextric C134 Renault Elf Turbo RS-03 F1 Slot Car Formula 1 Racing Car - Fixed Price

Location: Lincoln, United Kingdom
Condition: Used
Current Price: £15.99 GBP
Time Left: 30d 12h 8m 6s
Bids: 0
Renault Turbo RS01 on ebay US

Search For: 'scalextric (134,renault turbo rs01)'
Ending Soonest
Renault Turbo RS01 on ebay Australia

Search For: 'scalextric (134,renault turbo rs01)'
Ending Soonest