Car Year Details
1992 - Porsche 962

17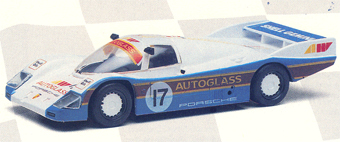 Car:
Porsche 962
(Overall Item page)
Number:
17
Information:
Length - 5 3/4" - 146mm.
Listed as a Porsche 963 in the 1988 catalogue.
Category:
Cars

Category Details:
Classic cars from all eras.
Car Category:
Endurance

Car Category Details:
A car racing class concentrating on the ability of manufacturers to build reliable yet sporty cars.
Make:
Porsche

Logo:
Porsche Logo
Logo Years:
---
Make Details:
The most famous sports car maker in the world.
Make Country:
Germany
Model:
962

Model Details:
The 962 was a sports prototype race car which was competitive over many years.
Model Production Years:
1984 - 1991
Base Colour:
White

Colour Details:
The perfect colour.
All Colours:
White, Blue, Red, Yellow




Year:
1992
Catalogue Number:
C.436
Year Information:
World Sports Cars.
The names of Jaguar, Porsche and Mercedes are synonymous with World Sports Championship racing.
These giants of the racing circuit challenge each other over many hours and miles in a series of endurance races through the year. Great demand is put on the cars and drivers but lessons learnt and improvements made help to make the every day production saloon safer.
Scalextric World Sports cars are fitted with headlights (for 24 hour racing), brakelights that illuminate when the trigger on the hand throttle is released and Magnatraction.
Motor:
---
Publication Name:
Scalextric - 33rd Edition - 1:32 Scale
Publication Type:
Catalogue
Publication Edition:
33rd Edition

Logo & Box Design:


Item Ranking:
Current: 12 -
April 2018
Previous: 12 -
March 2018
Movement:

(0)
Car Year Details
(7)
Service Sheets
(5)
| SHEET NO | SERVICE SHEET NAME | ISSUE DATE |
| --- | --- | --- |
| 144 | Jaguar XJ8 and Porsche 962 Sports Cars with Head & Brakelights | July 1988 |
| 144 (Back) | Jaguar XJ8 and Porsche 962 Sports Cars with Head & Brakelights - Back | July 1988 |
| 144A | Jaguar XJ8 and Porsche 962 Sports Cars with Head & Brakelights | July 1991 |
| 144A (Back) | Jaguar XJ8 and Porsche 962 Sports Cars with Head & Brakelights - Back | July 1991 |
| 144B (Back) | Porsche 962 | April 1992 |
Porsche 962 on ebay UK

Search For: 'scalextric (436,porsche 963, porsche 962)'
Ending Soonest
Porsche 962 on ebay US

Search For: 'scalextric (436,porsche 963, porsche 962)'
Ending Soonest
Porsche 962 on ebay Australia

Search For: 'scalextric (436,porsche 963, porsche 962)'
Ending Soonest