Set Details
Scalextric 300 Set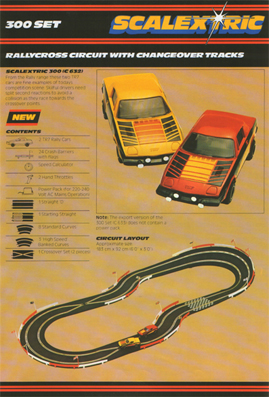 Years Released: 1980 (Item Year pages)
Item released for 1 year.
Item:
Scalextric 300 Set
Information:
---
Category:
Sets

Category Details:
Scalextric sets from all eras.
Logo & Box Style:

1980
Item Ranking:
Current: 544 -
May 2020
Previous: 346 -
April 2020
Movement:

(-198)
Set Year Details
(1)
Set Items
(2)
Set Year Information
YEAR
INFORMATION
1980
SCALEXTRIC 300
RALLYCROSS CIRCUIT WITH CHANGEOVER TRACKS
From the Rally range these two TR7 cars are fine examples of today's competition scene. Skillful drivers need split second reactions to avoid a collision as they race towards the crossover points.
CONTENTS
2 TR7 Rally Cars
24 Crash Barriers with Flags
Speed Calculator
2 Hand Throttles
Power Pack (for 220-240 Volt AC Mains Operation)
1 Straights 'D'
1 Starting Straight
8 Standard Curves
3 'High Speed Banked Curves
1 Crossover Set (2 pieces)
Note: The export version of the 300 Set (C.633) does not contain a power pack.
CIRCUIT LAYOUT
Approximate size: 183cm x 92cm (6'0" x 3'0").
Service Sheets
(0)
| SHEET NO | SERVICE SHEET NAME | ISSUE DATE |
| --- | --- | --- |
Catalogue Images
(1)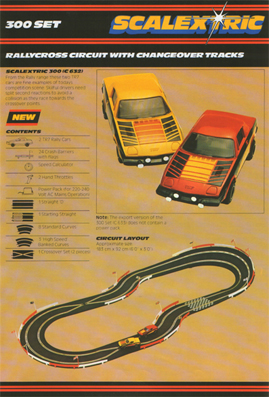 C.632 Scalextric 300 Set - 1980
Scalextric 300 Set on ebay UK

Search For: 'scalextric 300 set'
Ending Soonest
ITEM
DETAILS
Scalextric You Steer YS300 vintage collectable set, 60s 70s, fabulous condition - Auction

Location: Beverley, United Kingdom
Condition: Used
Current Price: £69.00 GBP
Time Left: 1d 4h 54m 59s
Bids: 0
Vintage Scalextric 300 Electric Mini Cooper S Racing Set - Auction

Location: High Wycombe, United Kingdom
Condition: Used
Current Price: £0.99 GBP
Time Left: 2d 3h 5m 35s
Bids: 0
Scalextric VINTAGE, bulk lot of track, old barriers, collection Set 65 300 Rare - Auction

Location: Exeter, United Kingdom
Condition: Used
Current Price: £4.99 GBP
Time Left: 4d 8h 17m 12s
Bids: 1
VINTAGE 1988 FORMULA TYCO - 2 X 300MM 12" CURVES SLOT CAR TRACK SET 6708.17 - Store Inventory

Location: Market Harborough, United Kingdom
Condition: New
Current Price: £7.99 GBP
Time Left: 11d 6h 12m 32s
Bids: 0
SCALEXTRIC 300 TRIUMPH TR7 ELECTRIC MODEL RACING SET COMPLETE AND WORKING - Fixed Price

Location: United Kingdom
Condition: Used
Current Price: £50.00 GBP
Time Left: 19d 3h 32m 28s
Bids: 0
Scalexteic Vintage Set F300 Track Officials And Put Crew Set - Fixed Price

Location: Winchester, United Kingdom
Condition: Used
Current Price: £79.99 GBP
Time Left: 22d 3h 30m 2s
Bids: 0
Vintage Scalextric 300 Racing Car Set - Fixed Price

Location: Belfast, United Kingdom
Condition: Used
Current Price: £34.99 GBP
Time Left: 26d 21h 18m 42s
Bids: 0
Scalextric Vintage 300 Set With Tr7 Cars - Fixed Price

Location: York, United Kingdom
Condition: Used
Current Price: £60.00 GBP
Time Left: 28d 5h 8m 34s
Bids: 0
Scalextric 300 Set on ebay US

Search For: 'scalextric 300 set'
Ending Soonest
Scalextric 300 Set on ebay Australia

Search For: 'scalextric 300 set'
Ending Soonest
ITEM
DETAILS
Scalextric Mercedes-Benz 300 SLR & SLR McLaren 722 Limited Edition Box set - Auction

Location: Newmerella, VIC, Australia
Condition: Used
Current Price: $100.00 AUD
Time Left: 5d 18h 6m 50s
Bids: 0
Scalextric 300 set C579, with two C122 mini clubman, UK 1977, ready to race! - Auction

Location: Hallett Cove, SA, Australia
Condition: Used
Current Price: $40.00 AUD
Time Left: 5d 19h 46m 59s
Bids: 1
Scalextric 300 set C632, with C113 and C114 TR7's, UK 1980, no power supply - Auction

Location: Hallett Cove, SA, Australia
Condition: Used
Current Price: $30.00 AUD
Time Left: 5d 20h 19m 49s
Bids: 0
1:32 Scalextric C2783A Mercedes-Benz 300 SLR & Mercedes SLR Mclaren 722 Twin Set - Fixed Price

Location: Kingswood, NSW, Australia
Condition: New
Current Price: $149.95 AUD
Time Left: 15d 19h 39m 38s
Bids: 0
Scalextric C3058A 1955 Mercedes Benz 300 SLR / Jaguar D Type Set - New! - Fixed Price

Location: Alexandria, NSW, Australia
Condition: New
Current Price: $165.00 AUD
Time Left: 26d 19h 38m 22s
Bids: 0