Car Details
BMW M1

51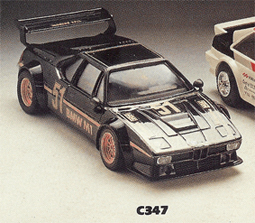 Years Released: 1984 1985 1986 1987 1988 1989 1990 1992 (Item Year pages)
Item released for 8 years.
Car:
BMW M1
Number:
51
Information:
Length - 5 9/16" - 142mm.
Category:
Cars

Category Details:
Classic cars from all eras.
Car Category:
Endurance

Car Category Details:
A car racing class concentrating on the ability of manufacturers to build reliable yet sporty cars.
Base Colour:
Black

Colour Details:
The most elegant of all colours.
Logo & Box Style:

1984
1985
1986
1987
1988
1989
1990
1992
Make:
BMW

Logo:
BMW Logo
Logo Years:
---
Make Details:
Bayerische Motorenwerke started manufacturing cars in 1929, the BMW is now a household name.
Make Country:
Germany
Model:
M1

Model Details:
A very rare hand-built BMW model, only 453 were made.
Model Production Years:
1978 - 1981
Item Ranking:
Current: 55 -
February 2021
Previous: 41 -
January 2021
Movement:

(-14)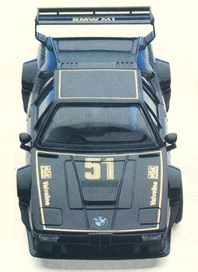 Car Year Details
(8)
Item Year Information
YEAR
INFORMATION
1985
Designed exclusively for the world of sports car racing, the M1 was built in limited numbers for standard road use in order to qualify for racing events. The elegant lines of this performance car are faithfully reproduced on the model and the attractive black and gold livery make it an absolute must for the discerning Scalextric driver looking for that extra touch of style.
1986
The classic lean and hungry look of BMW sports cars is faithfully reproduced in this low, track-hugging model.
1987
The characteristic radiator grille 'nostrils' and badge of BMW (Bavarian Motor Works) will be found depicted on this handsome replica.
1989
All the Scalextric Rally Cars are fitted with a standard type motor, rear axle contrate drive gear and pick-up system.
However, they have different driving characteristics due to varying centres of gravity, wheel/tyre sizes, weight, wheel track etc.
Thus rallying with mixed car types will be as interesting as with real cars and, of course, the design of the track circuit will have an influence on the result.
1992
Rally cars tend to come in all shapes and sizes. Some are sponsored by large consortiums with professional drivers, others are private entries whose sponsorship relies heavily on the drivers local business acquaintances.
There are various types of rallies which are raced in all parts of the world. Some are raced over rough terrain, others on normal tarmac roads. Many of the lessons learned during these gruelling drives are later incorporated into the normal standard family saloon giving greater safety and reliability to the driving public at large.
The Scalextric Rally Cars shown are typical of the cars seen competing in all ports of the world.
Service Sheets
(0)
| SHEET NO | SERVICE SHEET NAME | ISSUE DATE |
| --- | --- | --- |
Catalogue Images
(8)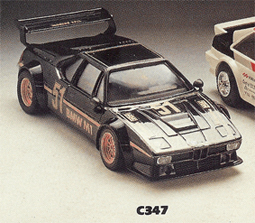 C.347 BMW M1 - 1984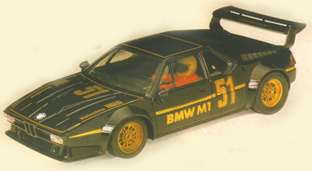 C.347 BMW M1 - 1985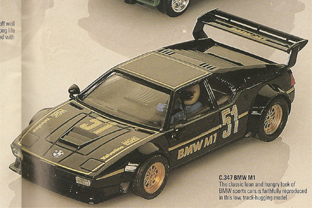 C.347 BMW M1 - 1986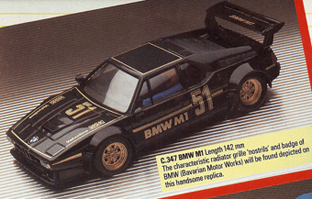 C.347 BMW M1 - 1987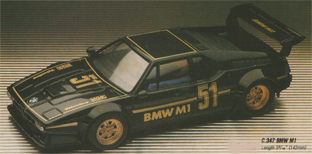 C.347 BMW M1 - 1988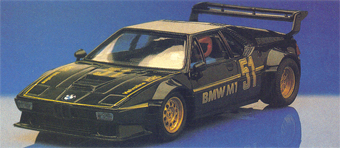 C.347 BMW M1 - 1989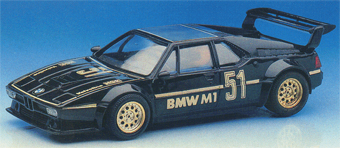 C.347 BMW M1 - 1990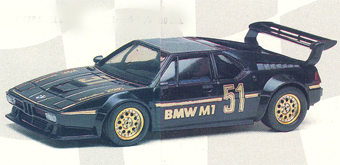 C.347 BMW M1 - 1992
BMW M1 on ebay UK

Search For: 'scalextric (347,bmw m1)'
Ending Soonest
ITEM
DETAILS
Scalextric bmw m1 Shell Only - Auction

Location: Ipswich, United Kingdom
Condition: Used
Current Price: £4.00 GBP
Time Left: 0d 21h 50m 15s
Bids: 0
SCALEXTRIC VGC PINK-KAR BEETLE SCARAB CV042 MILLE MIGLIA No 347 1955 - Store Inventory

Location: Altrincham, United Kingdom
Condition: Used
Current Price: £46.99 GBP
Time Left: 1d 7h 9m 17s
Bids: 0
Scalextric Spain Planet Rally Mythical BMW M1 N10 Motul Ltd. Ed brand new Boxed - Fixed Price

Location: Birmingham, United Kingdom
Condition: New
Current Price: £80.00 GBP
Time Left: 1d 7h 52m 22s
Bids: 0
Scalextric Spain Planet Rally Mythical BMW M1 N 3 Motul Ltd. Ed brand new Boxed - Fixed Price

Location: Birmingham, United Kingdom
Condition: New
Current Price: £80.00 GBP
Time Left: 1d 7h 53m 36s
Bids: 0
Greenhills Scalextric McLaren MP4-26 steering wheel and mounting - Used - P3585 - Fixed Price

Location: Wetherby, United Kingdom
Condition: Used
Current Price: £4.38 GBP
Time Left: 1d 23h 50m 5s
Bids: 0
RUSC Really Useful Spares - reproduction SCALEXTRIC mirrors - Store Inventory

Location: Stockport, United Kingdom
Condition: New
Current Price: £1.99 GBP
Time Left: 2d 1h 37m 36s
Bids: 0
CARRERA 27627 BMW M1 PROCAR DENIM #81 1980 BNIB SCALEXTRIC COMPATIBLE - Store Inventory

Location: Stockport, United Kingdom
Condition: New
Current Price: £39.99 GBP
Time Left: 2d 2h 22m 25s
Bids: 0
Scaleauto BMW M1 Group 5 Le Mans Racer White Slot Car Kit (Suits Scalextric) - Auction

Location: Guildford, United Kingdom
Condition: New
Current Price: £39.50 GBP
Time Left: 2d 2h 36m 41s
Bids: 0
FLYSLOT 051301 LTD ED BMW M1 TEAM GUNSTON 1000KM KYALAMI '79 1/32 SCALEXTRIC - Store Inventory

Location: Bexleyheath, United Kingdom
Condition: New
Current Price: £69.99 GBP
Time Left: 2d 20h 3m 22s
Bids: 0
FLY A1301 BMW M1 PROCAR 1980 HANS GEORG BURGER BASF #80 BNIB SCALEXTRIC COMPAT - Store Inventory

Location: Stockport, United Kingdom
Condition: New
Current Price: £54.99 GBP
Time Left: 2d 23h 2m 4s
Bids: 0
Greenhills Scalextric Accessory Pack front lights PCB Range Rover Police car ... - Fixed Price

Location: Wetherby, United Kingdom
Condition: New
Current Price: £8.79 GBP
Time Left: 3d 8h 30m 58s
Bids: 0
Greenhills Scalextric Lotus Formula Junior tyre pair C67 - Used - P3397 - Fixed Price

Location: Wetherby, United Kingdom
Condition: Used
Current Price: £4.39 GBP
Time Left: 4d 0h 55m 49s
Bids: 0
SCALEXTRIC C405 BMW M1 SILVER VERY GOOD PLUS UNBOXED - Store Inventory

Location: Stockport, United Kingdom
Condition: Used
Current Price: £35.00 GBP
Time Left: 4d 6h 5m 48s
Bids: 0
Greenhills Scalextric McLaren MP4-26 Barge Boards - Used - P3578 - Fixed Price

Location: Wetherby, United Kingdom
Condition: Used
Current Price: £4.38 GBP
Time Left: 5d 0h 11m 24s
Bids: 0
Scalextric 1:32 Car - C347 Black BMW M1 #51 #Z1 - Fixed Price

Location: Mansfield, United Kingdom
Condition: Used
Current Price: £32.99 GBP
Time Left: 5d 10h 29m 36s
Bids: 0
Scalextric BMW M1 - Auction

Location: Solihull, United Kingdom
Condition: Used
Current Price: £4.99 GBP
Time Left: 6d 10h 7m 0s
Bids: 0
Scalextric BMW M1 Car Black No. 51 Untested - Auction

Location: Macclesfield, United Kingdom
Condition: Used
Current Price: £5.50 GBP
Time Left: 6d 10h 36m 15s
Bids: 1
Scalextric BMW M1 - C347 in Black - Boxed - Auction

Location: Haverhill, United Kingdom
Condition: Used
Current Price: £45.99 GBP
Time Left: 6d 10h 39m 29s
Bids: 0
SCALEXTRIC C405 BMW M1 SILVER VERY GOOD PLUS UNBOXED - Fixed Price

Location: Birmingham, United Kingdom
Condition: Used
Current Price: £45.00 GBP
Time Left: 8d 7h 52m 40s
Bids: 0
Greenhills Scalextric Maserati MC12 Pakelo No.1 barge board C2728 - Used - P... - Fixed Price

Location: Wetherby, United Kingdom
Condition: Used
Current Price: £3.84 GBP
Time Left: 9d 19h 59m 39s
Bids: 0
Greenhills Scalextric BMW M1 Engine Mounts Mabuchi Engine - Used - P4745 - Fixed Price

Location: Wetherby, United Kingdom
Condition: Used
Current Price: £6.59 GBP
Time Left: 9d 22h 23m 10s
Bids: 0
PINK KAR cv 042 VW BEETLE MILLE MIGLIA RED #347 MINT BOXED SCALEXTRIC REPLICA - Store Inventory

Location: Stockport, United Kingdom
Condition: New
Current Price: £39.99 GBP
Time Left: 10d 6h 57m 7s
Bids: 0
SCALEXTRIC C347 BMW M1 NO51 MINT BOXED LOOKS LITTLE USED BOX SUPERB!! - Fixed Price

Location: Birmingham, United Kingdom
Condition: Used
Current Price: £50.00 GBP
Time Left: 10d 7h 46m 59s
Bids: 0
Greenhills Scalextric Maserati MC12 Front axle and wheels - Used - P3606 - Fixed Price

Location: Wetherby, United Kingdom
Condition: Used
Current Price: £3.84 GBP
Time Left: 11d 8h 45m 59s
Bids: 0
Greenhills Scalextric Maserati MC12 rear tyre pair - Used - P3604 - Fixed Price

Location: Wetherby, United Kingdom
Condition: Used
Current Price: £5.10 GBP
Time Left: 12d 3h 37m 35s
Bids: 0
Greenhills Scalextric Porsche F1 Yellow underpan C73 - Used - P3366 - Fixed Price

Location: Wetherby, United Kingdom
Condition: Used
Current Price: £3.99 GBP
Time Left: 12d 3h 37m 41s
Bids: 0
Greenhills Scalextric Maserati MC12 rear chassis section with magnet - Used -... - Fixed Price

Location: Wetherby, United Kingdom
Condition: Used
Current Price: £3.84 GBP
Time Left: 12d 3h 37m 46s
Bids: 0
Greenhills Scalextric Maserati MC12 Pakelo front chassis section C2728- Used ... - Fixed Price

Location: Wetherby, United Kingdom
Condition: Used
Current Price: £3.84 GBP
Time Left: 12d 3h 37m 50s
Bids: 0
SCALEXTRIC C347 FULLY CHROMED BMW M1 BLACK INTERIOR & MIRRORS BOXED VERY RARE!! - Fixed Price

Location: Birmingham, United Kingdom
Condition: Used
Current Price: £80.00 GBP
Time Left: 12d 7h 49m 12s
Bids: 0
Scalextric - C405 - BMW M1 - Boxed - Store Inventory

Location: Waltham Cross, United Kingdom
Condition: Used
Current Price: £49.99 GBP
Time Left: 13d 4h 57m 46s
Bids: 0
Greenhills Scalextric BMW M1 Front Tyre Pair C347 - Used - P5914 - Fixed Price

Location: Wetherby, United Kingdom
Condition: Used
Current Price: £4.39 GBP
Time Left: 13d 8h 40m 8s
Bids: 0
Greenhills Scalextric BMW M1 Rear Tyre Pair C347 - Used - P5915 - Fixed Price

Location: Wetherby, United Kingdom
Condition: Used
Current Price: £4.39 GBP
Time Left: 13d 8h 40m 14s
Bids: 0
Greenhills Scalextric Porsche 911 GT1 tyre pair - Used - P3348 - Fixed Price

Location: Wetherby, United Kingdom
Condition: Used
Current Price: £3.84 GBP
Time Left: 13d 22h 6m 40s
Bids: 0
M/B Scalextric BMW M1 -BLACK REF C347 - Fixed Price

Location: Livingston, United Kingdom
Condition: New
Current Price: £49.99 GBP
Time Left: 14d 20h 41m 2s
Bids: 0
Greenhills Scalextric Maserati MC12 rear light unit - Used - P3608 - Fixed Price

Location: Wetherby, United Kingdom
Condition: Used
Current Price: £4.39 GBP
Time Left: 16d 9h 1m 10s
Bids: 0
Greenhills Scalextric Maserati MC12 rear axle and wheels silver - Used - P3605 - Fixed Price

Location: Wetherby, United Kingdom
Condition: Used
Current Price: £4.39 GBP
Time Left: 16d 9h 1m 36s
Bids: 0
Scalextric / SCX new grippy car tyres. BMW M1 Ferrari GTO Lancia 037 etc. SUPERB - Store Inventory

Location: Sandbach, United Kingdom
Condition: New
Current Price: £1.99 GBP
Time Left: 16d 12h 10m 33s
Bids: 0
Scalextric / SCX new grippy car tyres. BMW M1 Ferrari GTO Lancia 037 etc. SUPERB - Store Inventory

Location: Sandbach, United Kingdom
Condition: New
Current Price: £3.19 GBP
Time Left: 16d 12h 10m 33s
Bids: 0
Scalextric / SCX new grippy car tyres. BMW M1 Ferrari GTO Lancia 037 etc. SUPERB - Store Inventory

Location: Sandbach, United Kingdom
Condition: New
Current Price: £13.19 GBP
Time Left: 16d 12h 10m 33s
Bids: 0
Scalextric / SCX new grippy car tyres. BMW M1 Ferrari GTO Lancia 037 etc. SUPERB - Store Inventory

Location: Sandbach, United Kingdom
Condition: New
Current Price: £54.99 GBP
Time Left: 16d 12h 10m 33s
Bids: 0
Scalextric / SCX new grippy car tyres. BMW M1 Ferrari GTO Lancia 037 etc. SUPERB - Store Inventory

Location: Sandbach, United Kingdom
Condition: New
Current Price: £1.99 GBP
Time Left: 16d 12h 10m 33s
Bids: 0
CARRERA 27567 BMW M1 PRO CAR BASF #80 1980 BNIB SCALEXTRIC COMPATIBLE - Store Inventory

Location: Stockport, United Kingdom
Condition: New
Current Price: £39.99 GBP
Time Left: 18d 0h 26m 58s
Bids: 0
SCALEXTRIC C405 SILVER BMW M1 ROADCAR BRAND NEW TOTALLY PRISTENE!!! - Fixed Price

Location: Birmingham, United Kingdom
Condition: New
Current Price: £65.00 GBP
Time Left: 18d 7h 54m 45s
Bids: 0
Greenhills Scalextric Turtle / Horse and Jockey tyre pair - Used - P3612 - Fixed Price

Location: Wetherby, United Kingdom
Condition: Used
Current Price: £5.10 GBP
Time Left: 18d 23h 59m 13s
Bids: 0
SCALEXTRIC C405 SILVER BMW M1 ROADCAR BRAND NEW ALMOST PRISTENE!!! - Fixed Price

Location: Birmingham, United Kingdom
Condition: New
Current Price: £63.00 GBP
Time Left: 19d 7h 58m 38s
Bids: 0
Scalextric BMW M1 RUSC Black Wing Mirrors New - Fixed Price

Location: Huddersfield, United Kingdom
Condition: New
Current Price: £4.99 GBP
Time Left: 22d 3h 35m 38s
Bids: 0
Vintage Scalextric Tyres Porsche 911 935, TR7, Rover SDI BMW CSL F1 Mini Escort - Store Inventory

Location: Broadstairs, United Kingdom
Condition: New
Current Price: £3.99 GBP
Time Left: 22d 7h 46m 38s
Bids: 0
Greenhills Scalextric Porsche 962 body fastening screws (3) - Used - P3575 ##x - Fixed Price

Location: Wetherby, United Kingdom
Condition: Used
Current Price: £3.29 GBP
Time Left: 22d 10h 7m 50s
Bids: 0
SCALEXTRIC SPAIN 4063 BMW M1 TYPE 2 EXCELLENT UNBOXED - Store Inventory

Location: Stockport, United Kingdom
Condition: New
Current Price: £55.00 GBP
Time Left: 23d 1h 42m 53s
Bids: 0
Scalextric C347 BMW M1 mint unused condition and box mint - Fixed Price

Location: Warrington, United Kingdom
Condition: New
Current Price: £75.00 GBP
Time Left: 23d 5h 33m 47s
Bids: 0
Scalextric / SCX 100 new grippy car tyres BMW M1 Ferrari GTO Lancia 037 etc - Store Inventory

Location: Sandbach, United Kingdom
Condition: New
Current Price: £54.99 GBP
Time Left: 23d 11h 9m 34s
Bids: 0
SCALEXTRIC SPANISH BMW M1 #50 RED 4063 1:32 SLOT USED BOXED - Fixed Price

Location: Rochester, United Kingdom
Condition: Used
Current Price: £59.99 GBP
Time Left: 24d 2h 47m 51s
Bids: 0
Scalextric BMW M1 #51 BLACK C347 MB Sports GT Car. - Fixed Price

Location: Birmingham, United Kingdom
Condition: Used
Current Price: £55.00 GBP
Time Left: 28d 6h 47m 26s
Bids: 0
Scalextric 4064 BMW M1, totally mint appears unused, boxed with instructions - Fixed Price

Location: Warrington, United Kingdom
Condition: Used
Current Price: £275.00 GBP
Time Left: 30d 7h 27m 35s
Bids: 0
Scalextric 4063 BMW M1, totally mint appears unused, boxed with instructions - Fixed Price

Location: Warrington, United Kingdom
Condition: Used
Current Price: £250.00 GBP
Time Left: 30d 7h 27m 36s
Bids: 0
BMW M1 on ebay US

Search For: 'scalextric (347,bmw m1)'
Ending Soonest
BMW M1 on ebay Australia

Search For: 'scalextric (347,bmw m1)'
Ending Soonest