Set Details
World Championship Set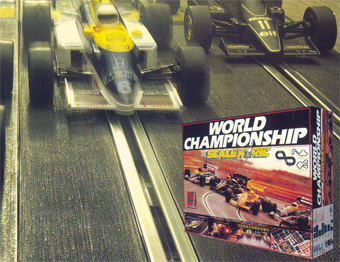 Years Released: 1988 1989 1990 1991 1992 1993 (Item Year pages)
Item released for 6 years.
Item:
World Championship Set
Information:
---
Category:
Sets

Category Details:
Scalextric sets from all eras.
Logo & Box Style:

1988
1989
1990
1991
1992
1993
Item Ranking:
Current: 8 -
January 2020
Previous: 6 -
December 2019
Movement:

(-2)
Set Year Details
(6)
Set Items
(4)
Set Year Information
YEAR
INFORMATION
1989
The amazing flexibility of the Scalextric system is demonstrated by this superb set. Four drivers, a starter and a lap recorder can be kept at full stretch on the 4 lane circuit with the Williams cars competing fiercely against the Lotus team. Or you can enjoy driving on your own on one of the alternative twin lane circuits with a track length of over 40ft.
1990
The level of activity involved in 4 lane car racing with this magnificent set knows no bounds.
You can have team or individual races either of which will keep the drivers fully occupied.
There is scope for an official starter to operate the two Rev-Starts and to supervise the Lap Counters. If you are looking for something more peaceful, re-build the circuit into one of the twin lane versions.
Mains Transformer included.
1991
4 Lane racing brings its own brand of excitement and drama to Scalextric. The two Williams cars can race as a team against the Lotuses or you can all race independently. In addition to the four drivers an official starter is needed to operate the Rev Start tracks on which the cars rev up waiting for the 'off'.
Once they are away, the starter has to check the lap counters as everyone else is busy striving for the lead.
Alternative two lane circuits can be built with the large selection of track sections supplied.
Space required 10' x 4' 305 x 122 cms.
Track running length 22'6" 685 cms.
1992
Mains Power Pock included.
It's Lotus versus Williams as the cars hurtle around the impressive 4 lane circuit.
Will the famous No. 5 Williams beat the yellow lotus or will one of their respective team mates beat them both across the finishing line. All the cars are fitted with Magnatraction and Turboflash and are equally matched so the winning car will be controlled by the driver with the sharpest reflexes and nerve!
Two Rev Start tracks are included ensuring an even start while two lap counters keep track of the number of laps.
Should the demand of four lane rating prove too much, then the large selection of track can be used to construct two lane circuits.
1993
Contents: Mains Power Pack included.
Nigel Mansell has left Formula One for the time being and headed off to the USA and the World of Indy racing. However, he is still the World Champion and has left behind a legacy of great racing moments while with the incredibly successful Williams Team.
The World Championship set is suitably named as it features four cars from two of the most famous teams In Formula One racing. The teams are Lotus and Williams, and one of the Williams cars carries the distinctive red five of Nigel Mansell fame. Each car in the set is engineered to a very high standard and includes Magnatraction for improved road holding and Turboflash.
The large amount of track is sufficient to build a four lane figure of eight circuit or by using the same track contents, several equally impressive two lane versions. Equipped with lapcounters, Rev-Start tracks and skid chicanes this set can more than handle the demands made of it as the competitors race each other one of whom will eventually be the "World Champion".
Service Sheets
(0)
| SHEET NO | SERVICE SHEET NAME | ISSUE DATE |
| --- | --- | --- |
Catalogue Images
(6)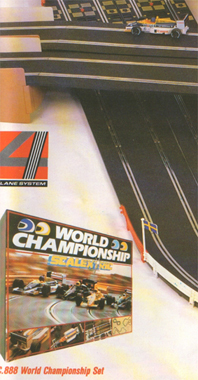 C.888 World Championship Set - 1988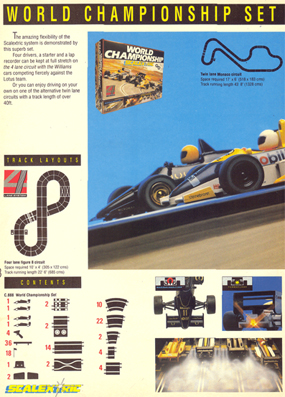 C.888 World Championship Set - 1989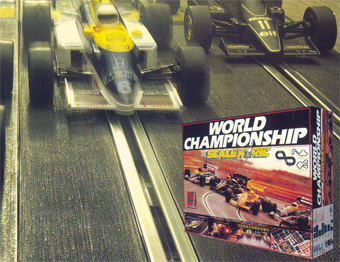 C.888 World Championship Set - 1990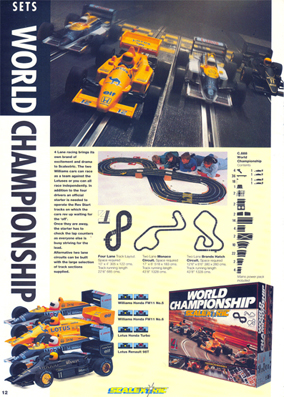 C.888 World Championship Set - 1991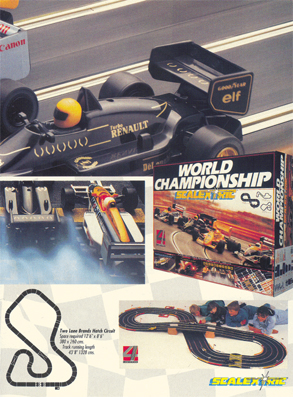 C.888 World Championship Set - 1992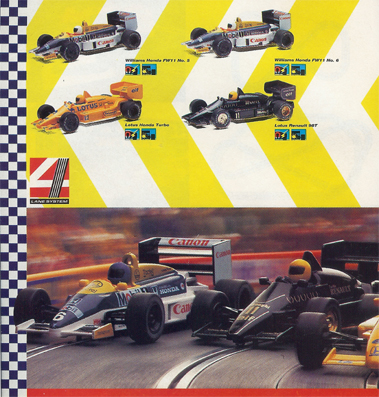 C.888 World Championship Set - 1993
World Championship Set on ebay UK

Search For: 'scalextric world championship set'
Ending Soonest
World Championship Set on ebay US

Search For: 'scalextric world championship set'
Ending Soonest
ITEM
DETAILS
No results returned...
World Championship Set on ebay Australia

Search For: 'scalextric world championship set'
Ending Soonest