Set Details
Mini Rallycross Set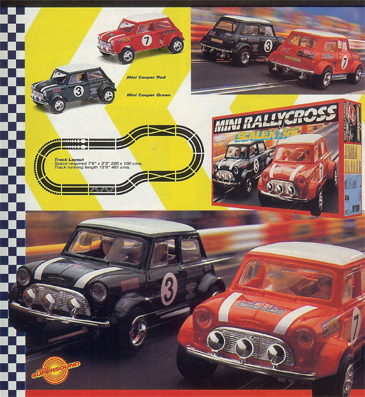 Years Released: 1993 1994 1995 (Item Year pages)
Item released for 3 years.
Item:
Mini Rallycross Set
Information:
---
Category:
Sets

Category Details:
Scalextric sets from all eras.
Logo & Box Style:

1993
1994
1995
Item Ranking:
Current: 191 -
May 2022
Previous: 99 -
April 2022
Movement:

(-92)
Set Year Details
(3)
Set Items
(2)
Set Year Information
YEAR
INFORMATION
1993
Contents: Mains Power Pack included
Supersound Unit. Requires 2 x Ever Ready HP7 batteries (not included).
For over thirty years the Mini has been a firm favourite for many it thousands of drivers. In racing terms it found fame in its early days as a superb rally car when it won the Monte Carlo Rally several years In succession. However, it is not only in this type of racing that the Mini has made a name for itself, it is also particularly suited for Rally Cross because of its "road holding" and turn of speed.
The Scalextric Mini Cooper is just as nippy as its big brother, so much so that a little practice may be needed to get used to the handling of this spritely character.
The large offset oval provides ample opportunity for the drivers to show off their driving prowess as the Minis just miss each other on the cross-over tracks. The adjustable rough terrain track can also prove to be the undoing of an unsuspecting driver, but those with sharp reflexes should not have too much of a problem. This set includes the new Power base hand throttle connection system.
1994
Contents: Power Base and mains transformer Included.
Motor racing can take many forms but there are few that give the spectators, as well as the participants, more thrills per minute than the rough and tumble of the Rally Cross races. Cars of all types race across the dirt track, wheels spinning and dirt flying.
As well as racing with the big boys, the Mini also has its own class in Rally Cross. This class is suitably represented in this set with the two nippy Mini's, an off set oval circuit and the carefully positioned crossover tracks. Watch out for these as you could 'crash out' of the race. A rough terrain track is also included, requiring a little more daring from the more adventurous driver if raced over at speed.
Add to these features the Power Base, for ease of hand throttle and transformer connection, and you have a set full of excitement, just like the real thing. All that is missing is the mud!
1995
CONTENTS: Power Base and mains transformer included.
The all action, rough and tumble of Rally Cross is the scenario for this set. The two ubiquitous Miniís must chase each other around the simple but tricky circuit, each one hoping the other will lose control, leaving the road clear for the survivor. Banked curves at one end of the track ensure speed but the inclusion of cross-over sections and a rough terrain track add up to perils for the unprepared.
The circuit is certainly a challenge for the Mini drivers but each car is now fitted with a Magnatraction plate so their racing task is made a little easier. Some patience is needed when racing these cars but once achieved, like their full size counterparts, they are a lot of fun.
Service Sheets
(0)
| SHEET NO | SERVICE SHEET NAME | ISSUE DATE |
| --- | --- | --- |
Catalogue Images
(3)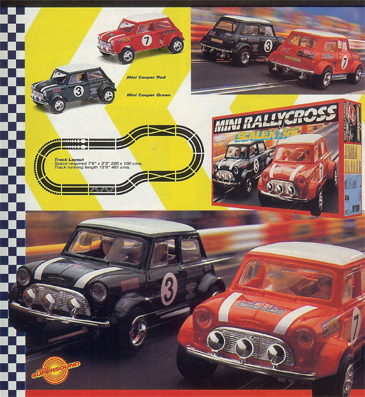 C.556 Mini Rallycross Set - 1993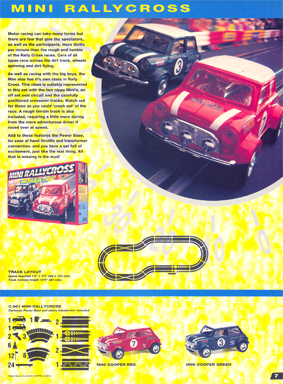 C.661 Mini Rallycross Set - 1994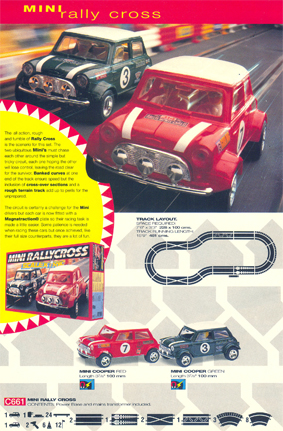 C.661 Mini Rallycross Set - 1995
Mini Rallycross Set on ebay US

Search For: 'scalextric mini set'