Car Details
Renault Turbo RS01

15

Years Released: 1979 1980 1981 1982 1983 (Item Year pages)
Item released for 5 years.
Car:
Renault Turbo RS01
Number:
15
Information:
---
Category:
Cars

Category Details:
Classic cars from all eras.
Car Category:
F1GP

Car Category Details:
Formula One Grand Prix.
Base Colour:
Yellow

Colour Details:
Various shades of yellow.
All Colours:
Yellow, Black
Logo & Box Style:

1979
1980
1981
1982
1983
Make:
Renault

Logo:
Renault Logo
Logo Years:
---
Make Details:
Renault, founded in 1899, has produces a large range of motor vehicles for over 100 years.
Make Country:
France
Model:
RS01

Model Details:
The first Formula 1 car powered by a turbo engine.
Model Production Years:
1977 - 1979
Item Ranking:
Current: 59 -
August 2019
Previous: 126 -
July 2019
Movement:

(+67)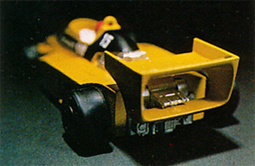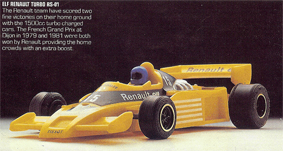 Car Year Details
(5)
Sets Included In
(2)
All Colours
(2)
| COLOUR | DETAILS | IMAGE |
| --- | --- | --- |
| Yellow | Various shades of yellow. | |
| Black | The most elegant of all colours. | |
Item Year Information
YEAR
INFORMATION
1979
The recent entry of a Renault team into Formula One motor racing has been welcomed by all areas of the sport. Renault won the first ever Grand Prix in 1906. The Renault is unique in Formula One racing in that it is the only car to be powered by a turbo-charged 1,500 c.c. engine which gives the car the advantage of lower fuel consumption. Totally different driving skills are needed in the turbo driven car and Renault will be strong contenders for the 1979 World Championship. The Renault RS 01 is a new addition to the Scalextric range for 1979.
1980
The Renault team have been making considerable progress over the last two seasons with their unique 1500cc turbo-charged engines. Totally different driving skills are needed when handling a turbo-charged car which has the distinct advantage of lower fuel consumption. With a magnificent victory in the 1979 French Grand Prix the turbo-charged engine has ensured a place for itself in the 1980 season. The Renault RS01 a recent addition to the Scalextric range gives a fine account of itself in any race.
1981
Powered by the 1500cc turbo-charged Renault V6 engine.
1982
The Renault team have scored two fine victories on their home ground with the 1500cc turbo charged cars. The French Grand Prix at Dijon in 1979 and 1981 were both won by Renault providing the home crowds with an extra boost.
The Renault team have been firmly committed to the turbo charged engine since the late 70ís. A great deal has been learned and constant improvements are being made to their designs and the 1500cc Renault engine produces incredible torque. The cars perform best on circuits where they have to brake hard and accelerate fast away from comers thus utilising the full power available from the turbo charged engines. The Scalextric model is a fine representation of the RS-01.
Service Sheets
(2)
| SHEET NO | SERVICE SHEET NAME | ISSUE DATE |
| --- | --- | --- |
| 102C | C.126 Lotus 77, C.131 March Ford 711, C.134 Elf Renault Turbo RS-01, C.135 Elf Tyrrell 008, C.136 Ferrari 312 T3, C.137 Ligier JS11, C.138 Saudia Leyland Williams FW07B | February 1981 |
| 102C (Back) | C.126 Lotus 77, C.131 March Ford 711, C.134 Elf Renault Turbo RS-01, C.135 Elf Tyrrell 008, C.136 Ferrari 312 T3, C.137 Ligier JS11, C.138 Saudia Leyland Williams FW07B - Back | February 1981 |
Catalogue Images
(5)


C.134 Renault Turbo RS01 - 1979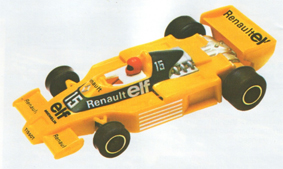 C.134 Renault Turbo RS01 - 1980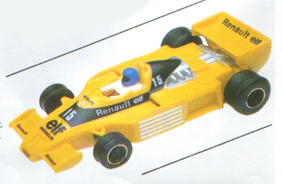 C.134 Renault Turbo RS01 - 1981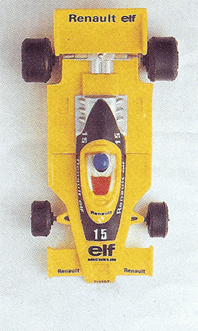 C.134 Renault Turbo RS01 - 1982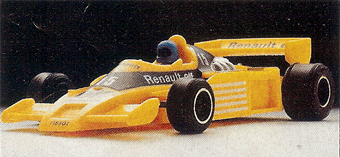 C.134 Renault Turbo RS01 - 1983
Renault Turbo RS01 on ebay UK

Search For: 'scalextric (134,renault turbo rs01)'
Ending Soonest
Renault Turbo RS01 on ebay US

Search For: 'scalextric (134,renault turbo rs01)'
Ending Soonest
Renault Turbo RS01 on ebay Australia

Search For: 'scalextric (134,renault turbo rs01)'
Ending Soonest