Car Details
Ferrari F1

27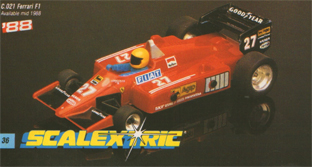 Years Released: 1988 1989 (Item Year pages)
Item released for 2 years.
Car:
Ferrari F1
Number:
27
Information:
Super Racing System. Spanish import.
Category:
Cars

Category Details:
Classic cars from all eras.
Car Category:
F1GP

Car Category Details:
Formula One Grand Prix.
Base Colour:
Red

Colour Details:
Various shades of red.
Logo & Box Style:

1988
1989
Make:
Ferrari

Logo:
Ferrari Logo
Logo Years:
---
Make Details:
The most famous sports car brand in the world due to its exceptional racing history and iconic sports cars.
Make Country:
Italy
Model:
F1/87

Model Details:
The F1/87 finished fourth in the F1 Constructors Championship in 1987.
Model Production Years:
1987
Item Ranking:
Current: 53 -
December 2020
Previous: 46 -
November 2020
Movement:

(-7)
Car Year Details
(2)
Item Year Information
YEAR
INFORMATION
1988
Super Racing System
These exciting models have been designed and engineered in Spain for the more advanced Scalextric driver. They are not intended for use on banked curves. The brightly decorated bodies are vacuum formed in light, tough polycarbonate. The basic chassis may be 'modified' by the driver/mechanic to suit any particular circuit.
The variables are:-
Rear wheel track
Wheelbase
Gear ratio (3 options supplied)
Guide blade position
Height of adhesion magnets from track
The driver who arrives at the best combination of these adjustments has the best chance of winning the race.
1989
The exciting SRS cars are for more advanced Scalextric drivers.
They have been designed and engineered in Spain to incorporate a chassis with adjustable features enabling the driver/mechanic to experiment with different configurations that will give the "drivers" car the best performance on a particular track circuit.
The adjustments available are rear wheel track, wheelbase, rear axle gear ratio, guide blade position and adhesion magnet position.
The cars are not designed for running on banked curves.
Service Sheets
(0)
| SHEET NO | SERVICE SHEET NAME | ISSUE DATE |
| --- | --- | --- |
Catalogue Images
(2)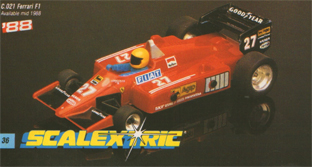 C.021 Ferrari F1 - 1988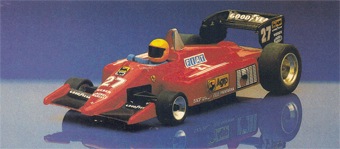 C.021 Ferrari F1 - 1989
Ferrari F1 on ebay UK

Search For: 'scalextric (21,ferrari )'
Ending Soonest
ITEM
DETAILS
Scalextric Lamborghini Gallardo & Ferrari F430 360 Degree Spin / Drift Excellent - Fixed Price

Location: Belper, United Kingdom
Condition: Used
Current Price: £60.00 GBP
Time Left: 0d 0h 53m 9s
Bids: 0
M/B sCX /SCALEXTRIC WHITE FERRARI F40 TETRA PAK REF 8355 ONLY SOLD IN SPAIN - Fixed Price

Location: Livingston, United Kingdom
Condition: New
Current Price: £54.00 GBP
Time Left: 0d 4h 46m 34s
Bids: 0
Lot x 4 Scalextric Curved Track: 2 x MM/T22 + 2 x MM/T21 Original Rubber System - Fixed Price

Location: Stourbridge, United Kingdom
Condition: Used
Current Price: £6.99 GBP
Time Left: 0d 6h 6m 50s
Bids: 0
DD Slots Scalextric Ferrari 643 No.27 C319 Body Shell & Underpan - Used - S1206 - Fixed Price

Location: Wetherby, United Kingdom
Condition: Used
Current Price: £7.00 GBP
Time Left: 0d 7h 51m 52s
Bids: 0
Greenhills Scalextric Electronic Model Racing Catalogue 21st Edition 1980 The... - Fixed Price

Location: Wetherby, United Kingdom
Condition: Used
Current Price: £8.79 GBP
Time Left: 0d 7h 56m 11s
Bids: 0
Scalextric C195 Ferrari F40, mint unused car and boxed - Fixed Price

Location: Warrington, United Kingdom
Condition: Used
Current Price: £45.00 GBP
Time Left: 0d 8h 26m 50s
Bids: 0
Scalextric 2 new grippy 90s F1 rear slick car tyres SUPERB spares Ferrari etc - Store Inventory

Location: Sandbach, United Kingdom
Condition: New
Current Price: £1.99 GBP
Time Left: 0d 9h 12m 39s
Bids: 0
Scalextric 20 new grippy 90s F1 rear slick car tyres SUPERB spares Ferrari etc - Store Inventory

Location: Sandbach, United Kingdom
Condition: New
Current Price: £13.19 GBP
Time Left: 0d 9h 16m 34s
Bids: 0
Scalextric 100 new grippy 90s F1 rear slick car tyres SUPERB spares Ferrari etc - Store Inventory

Location: Sandbach, United Kingdom
Condition: New
Current Price: £54.99 GBP
Time Left: 0d 9h 17m 52s
Bids: 0
Scalextric 100 new grippy 90s F1 f + r slick car tyres SUPERB spares Ferrari etc - Store Inventory

Location: Sandbach, United Kingdom
Condition: New
Current Price: £54.99 GBP
Time Left: 0d 9h 21m 36s
Bids: 0
Scalextric 20 new grippy 90s F1 f + r slick car tyres SUPERB spares Ferrari etc - Store Inventory

Location: Sandbach, United Kingdom
Condition: New
Current Price: £13.19 GBP
Time Left: 0d 9h 22m 48s
Bids: 0
Scalextric 4 new grippy 90s F1 f + r slick car tyres SUPERB spares Ferrari etc - Store Inventory

Location: Sandbach, United Kingdom
Condition: New
Current Price: £3.19 GBP
Time Left: 0d 9h 24m 35s
Bids: 0
Scalextric 4 new grippy 90s F1 front slick car tyres SUPERB spares Ferrari etc - Store Inventory

Location: Sandbach, United Kingdom
Condition: New
Current Price: £3.19 GBP
Time Left: 0d 9h 27m 7s
Bids: 0
Scalextric 2 new grippy 90s F1 front slick car tyres SUPERB spares Ferrari etc - Store Inventory

Location: Sandbach, United Kingdom
Condition: New
Current Price: £1.99 GBP
Time Left: 0d 9h 28m 16s
Bids: 0
Scalextric 20 new grippy 90s F1 front slick car tyres SUPERB spares Ferrari etc - Store Inventory

Location: Sandbach, United Kingdom
Condition: New
Current Price: £13.19 GBP
Time Left: 0d 9h 29m 19s
Bids: 0
Scalextric 100 new grippy 90s F1 front slick car tyres SUPERB spares Ferrari etc - Store Inventory

Location: Sandbach, United Kingdom
Condition: New
Current Price: £54.99 GBP
Time Left: 0d 9h 30m 42s
Bids: 0
Greenhills Scalextric Ferrari F1 2004 Rear Axle & Wheels - Used - P5755 - Fixed Price

Location: Wetherby, United Kingdom
Condition: Used
Current Price: £4.39 GBP
Time Left: 0d 10h 10m 15s
Bids: 0
Greenhills Scalextric Ferrari F1 2004 Screw Set x 4 - Used - P5750 - Fixed Price

Location: Wetherby, United Kingdom
Condition: Used
Current Price: £3.29 GBP
Time Left: 0d 10h 10m 37s
Bids: 0
Greenhills Scalextric Ferrari F1 2004 Chassis Extension Plate - Used - P5751 - Fixed Price

Location: Wetherby, United Kingdom
Condition: Used
Current Price: £3.29 GBP
Time Left: 0d 10h 10m 43s
Bids: 0
Greenhills Scalextric Ferrari F1 2004 Barge Board - Used - P5754 - Fixed Price

Location: Wetherby, United Kingdom
Condition: Used
Current Price: £2.74 GBP
Time Left: 0d 10h 10m 50s
Bids: 0
Greenhills Scalextric Accessory Pack for Ferrari 330 P4 white LED front & rea... - Fixed Price

Location: Wetherby, United Kingdom
Condition: New
Current Price: £5.49 GBP
Time Left: 0d 10h 21m 19s
Bids: 0
Scalextric scalelectric scalectric track cars Ferrari F40 Arsenal Jaguar XJ220 - Auction

Location: Coulsdon, United Kingdom
Condition: Used
Current Price: £55.00 GBP
Time Left: 0d 10h 24m 52s
Bids: 0
Scalextric car, Black Lamborghini and Red Ferrari Hornby Hobbies Ltd slot cars. - Auction

Location: Hove, United Kingdom
Condition: Used
Current Price: £18.00 GBP
Time Left: 0d 10h 36m 46s
Bids: 0
SCALEXTRIC C291 FERRARI F40 NEAR MINT WITH WORKING FRONT-REAR/ BRAKE LIGHTS - Fixed Price

Location: Manchester, United Kingdom
Condition: Used
Current Price: £18.99 GBP
Time Left: 0d 10h 47m 10s
Bids: 0
Scalextric F1 Ferrari B-3 74 Regazzoni (4052). Very rare car. Boxed - Auction

Location: London, United Kingdom
Condition: Used
Current Price: £97.00 GBP
Time Left: 0d 10h 49m 37s
Bids: 0
SCALEXTRIC 1960'S FERRARI  #16  RED  C62  1:32 SLOT USED BOXED - Fixed Price

Location: Rochester, United Kingdom
Condition: Used
Current Price: £59.99 GBP
Time Left: 0d 11h 21m 45s
Bids: 0
VINTAGE SCALEXTRIC FERRARI C62 PLUS VARIOUS TRACK,TRANSFORMER, CONTROLLERS ETC. - Auction

Location: Bedford, United Kingdom
Condition: Used
Current Price: £45.00 GBP
Time Left: 0d 13h 2m 47s
Bids: 0
Scalextric C8091 Axel Assembly Jag Tyres Wheels Replacement Set21 PitLane Spares - Fixed Price

Location: Sandwich, United Kingdom
Condition: New
Current Price: £5.00 GBP
Time Left: 0d 13h 48m 2s
Bids: 0
Scalextric Ferrari F430 Carphone Warehouse No62 N.Kinch & A.KIrkaldy C2804 BNIB - Fixed Price

Location: Belper, United Kingdom
Condition: New
Current Price: £65.00 GBP
Time Left: 0d 13h 51m 42s
Bids: 0
Vintage Airfix MRRC Ferrari 312T Nicki Lauda Slot Car Decal Scalextric NOS - Fixed Price

Location: Ashbourne, United Kingdom
Condition: New
Current Price: £8.50 GBP
Time Left: 0d 14h 13m 55s
Bids: 0
RL 521 REPRODUCTION Scalextric C69 FERRARI GT HEADLIGHTS - Store Inventory

Location: Stockport, United Kingdom
Condition: New
Current Price: £7.95 GBP
Time Left: 0d 14h 22m 8s
Bids: 0
scalextric E/4 FERRARI (GT) WITH LIGHTS. Boxed - Auction

Location: London, United Kingdom
Condition: Used
Current Price: £22.00 GBP
Time Left: 0d 14h 23m 6s
Bids: 2
Scalextric Ferrari F40 - Auction

Location: March, United Kingdom
Condition: Used
Current Price: £9.39 GBP
Time Left: 0d 14h 32m 17s
Bids: 3
Scalextric C291 Ferrari F40 #60 ( Red) In Excellent Unboxed Condition - Fixed Price

Location: Dover, United Kingdom
Condition: Used
Current Price: £15.00 GBP
Time Left: 0d 14h 49m 7s
Bids: 0
88229 - Ferrari 512S Coda Lunga 'Le Mans 70 Test' - Scalextric compatible - New - Fixed Price

Location: Bristol, United Kingdom
Condition: New
Current Price: £74.95 GBP
Time Left: 0d 15h 42m 32s
Bids: 0
Fly Ferrari 512S Coda Lunga '24h Le Mans 70' - Scalextric Compatible - Brand New - Fixed Price

Location: Bristol, United Kingdom
Condition: New
Current Price: £89.99 GBP
Time Left: 0d 15h 42m 56s
Bids: 0
Slot.it - Ferrari 312 PB '1st Monza 72' - *Scalextric Compatible* - Brand New. - Fixed Price

Location: Bristol, United Kingdom
Condition: New
Current Price: £79.95 GBP
Time Left: 0d 15h 53m 17s
Bids: 0
A-653 '88089' Ferrari 365 GTB/4 Daytona - Scalextric compatible - Brand New. - Fixed Price

Location: Bristol, United Kingdom
Condition: New
Current Price: £64.95 GBP
Time Left: 0d 15h 54m 37s
Bids: 0
Micro Scalextric track set 1:64 Ferrari F430 GT No.31 ULTIMATE VELOCITY - Fixed Price

Location: St. Ives, United Kingdom
Condition: Used
Current Price: £15.95 GBP
Time Left: 0d 16h 27m 29s
Bids: 0
SCALEXTRIC C9 FERRARI F1 V8 GP NO3 POWERSLEDGE MINT - Fixed Price

Location: Birmingham, United Kingdom
Condition: Used
Current Price: £50.00 GBP
Time Left: 0d 17h 8m 31s
Bids: 0
Scalextric Ferrari C9 power sledge. Very rare. - Auction

Location: London, United Kingdom
Condition: Used
Current Price: £39.00 GBP
Time Left: 0d 17h 17m 34s
Bids: 0
SCALEXTRIC C2803 FERRARI 375 F1 #12 F. GONZALES BRITISH GRAND PRIX WINNER 1951 . - Store Inventory

Location: Bexleyheath, United Kingdom
Condition: New
Current Price: £59.99 GBP
Time Left: 0d 17h 25m 3s
Bids: 0
scalextric C124 Ferrari Vintage - Auction

Location: Gosport, United Kingdom
Condition: Used
Current Price: £8.00 GBP
Time Left: 0d 17h 38m 17s
Bids: 0
Scalextric Ferrari F40 Soft Rear Tyres x2 W8126 *New* - Fixed Price

Location: Huddersfield, United Kingdom
Condition: New
Current Price: £2.99 GBP
Time Left: 0d 18h 5m 16s
Bids: 0
Vintage Scalextric Insert for Event Board FERRARI A201 - Fixed Price

Location: Attleborough, United Kingdom
Condition: Used
Current Price: £19.99 GBP
Time Left: 0d 18h 35m 52s
Bids: 0
Greenhills Scalextric Accessory Pack for Ferrari 330 P4 yellow LED front & re... - Fixed Price

Location: Wetherby, United Kingdom
Condition: New
Current Price: £4.49 GBP
Time Left: 0d 18h 56m 38s
Bids: 0
SCALEXTRIC CATALOGUES 6x VINTAGE CATALOGUES 19th 20th 21st 31st 33rd & 37th + - Auction

Location: Dartmouth, United Kingdom
Condition: Used
Current Price: £5.99 GBP
Time Left: 0d 19h 28m 54s
Bids: 1
Scalextric C2752 Ferrari F1 No6 Slot Car 1:32 - Auction

Location: Lincoln, United Kingdom
Condition: New
Current Price: £40.00 GBP
Time Left: 0d 19h 40m 10s
Bids: 0
Scalextric Ferrari F430 Carphone Warehouse No62 N.Kinch & A.KIrkaldy C2804 Mint - Fixed Price

Location: Belper, United Kingdom
Condition: Used
Current Price: £50.00 GBP
Time Left: 0d 19h 45m 20s
Bids: 0
Carrera Evolution *NEW* 1/32 #4 25460 Sauber Petronas C21 No 8 NOT SCALEXTRIC - Fixed Price

Location: Barnsley, United Kingdom
Condition: New
Current Price: £55.00 GBP
Time Left: 0d 20h 46m 24s
Bids: 0
Carrera Evolution *NEW* 1/32 #5 25723 Sauber Petronas C21 No9 NOT SCALEXTRIC - Fixed Price

Location: Barnsley, United Kingdom
Condition: New
Current Price: £55.00 GBP
Time Left: 0d 20h 46m 44s
Bids: 0
Carrera Evolution *NEW* 1/32 #6 25707 Ferrari F1 F2002 V10 No2 NOT SCALEXTRIC - Fixed Price

Location: Barnsley, United Kingdom
Condition: New
Current Price: £40.00 GBP
Time Left: 0d 20h 47m 6s
Bids: 0
Carrera Evolution *NEW* 1/32 #13 25703 Ferrari Enzo Yellow NOT SCALEXTRIC - Fixed Price

Location: Barnsley, United Kingdom
Condition: New
Current Price: £45.00 GBP
Time Left: 0d 20h 49m 29s
Bids: 0
Scalextric C62 Ferrari 156 Shark Nose Red NEW REAR TYRES, EXCELLENT - Fixed Price

Location: Colchester, United Kingdom
Condition: Used
Current Price: £49.99 GBP
Time Left: 0d 21h 0m 41s
Bids: 0
Used vintage scalextric Ferrari GTO 4075 C391. Untested - Auction

Location: Crawley, United Kingdom
Condition: Used
Current Price: £25.00 GBP
Time Left: 0d 21h 24m 22s
Bids: 0
Pair of Scalextric Cars: C77 Ford GT40 and C16 Ferrari P4 - Auction

Location: Prescot, United Kingdom
Condition: Used
Current Price: £15.00 GBP
Time Left: 0d 21h 34m 41s
Bids: 20
Pair of Scalextric Cars: C25 Ferrari 312B2 with differing motors - Auction

Location: Prescot, United Kingdom
Condition: Used
Current Price: £26.00 GBP
Time Left: 0d 21h 37m 52s
Bids: 19
2x Hornby Scalextric Cars Ferrari 430 Twin Pack From Set Excellent Condition - Fixed Price

Location: Bootle, United Kingdom
Condition: Used
Current Price: £50.00 GBP
Time Left: 0d 21h 44m 20s
Bids: 0
Scalextric catalogue 1980 21st edition. - Auction

Location: Downpatrick, United Kingdom
Condition: Used
Current Price: £3.50 GBP
Time Left: 0d 22h 42m 28s
Bids: 0
Greenhills Scalextric Ferrari F430 Silver DPR C2846 - Used - 22039 - Fixed Price

Location: Wetherby, United Kingdom
Condition: Used
Current Price: £17.99 GBP
Time Left: 1d 7h 52m 49s
Bids: 0
New Scalextric W9786 Mclaren MP4-21 Wing Mirrors, Camera & Air Box For C2985 - Store Inventory

Location: Birchington, United Kingdom
Condition: New
Current Price: £3.99 GBP
Time Left: 1d 8h 5m 38s
Bids: 0
NEW Scalextric W9248 PCB Front/ Rear Light Circuit Board Ferrari 330 P4 C2641 - Store Inventory

Location: Birchington, United Kingdom
Condition: New
Current Price: £3.99 GBP
Time Left: 1d 8h 5m 38s
Bids: 0
New Scalextric Spares W9787 Mclaren MP4-21 Wing Mirrors Camera Air Box For C2866 - Store Inventory

Location: Birchington, United Kingdom
Condition: New
Current Price: £3.99 GBP
Time Left: 1d 8h 5m 38s
Bids: 0
Scalextric W9946 Rear Wheels Gear Tyres & Axle Bearings For Ferrari 308 GTB New - Store Inventory

Location: Birchington, United Kingdom
Condition: New
Current Price: £9.99 GBP
Time Left: 1d 8h 32m 56s
Bids: 0
Vintage Scalextric Formula One Racing Car Ferrari 643 - Auction

Location: Sherborne, United Kingdom
Condition: Used
Current Price: £4.99 GBP
Time Left: 1d 9h 23m 47s
Bids: 0
Scalextric catalogue 15th Edition 1974 Lotus March Ferrari March Escort Mini - Auction

Location: Newton Abbot, United Kingdom
Condition: Used
Current Price: £11.99 GBP
Time Left: 1d 9h 35m 50s
Bids: 0
Scalextric Catalogue 21th Edition 1980 with price list - Auction

Location: Newton Abbot, United Kingdom
Condition: Used
Current Price: £4.99 GBP
Time Left: 1d 9h 39m 48s
Bids: 0
Scalextric Catalogue 21th Edition 1980 - Auction

Location: Newton Abbot, United Kingdom
Condition: Used
Current Price: £4.99 GBP
Time Left: 1d 9h 40m 28s
Bids: 0
DD Slots Scalextric Ferrari 312T No.6 C124 Body Shell - Used - S1247 - Fixed Price

Location: Wetherby, United Kingdom
Condition: Used
Current Price: £4.00 GBP
Time Left: 1d 10h 4m 18s
Bids: 0
Scalextric 124 C501 Ferrari F1 in superb condition and boxed - Fixed Price

Location: Warrington, United Kingdom
Condition: Used
Current Price: £850.00 GBP
Time Left: 1d 10h 5m 21s
Bids: 0
Greenhills Scalextric Ferrari 312 T3 Rear Tyre Pair - Used - P5875 - Fixed Price

Location: Wetherby, United Kingdom
Condition: Used
Current Price: £3.84 GBP
Time Left: 1d 10h 56m 0s
Bids: 0
Greenhills Scalextric Ferrari 312 T3 Screw Set x 4 - Used - P5877 - Fixed Price

Location: Wetherby, United Kingdom
Condition: Used
Current Price: £3.29 GBP
Time Left: 1d 10h 56m 6s
Bids: 0
Greenhills Scalextric Ferrari 308 Rear Axle & Gear Wheel 54mm - Used - P5864 - Fixed Price

Location: Wetherby, United Kingdom
Condition: Used
Current Price: £4.39 GBP
Time Left: 1d 10h 56m 18s
Bids: 0
FLY C21 FERRARI 512S BERLINETTA DAYTONA 1970 1/32 SCALEXTRIC - Store Inventory

Location: Bexleyheath, United Kingdom
Condition: New
Current Price: £59.99 GBP
Time Left: 1d 11h 10m 7s
Bids: 0
Vintage Scalextric cars - Jaguar, Ferrari, Mclaren - Auction

Location: Halesowen, United Kingdom
Condition: Used
Current Price: £5.80 GBP
Time Left: 1d 11h 39m 6s
Bids: 3
Scalextric Car Ferrari F2004 F1 Car free postage - Fixed Price

Location: Sandwich, United Kingdom
Condition: Used
Current Price: £7.00 GBP
Time Left: 1d 13h 3m 5s
Bids: 0
scalextric Electric Model Racing Car Ferrari 643 C.319 Box Damaged See Pictures - Auction

Location: Croydon, United Kingdom
Condition: New
Current Price: £30.00 GBP
Time Left: 1d 13h 36m 26s
Bids: 0
Scalextric C2152 Ferrari F40 Premier Edition - Chelsea BNIB - Auction

Location: Addlestone, United Kingdom
Condition: New
Current Price: £10.01 GBP
Time Left: 1d 13h 38m 42s
Bids: 3
1/32 Scale Decals for Scalextric / NSR slot car - Ferrari 156/85 - Fixed Price

Location: Fareham, United Kingdom
Condition: New
Current Price: £4.00 GBP
Time Left: 1d 13h 40m 44s
Bids: 0
Scalextric Ferrari F430 Gt3 Chassis only car free postage - Fixed Price

Location: Sandwich, United Kingdom
Condition: Used
Current Price: £6.80 GBP
Time Left: 1d 14h 8m 57s
Bids: 0
Scalextric C062 Ferrari Sharknose EXHAUST NEW - Fixed Price

Location: Colchester, United Kingdom
Condition: New
Current Price: £2.49 GBP
Time Left: 1d 14h 9m 47s
Bids: 0
Scalextric C062 Ferrari Sharknose EXHAUST NOT REPRO - Fixed Price

Location: Colchester, United Kingdom
Condition: Used
Current Price: £3.49 GBP
Time Left: 1d 14h 12m 39s
Bids: 0
Hornby Scalextric Road Racing Set 1993 Lamborghini Diablo Ferrari F40 Loft Find - Auction

Location: Banstead, United Kingdom
Condition: Used
Current Price: £50.00 GBP
Time Left: 1d 14h 51m 22s
Bids: 0
Scalextric 1980 Catalogue 21st Edition V/Good Clean Condition Super Formula 1/32 - Auction

Location: Birchington, United Kingdom
Condition: Used
Current Price: £1.00 GBP
Time Left: 1d 14h 52m 33s
Bids: 1
Scalextric Ferrari F430 Wing Mirrors and Aerial W9947 - Fixed Price

Location: York, United Kingdom
Condition: New
Current Price: £5.25 GBP
Time Left: 1d 15h 12m 53s
Bids: 0
Really Useful Spares Repro Scalextric RUS8 C9 FERRARI POWER SLEDGE SCREEN - Store Inventory

Location: Stockport, United Kingdom
Condition: New
Current Price: £4.85 GBP
Time Left: 1d 15h 41m 16s
Bids: 0
Scalextric trackside decals 21x Decals Mixed F1 Le Mans 1:32 scale - Store Inventory

Location: Louth, United Kingdom
Condition: New
Current Price: £7.65 GBP
Time Left: 1d 15h 44m 59s
Bids: 0
SCALEXTRIC CARS X4 PORSCHE FERRARI JAGUAR - Auction

Location: Gravesend, United Kingdom
Condition: Used
Current Price: £18.00 GBP
Time Left: 1d 16h 36m 34s
Bids: 6
mint boxed Scalextric Ferrari F430 GT2 CRS Racing ref C3085 - Fixed Price

Location: Livingston, United Kingdom
Condition: New
Current Price: £54.99 GBP
Time Left: 1d 16h 58m 10s
Bids: 0
Scalextric FERRARI 330 P4 Pair Yellow Wing Mirrors W9433 C2787 *NEW* - Fixed Price

Location: Huddersfield, United Kingdom
Condition: New
Current Price: £3.95 GBP
Time Left: 1d 17h 20m 33s
Bids: 0
Vintage Scalextric Ferrari F40 Compatible Slot Car Chassis SSC 73 & 77 - Fixed Price

Location: Carlisle, United Kingdom
Condition: New
Current Price: £30.00 GBP
Time Left: 1d 18h 13m 10s
Bids: 0
Vintage Scalextric Ferrari F40 Compatible Slot Car Chassis SSC 73 & 77 - Fixed Price

Location: Carlisle, United Kingdom
Condition: New
Current Price: £30.00 GBP
Time Left: 1d 18h 13m 10s
Bids: 0
Vintage Scalextric Ferrari F40 Compatible Slot Car Chassis SSC 73 & 77 - Fixed Price

Location: Carlisle, United Kingdom
Condition: New
Current Price: £30.00 GBP
Time Left: 1d 18h 13m 10s
Bids: 0
Ferrari F1 on ebay US

Search For: 'scalextric (21,ferrari )'
Ending Soonest
ITEM
DETAILS
Scalextric Scx Exin Suspension Front Formula 1 Ferrari F1 87 Mclaren MP4 - Fixed Price

Location: Spain
Condition: Used
Current Price: $5.08 USD
Time Left: 0d 2h 16m 25s
Bids: 0
Slot Scx Scalextric 6104 Citroën Xsara WRC " Effect Water " Nº 21 - New - Fixed Price

Location: Spain
Condition: New
Current Price: $73.22 USD
Time Left: 0d 11h 30m 11s
Bids: 0
Slot SCX Scalextric 62480 Ferrari 360 GTC Nº 93 - Fixed Price

Location: Spain
Condition: New
Current Price: $80.00 USD
Time Left: 0d 11h 30m 18s
Bids: 0
Slot SCX Scalextric 6298 Ferrari 550 Maranello 24H. le Mans - Nº 72 - Fixed Price

Location: Spain
Condition: New
Current Price: $106.68 USD
Time Left: 0d 11h 31m 45s
Bids: 0
Slot Car Scx Scalextric Carrera 27100 Evolution Ferrari 512 BB Lm 9 10/12ft Lm - Fixed Price

Location: Spain
Condition: New
Current Price: $86.55 USD
Time Left: 0d 11h 31m 45s
Bids: 0
Slot Scx Scalextric 6041 Minardi " Telefonica " N #21 Marc Gene - Fixed Price

Location: Spain
Condition: New
Current Price: $90.67 USD
Time Left: 0d 11h 31m 50s
Bids: 0
Slot Car Scx Scalextric Fly 88314 Ferrari F40 24 H. le Mans 1994 - Fixed Price

Location: Spain
Condition: New
Current Price: $93.35 USD
Time Left: 0d 11h 33m 32s
Bids: 0
Slot Car Scalextric Fly 88210 GB-26 Chevron B21 24H.Lemans 1973 - Fixed Price

Location: Spain
Condition: New
Current Price: $80.00 USD
Time Left: 0d 11h 33m 33s
Bids: 0
Slot Car Scalextric 6248 Ferrari 360 GTC 24h le Mans 2005 #93 - Fixed Price

Location: Spain
Condition: New
Current Price: $73.34 USD
Time Left: 0d 11h 42m 24s
Bids: 0
Slot SCX Scalextric 63820 Ferrari 599 Gtb Fiorano - Fixed Price

Location: Spain
Condition: New
Current Price: $80.00 USD
Time Left: 0d 11h 42m 53s
Bids: 0
Slot Car Scalextric Ninco 50131 AMG Mercedes C-Klasse " Mobil1 " Dekra - Nº 21 - Fixed Price

Location: Spain
Condition: New
Current Price: $73.34 USD
Time Left: 0d 11h 44m 6s
Bids: 0
Scx Scalextric Slot Ninco 50162 Ferrari F310B N #5 German Driver M.Schumacher - Fixed Price

Location: Spain
Condition: New
Current Price: $93.35 USD
Time Left: 0d 11h 44m 18s
Bids: 0
Scx Scalextric Slot Ninco 50163 Ferrari F310B F1 N #6 British Driver - Fixed Price

Location: Spain
Condition: New
Current Price: $84.01 USD
Time Left: 0d 11h 44m 19s
Bids: 0
Slot Scx Scalextric Fly GBTrack GB21 Chevron B21 2º Dijon 1972 Dieter Quester - Fixed Price

Location: Spain
Condition: New
Current Price: $66.67 USD
Time Left: 0d 11h 44m 21s
Bids: 0
Slot Scx Scalextric FLY 88155 Ferrari 365 Gtb 4 " Daytona " Nº 48 - Fixed Price

Location: Spain
Condition: New
Current Price: $80.00 USD
Time Left: 0d 11h 44m 29s
Bids: 0
Slot Car Scx Scalextric 6003 Ferrari 333 Sp " Momo " #3 - Fixed Price

Location: Spain
Condition: New
Current Price: $73.34 USD
Time Left: 0d 11h 45m 11s
Bids: 0
Slot Car Scalextric superslot H3631 Mgb #21 Cfms BCV8 Championship - Fixed Price

Location: Spain
Condition: New
Current Price: $93.35 USD
Time Left: 0d 11h 45m 18s
Bids: 0
Scalextric Catalog Slot Car 21 the Big One Edicion Year 1980 35 Paginas New - Fixed Price

Location: Spain
Condition: New
Current Price: $13.99 USD
Time Left: 0d 12h 18m 24s
Bids: 0
Scalextric tecnitoys Brochure News Ferrari 333P AÑO1998 New 2 Paginas - Fixed Price

Location: Spain
Condition: New
Current Price: $4.82 USD
Time Left: 0d 12h 18m 24s
Bids: 0
Slot Scx Scalextric Truck Fly 96019 Centenary Race 1903-2003 E-Truck 21 - Fixed Price

Location: Spain
Condition: New
Current Price: $159.91 USD
Time Left: 0d 13h 21m 33s
Bids: 0
Slot Scalextric Pink-Kar CV 052 Ferrari 250 Gto Rally Of Gerona (Red Bus) - Fixed Price

Location: Spain
Condition: New
Current Price: $173.36 USD
Time Left: 0d 13h 21m 33s
Bids: 0
Scx Scalextric Slot Ninco 50281 Arrows A23 N21 Bernoldi - Fixed Price

Location: Spain
Condition: New
Current Price: $73.34 USD
Time Left: 0d 13h 21m 43s
Bids: 0
Scalextric Grand Prix Formula 1 1976 McLaren Ford M23 & Ferrari 312T2 Slot Cars - Auction

Location: Farrell, PA, USA
Condition: New
Current Price: $71.00 USD
Time Left: 0d 16h 41m 26s
Bids: 13
Scalextric Ferrari 330/P4 Monza 1967 1st Amon Bandini 2nd Parkes Scarfiotti 1:32 - Auction

Location: Farrell, PA, USA
Condition: New
Current Price: $34.33 USD
Time Left: 0d 16h 56m 56s
Bids: 7
vintage triang scalextric MM- T21 - Store Inventory

Location: Holbrook, NY, USA
Condition: New
Current Price: $10.00 USD
Time Left: 1d 12h 26m 28s
Bids: 0
Scalextric exin 8052 Ferrari F40 #59 Yellow Excellent Condition - Fixed Price

Location: Spain
Condition: Used
Current Price: $80.18 USD
Time Left: 1d 18h 24m 38s
Bids: 0
Scalextric Exin Ferrari 288 GTO 7 UP 1/32 - N/A

Location: Naperville, IL, USA
Condition: New
Current Price: $115.00 USD
Time Left: 2d 0h 40m 21s
Bids: 0
Scalextric Ferrari 430 GT 1/32 slot car - Auction

Location: Royal Oak, MI, USA
Condition: Used
Current Price: $39.99 USD
Time Left: 2d 18h 59m 7s
Bids: 0
Scalextric Exin Axis Front And Rear Complete Ferrari B3 C4052 Original Exin - Fixed Price

Location: Spain
Condition: Used
Current Price: $20.36 USD
Time Left: 2d 19h 1m 20s
Bids: 0
SCALEXTRIC C3028 FERRARI 330 P4 #23 COLLECTOR GRADE NEW MINT 326 - Auction

Location: Portland, OR, USA
Condition: New
Current Price: $101.11 USD
Time Left: 2d 22h 33m 48s
Bids: 0
SCALEXTRIC C2918 FERRARI 412P NART #25 COLLECTOR GRADE NEW MINT BOXED 288 - Auction

Location: Portland, OR, USA
Condition: New
Current Price: $101.11 USD
Time Left: 2d 23h 18m 48s
Bids: 0
Auction 3 of 29 NOS 1/32 SCALEXTRIC Ferrari 643 F1 Ref: C319 Slot Car - Auction

Location: Sunbury, PA, USA
Condition: New
Current Price: $32.00 USD
Time Left: 2d 23h 35m 33s
Bids: 12
SCALEXTRIC C2803 FERRARI 378 F1 #12 COLLECTOR GRADE NEW MINT 307A - Auction

Location: Portland, OR, USA
Condition: New
Current Price: $89.11 USD
Time Left: 2d 23h 36m 45s
Bids: 0
QQ H 2822 Superslot Ferrari F430 Red Road Car - Scalextric UK - Fixed Price

Location: Spain
Condition: New
Current Price: $51.07 USD
Time Left: 4d 5h 42m 23s
Bids: 0
Rare Tri-ang Scalextric Ferrari 156 1/32 Slot Car Racer MM/C62 Running - Store Inventory

Location: Portland, TN, USA
Condition: Used
Current Price: $39.99 USD
Time Left: 4d 14h 10m 43s
Bids: 0
QQ 6246 Scalextric Mc Laren Mercedes MP4 21 #3 Kimi Raikkonen - Fixed Price

Location: Spain
Condition: New
Current Price: $76.62 USD
Time Left: 4d 15h 26m 22s
Bids: 0
Slot Car - Ferrari GTO Cimarron Scalextric 4075 - Analog 1/32 Scale C.391 - N/A

Location: Mechanicville, NY, USA
Condition: Used
Current Price: $25.00 USD
Time Left: 4d 15h 53m 29s
Bids: 0
qq order H2803 SLOT CAR FERRARI 375 F1 #12 SCALEXTRIC UK - Fixed Price

Location: Spain
Condition: New
Current Price: $76.62 USD
Time Left: 4d 16h 24m 42s
Bids: 0
SCALEXTRIC FLY CARRERA NSR SLOT IT 21,500 RPM MOTORS NEW 1/32 SLOT CAR MOTOR - Store Inventory

Location: Philadelphia, PA, USA
Condition: New
Current Price: $7.99 USD
Time Left: 4d 17h 19m 44s
Bids: 0
Slot Car Scx Scalextric Carrera 27536 Evolution Ferrari 365 P2 " Nart " Nº 18 - Fixed Price

Location: Spain
Condition: New
Current Price: $80.27 USD
Time Left: 4d 18h 5m 13s
Bids: 0
Scx digital upgradeable ninco ferrari fxx scalextric - Store Inventory

Location: Greenwich, CT, USA
Condition: Used
Current Price: $75.00 USD
Time Left: 4d 20h 28m 13s
Bids: 0
Scx digital upgradeable ninco ferrari fxx fly scalextric - Store Inventory

Location: Greenwich, CT, USA
Condition: Used
Current Price: $80.00 USD
Time Left: 4d 20h 54m 55s
Bids: 0
Rapid Ferrari 156 Formula One sharknose in yellow by Scalextric in 1/32 scale!! - Auction

Location: Jonesborough, TN, USA
Condition: New
Current Price: $44.00 USD
Time Left: 5d 0h 22m 47s
Bids: 5
Rapid Ferrari 156 Formula One Phil Hill 4 in red by Scalextric in 1/32 scale!! - Auction

Location: Jonesborough, TN, USA
Condition: New
Current Price: $65.00 USD
Time Left: 5d 0h 32m 54s
Bids: 0
Scalextric SCX Slot vintage 1/32 Ferrari 360 Modena - Fixed Price

Location: France
Condition: Used
Current Price: $35.00
Time Left: 5d 6h 52m 40s
Bids: 0
SCX/SCALEXTRIC 87840 1/32 ACCESSORIES 1/PACK FERRARI 333SP REAR AXLE - Store Inventory

Location: Wayne, OH, USA
Condition: New
Current Price: $4.10 USD
Time Left: 5d 12h 45m 45s
Bids: 0
1:32 SCX 83480 Ferrari F-40 Pilot #34 Slot Car. Scalextric. - Auction

Location: DeLand, FL, USA
Condition: Used
Current Price: $0.99 USD
Time Left: 6d 0h 58m 52s
Bids: 1
VINTAGE PREFO FERRARI P5 SLOT CAR TOY 1:32 Airfix Scalextric GERMANY DDR GDR - Store Inventory

Location: Bulgaria
Condition: Used
Current Price: $55.00 USD
Time Left: 6d 11h 0m 57s
Bids: 0
VINTAGE PREFO FERRARI P5 SLOT CAR N2 TOY 1:32 Airfix Scalextric GERMANY DDR GDR - Store Inventory

Location: Bulgaria
Condition: Used
Current Price: $55.00 USD
Time Left: 6d 11h 49m 45s
Bids: 0
Scalextric exin Chassis Ferrari F40 C8052 Excellent Condition - Fixed Price

Location: Spain
Condition: Used
Current Price: $17.76 USD
Time Left: 6d 13h 56m 44s
Bids: 0
ST 1052 Slot Car Tires (rears) For Scalextric Ferrari F-430, Aston Martin DBS - Store Inventory

Location: Downers Grove, IL, USA
Condition: New
Current Price: $6.89 USD
Time Left: 6d 18h 7m 58s
Bids: 0
QQ 6194 Scalextric Minardi F-1 2001CHAMPION #21 Fernando Alonso Special Edition - Fixed Price

Location: Spain
Condition: New
Current Price: $114.92 USD
Time Left: 6d 19h 23m 18s
Bids: 0
Scalextric Slot Car 1/32 Premier Series New Castle United FC Ferrari F40 - Fixed Price

Location: Chino, CA, USA
Condition: New
Current Price: $40.00 USD
Time Left: 6d 19h 28m 30s
Bids: 0
Fly (Scalextric)1/32 scale Ferrari 365 GTB/4 Daytona Le Mans slot car. - Auction

Location: DeLand, FL, USA
Condition: Used
Current Price: $11.50 USD
Time Left: 6d 23h 4m 26s
Bids: 6
QQ Scx Spain Scalextric Altaya Cars Mythical Ferrari Gt 330 #27 Red Lted. Ed - Fixed Price

Location: Spain
Condition: New
Current Price: $76.62 USD
Time Left: 7d 0h 12m 28s
Bids: 0
25710 Carrera Ferrari 166/212 MM uovo 1951 1/32 carrera scalextric slot - Store Inventory

Location: Argentina
Condition: New
Current Price: $125.00 USD
Time Left: 7d 6h 45m 51s
Bids: 0
Scalextric Hornby Hobbies Ltd Ferrari 1/32 - Fixed Price

Location: France
Condition: Used
Current Price: $24.00
Time Left: 7d 11h 0m 3s
Bids: 0
Scalextric vintage slot 1/32 Tableau de marque Ferrari A206 Pit name board - Fixed Price

Location: France
Condition: Used
Current Price: $25.00
Time Left: 7d 14h 53m 10s
Bids: 0
ZC3949 Scalextric vehicule miniature circuit catalogue 2016 68 page 21x15cm - Store Inventory

Location: France
Condition: Brand New
Current Price: $3.50
Time Left: 7d 14h 56m 34s
Bids: 0
ZC3956 Scalextric vehicule miniature circuit catalogue 2016 68 page 21x15cm - Store Inventory

Location: France
Condition: Brand New
Current Price: $3.50
Time Left: 7d 15h 11m 32s
Bids: 0
RARE SCALEXTRIC -SLOT- 1:32 scale -FERRARI 330 P3, "YOU STEER" WORKING, V. GOOD - Store Inventory

Location: Portugal
Condition: Used
Current Price: $59.99 USD
Time Left: 7d 19h 30m 4s
Bids: 0
1/32 URETHANE SLOT CAR TIRES 2pr Set fits SCALEXTRIC Ferrari 308 GTB & 330P4 - Store Inventory

Location: Canada
Condition: New
Current Price: $10.99 CAD
Time Left: 7d 20h 28m 38s
Bids: 0
MODEL CAR RACING MAGAZINE #21 - SCALEXTRIC , FLY , SCX , NINCO 1/32 SLOT CARS - Store Inventory

Location: Philadelphia, PA, USA
Condition: New
Current Price: $11.95 USD
Time Left: 7d 22h 24m 7s
Bids: 0
Scalextric C3033 1961 Ferrari 156 F1 1/32 Slot Car 8 - Auction

Location: DeLand, FL, USA
Condition: Used
Current Price: $26.00 USD
Time Left: 7d 23h 19m 10s
Bids: 9
Scalextric Spain Planet Cars Mythical Ferrari Gt 330 #17 Yellow Lted. Ed - Fixed Price

Location: Spain
Condition: New
Current Price: $95.77 USD
Time Left: 8d 0h 18m 1s
Bids: 0
QQ 60280 Scalextric Scx Export Vintage 1999 Ferrari Gt 330 - Fixed Price

Location: Spain
Condition: New
Current Price: $127.70 USD
Time Left: 8d 0h 24m 23s
Bids: 0
QQ 6028 Scalextric Vintage 1999 Ferrari Gt 330 ( Scx for Spanish Market) - Fixed Price

Location: Spain
Condition: New
Current Price: $140.47 USD
Time Left: 8d 0h 30m 40s
Bids: 0
Scalextric Ferrari Gtb Makela Car Tuning C3062 Rarity Slot 1:3 2 Slotcar - Fixed Price

Location: Germany
Condition: New
Current Price: $212.94 USD
Time Left: 8d 2h 45m 5s
Bids: 0
QQ superslot H2928A Tinplate Car Ferrari 375 F1 1950 D Serafini Scalextric UK - Fixed Price

Location: Spain
Condition: New
Current Price: $89.39 USD
Time Left: 8d 12h 41m 12s
Bids: 0
Ferrari F1 on ebay Australia

Search For: 'scalextric (21,ferrari )'
Ending Soonest
ITEM
DETAILS
Scalextric C124 - Ferrari F1 Red - 'Excellent Condition' - Auction

Location: Sale, VIC, Australia
Condition: Used
Current Price: $30.00 AUD
Time Left: 0d 7h 21m 53s
Bids: 0
Scalextric W9849 Ferrari 250 GTO LEDs C2970 etc - Store Inventory

Location: Magill, SA, Australia
Condition: New
Current Price: $15.89 AUD
Time Left: 0d 7h 22m 40s
Bids: 0
Scalextric C136 - Vintage Ferrari Michelin No.11 - 'Excellent Condition' - BOXED - Auction

Location: Sale, VIC, Australia
Condition: Used
Current Price: $35.00 AUD
Time Left: 0d 7h 27m 17s
Bids: 1
Scalextric 1/32 Ferrari 412P Targa Florio 1967 c4163 - Fixed Price

Location: Red Hill, VIC, Australia
Condition: New
Current Price: $79.99 AUD
Time Left: 1d 6h 21m 23s
Bids: 0
Scalextric C472 - Vintage Ferrari Dunlop F1 Red No.17 - 'Excellent Condition' - Auction

Location: Sale, VIC, Australia
Condition: Used
Current Price: $30.00 AUD
Time Left: 1d 8h 2m 2s
Bids: 0
Scalextric C4163 Ferrari 412P Targa Florio 1967 #220. Brand New In Case. - Store Inventory

Location: Croydon, VIC, Australia
Condition: New
Current Price: $75.00 AUD
Time Left: 2d 3h 58m 3s
Bids: 0
scalextric vintage c124ferrari 312t slotcar 1976 - Auction

Location: Caboolture, QLD, Australia
Condition: Used
Current Price: $32.00 AUD
Time Left: 2d 11h 26m 2s
Bids: 0
Scalextric 1/32 Slot Car C2915 Ferrari 375 F1 # 2 - Store Inventory

Location: Bowral, NSW, Australia
Condition: New
Current Price: $89.00 AUD
Time Left: 2d 22h 59m 37s
Bids: 0
scalextric FERRARI 375 F1 (C2803) - Fixed Price

Location: Kingswood, SA, Australia
Condition: New
Current Price: $80.00 AUD
Time Left: 3d 9h 17m 7s
Bids: 0
F1 FERRARI 643 SCALEXTRIC C319 #27 ALAIN PROST USED BUT IN EXCELLENT CONDITION - N/A

Location: Rosebud, VIC, Australia
Condition: Used
Current Price: $34.95 AUD
Time Left: 3d 16h 52m 0s
Bids: 0
Scalextric catalog 21st edition - great condition! - N/A

Location: Hawker, ACT, Australia
Condition: Used
Current Price: $25.00 AUD
Time Left: 4d 8h 2m 29s
Bids: 0
Scalextric C2928A Tin Plate Limited Edition 1951 Ferrari 375 F1 slot car - Fixed Price

Location: Kingswood, SA, Australia
Condition: New
Current Price: $70.00 AUD
Time Left: 4d 9h 48m 37s
Bids: 0
Carrera Evolution Ferrari F2002 V10 #2 #25707 Brand New Scalextric SCX Ninco - Fixed Price

Location: Melton, VIC, Australia
Condition: New
Current Price: $85.00 AUD
Time Left: 5d 1h 10m 41s
Bids: 0
SCALEXTRIC FERRARI P4 LTD MINT Very Little use Please see photos for condition  - Auction

Location: Ringwood East, VIC, Australia
Condition: Used
Current Price: $40.00 AUD
Time Left: 6d 9h 50m 9s
Bids: 0
Scalextric 1:32 Ferrari GT 250 Berlinetta Slot Car C69 - Auction

Location: Colac, VIC, Australia
Condition: Used
Current Price: $50.00 AUD
Time Left: 6d 23h 50m 53s
Bids: 0
Scalextric Ferrari 412P - C4163 - New in Box - Store Inventory

Location: Pooraka, SA, Australia
Condition: New
Current Price: $76.00 AUD
Time Left: 7d 1h 37m 34s
Bids: 0
Scalextric W9946 Ferrari 308 GTB Rear Wheel Axle Assembly C3062 Fits C2974 etc - Store Inventory

Location: Magill, SA, Australia
Condition: New
Current Price: $17.89 AUD
Time Left: 7d 2h 34m 26s
Bids: 0
Scalextric W9949 Ferrari F430 Rear wheel axle assembley (gold wheels) - Store Inventory

Location: Magill, SA, Australia
Condition: New
Current Price: $16.89 AUD
Time Left: 10d 3h 5m 30s
Bids: 0