Car Details
Formula 2 Car - Graves Engineering

23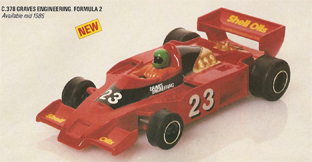 Years Released: 1986 1987 1988 1989 1990 1991 1992 (Item Year pages)
Item released for 7 years.
Car:
Formula 2 Car - Graves Engineering
Number:
23
Information:
---
Category:
Cars

Category Details:
Classic cars from all eras.
Car Category:
Formula 2

Car Category Details:
Open-wheel racing that allows junior drivers a chance to compete at the highest levels of motor racing.
Base Colour:
Red

Colour Details:
Various shades of red.
Logo & Box Style:

1986
1987
1988
1989
1990
1991
1992
Make:
Renault

Logo:
Renault Logo
Logo Years:
---
Make Details:
Renault, founded in 1899, has produces a large range of motor vehicles for over 100 years.
Make Country:
France
Model:
RS01

Model Details:
The first Formula 1 car powered by a turbo engine.
Model Production Years:
1977 - 1979
Item Ranking:
Current: 153 -
February 2023
Previous: 377 -
January 2023
Movement:

(+224)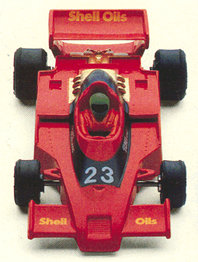 Car Year Details
(7)
Item Year Information
YEAR
INFORMATION
1986
Motor racing and rallying are expensive sports. For the champions and top class people, sponsorship by large companies helps to pay the bills. For the up and coming hopefuls it is usually a matter of doing everything themselves as economically as possible.
Scalextric recognises that many people are similarly placed and offers these simplified vehicles at keen prices. They perform in the same dashing manner as the other cars but are a little less elaborately finished.
1987
These are special cars supplied with less elaborate decoration schemes to suit less well equipped pockets. The electric pick-up, guide blade and motor drive systems are exactly the same as for other vehicles giving an equivalent performance.
1990
With underpan.
1991
Motor racing in the international classes needs the skill that only comes from experience. Top drivers have to work their way up from the bottom. Scalextric provides cars for less experienced drivers. They are fitted with standard motors, gearing and pick-ups but have less elaborate bodywork and decoration. They are toughly built to withstand the inevitable pile-ups and ill-judged leaps to be expected from would-be champions.
1992
Many of today's top Formula One racing drivers developed their skill in the smaller and less powerful single seat racing cars during their younger years.
The selection of cars on these pages are based on the type of car used for the 'first drive' and have been robustly constructed to withstand the knocks and bumps of the future Formula One driver.
Service Sheets
(1)
| SHEET NO | SERVICE SHEET NAME | ISSUE DATE |
| --- | --- | --- |
| 157 | Graves, Panasonic, Pennzoil, Toshiba | March 1992 |
Catalogue Images
(7)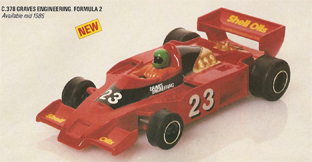 C.378 Formula 2 Car - Graves Engineering - 1986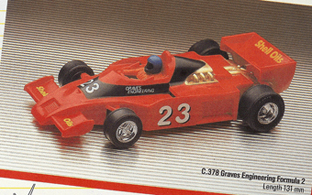 C.378 Formula 2 Car - Graves Engineering - 1987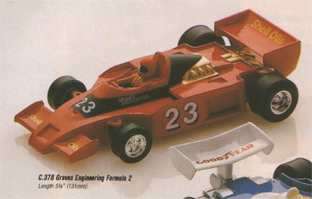 C.378 Formula 2 Car - Graves Engineering - 1988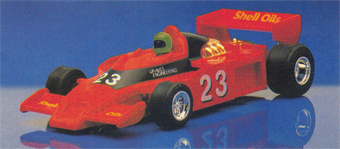 C.378 Formula 2 Car - Graves Engineering - 1989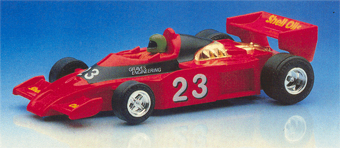 C.378 Formula 2 Car - Graves Engineering - 1990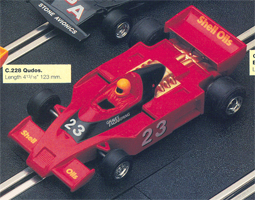 C.378 Formula 2 Car - Graves Engineering - 1991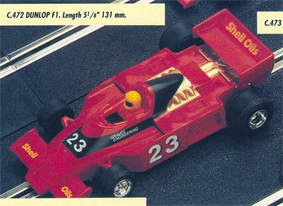 C.378 Formula 2 Car - Graves Engineering - 1992
Formula 2 Car - Graves Engineering on ebay US

Search For: 'scalextric (378,graves)'