Car Year Details
1994 - BMW 318i

22
Car:
BMW 318i
(Overall Item page)
Number:
22
Information:
Length - 5 1/2" - 139mm.
BMW with lights.
Category:
Cars

Category Details:
Classic cars from all eras.
Car Category:
BTCC

Car Category Details:
British Touring Car Championship
Make:
BMW

Logo:
BMW Logo
Logo Years:
---
Make Details:
Bayerische Motorenwerke started manufacturing cars in 1929, the BMW is now a household name.
Make Country:
Germany
Model:
318i

Model Details:
E36. A classic BMW designed sedan.
Model Production Years:
1990 - 2000
Base Colour:
White

Colour Details:
The perfect colour.
All Colours:
White, Dark Blue, Blue, Red




Year:
1994
Catalogue Number:
C.462
Year Information:
The popularity of the British Touring Car Championships has no doubt been helped with the drama and excitement of the races being captured so clearly by the TV cameras on board the cars. This drama and excitement can now be transferred to the Scalextric circuit with the introduction of two of the main adversaries from the Championship - the Ford Sport Mondeo and the BMW 318i. As with the majority of Scalextric cars, these models are superbly detailed and exquisitely decorated and boast head and tail lights as well as Magnatraction together with the Easi-Fit guide blade assembly.
Motor:
---
Publication Name:
Scalextric - 35th Edition - 1:32 Scale
Publication Type:
Catalogue
Publication Edition:
35th Edition

Logo & Box Design:


Item Ranking:
Current: 500 -
October 2021
Previous: 552 -
September 2021
Movement:

(+52)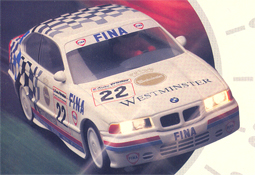 Car Year Details
(3)
Service Sheets
(0)
| SHEET NO | SERVICE SHEET NAME | ISSUE DATE |
| --- | --- | --- |
BMW 318i on ebay UK

Search For: 'scalextric (462,bmw 318i)'
Ending Soonest
ITEM
DETAILS
SCALEXTRIC C690 BMW 318i AUTOSPORT IN NEAR MINT CONDITION WORKING LIGHTS - Fixed Price

Location: Manchester, United Kingdom
Condition: Used
Current Price: £19.99 GBP
Time Left: 0d 5h 4m 39s
Bids: 0
SCALEXTRIC BMW 318i FINA 22 SLOT CAR READ DESCRIPTION - Auction

Location: Westerham, United Kingdom
Condition: Used
Current Price: £13.00 GBP
Time Left: 0d 9h 2m 17s
Bids: 0
Scalextric C690 Bmw 318i Autosport with working lights - Fixed Price

Location: United Kingdom
Condition: Used
Current Price: £19.99 GBP
Time Left: 1d 1h 35m 43s
Bids: 0
Scalextric C2267 BMW 318i Index Black - Fixed Price

Location: Warrington, United Kingdom
Condition: New
Current Price: £55.00 GBP
Time Left: 1d 9h 24m 48s
Bids: 0
Scalextric C2267 BMW 318i Index Red - Fixed Price

Location: Warrington, United Kingdom
Condition: New
Current Price: £55.00 GBP
Time Left: 1d 9h 24m 49s
Bids: 0
Greenhills Scalextric Original BMW 318i / 320 Tyre Pair - P1890 Used - Fixed Price

Location: Wetherby, United Kingdom
Condition: Used
Current Price: £3.84 GBP
Time Left: 2d 22h 58m 13s
Bids: 0
Scalextric C/251 BMW 318i (ULTRON) - Fixed Price

Location: Salisbury, United Kingdom
Condition: Used
Current Price: £20.00 GBP
Time Left: 3d 0h 30m 15s
Bids: 0
Scalextric BMW 318i with working headlights - Fixed Price

Location: Crawley, United Kingdom
Condition: Used
Current Price: £17.00 GBP
Time Left: 3d 9h 36m 35s
Bids: 0
HORNBY SCALEXTRIC C571 BMW 318i AUTOSPORT WORKING - Auction

Location: Crawley, United Kingdom
Condition: Used
Current Price: £27.50 GBP
Time Left: 3d 13h 32m 26s
Bids: 0
SCALEXTRIC BMW 318i FINA 22 SLOT CAR - Fixed Price

Location: Belfast, United Kingdom
Condition: Used
Current Price: £15.99 GBP
Time Left: 4d 12h 33m 2s
Bids: 0
Scalextric C/358 - BMW 318i (100+), racing no.13 - Fixed Price

Location: Salisbury, United Kingdom
Condition: Used
Current Price: £20.00 GBP
Time Left: 4d 22h 26m 8s
Bids: 0
Scalextric C462 BMW 318i - Fixed Price

Location: Kinross, United Kingdom
Condition: Used
Current Price: £20.00 GBP
Time Left: 5d 5h 49m 55s
Bids: 0
VINTAGE SCALEXTRIC C462 BMW WESTMINSTER NEAR MINT CONDITION FULL WORKING LIGHTS - Fixed Price

Location: Manchester, United Kingdom
Condition: Used
Current Price: £20.99 GBP
Time Left: 5d 9h 45m 42s
Bids: 0
Scalextric C358 BMW 318i 100+ No.13 Excellent Condition, Lights Serviced Tested - Auction

Location: Harrogate, United Kingdom
Condition: Used
Current Price: £11.95 GBP
Time Left: 6d 9h 54m 18s
Bids: 0
SCALEXTRIC C462 WESTMINSTER BMW 318i RARE CAR TOTALLY BRAND NEW SUPERB DETAIL!!! - Fixed Price

Location: Birmingham, United Kingdom
Condition: New
Current Price: £35.00 GBP
Time Left: 7d 8h 40m 48s
Bids: 0
SCALEXTRIC C571 BMW 318i AUTOSPORT IN NEAR MINT CONDITION WORKING LIGHTS - Fixed Price

Location: Manchester, United Kingdom
Condition: Used
Current Price: £20.99 GBP
Time Left: 7d 9h 48m 13s
Bids: 0
SCALEXTRIC C587 BMW 318i BENZINA CRISP BOX BNIB DELETED COLLECTABLE CAR - Fixed Price

Location: Stockport, United Kingdom
Condition: New
Current Price: £31.99 GBP
Time Left: 11d 3h 41m 15s
Bids: 0
BMW 318 i BENZINA SCALEXTRIC C.587 TOURING CAR - Fixed Price

Location: United Kingdom
Condition: Used
Current Price: £43.99 GBP
Time Left: 14d 8h 0m 33s
Bids: 0
SCALEXTRIC C251 BMW 318i ULTRON IN NEAR MINT CONDITION FRONT/ REAR LIGHTS - Fixed Price

Location: Manchester, United Kingdom
Condition: Used
Current Price: £20.99 GBP
Time Left: 14d 12h 29m 51s
Bids: 0
Classic Scalextric C326 BMW 318i Westminster slot car - Fixed Price

Location: Lowestoft, United Kingdom
Condition: Used
Current Price: £24.99 GBP
Time Left: 15d 6h 48m 9s
Bids: 0
3x BMW cars. Scalextric/FLY BMW 318i Westminster/M3 GTR/M3 Mobil - Fixed Price

Location: Ely, United Kingdom
Condition: New
Current Price: £75.00 GBP
Time Left: 16d 9h 18m 41s
Bids: 0
SCALEXTRIC BMW 318i DAILY EXPRESS BTCC TOURING CAR TOTALLY REBUILT!!! - Fixed Price

Location: Birmingham, United Kingdom
Condition: Used
Current Price: £24.00 GBP
Time Left: 17d 9h 10m 2s
Bids: 0
SCALEXTRIC C251 BMW 318i ESSO ULTRON BTCC TOURING CAR TOTALLY REBUILT!!! - Fixed Price

Location: Birmingham, United Kingdom
Condition: Used
Current Price: £24.00 GBP
Time Left: 17d 9h 10m 25s
Bids: 0
W8441 Scalextric Spare Rear Axle Assembly for BMW 318i - Fixed Price

Location: Liskeard, United Kingdom
Condition: New
Current Price: £4.00 GBP
Time Left: 18d 1h 53m 19s
Bids: 0
Scalextric BMW 318i C462 No22 Westminster, Good Condition Tested & Serviced - Fixed Price

Location: Haddington, United Kingdom
Condition: Used
Current Price: £19.99 GBP
Time Left: 18d 5h 5m 18s
Bids: 0
Scalextric C587 BMW 318i Benzina - Fixed Price

Location: Warrington, United Kingdom
Condition: Used
Current Price: £65.00 GBP
Time Left: 18d 23h 9m 44s
Bids: 0
Scalextric C462 Westminster BMW 318i - Fixed Price

Location: Warrington, United Kingdom
Condition: Used
Current Price: £45.00 GBP
Time Left: 18d 23h 21m 29s
Bids: 0
SCALEXTRIC HORNBY C587 BMW318i BENZINA TESTED AND WORKING LIGHTS - Fixed Price

Location: Hull, United Kingdom
Condition: Used
Current Price: £17.50 GBP
Time Left: 19d 1h 48m 9s
Bids: 0
SCALEXTRIC C358 BMW 318i 100+ IN NEAR MINT CONDITION WITH WORKING LIGHTS FR - Fixed Price

Location: Manchester, United Kingdom
Condition: Used
Current Price: £18.99 GBP
Time Left: 19d 10h 48m 29s
Bids: 0
Greenhills Scalextric BMW 318i Headlight Unit & Bulbs - Used - P7272 - Fixed Price

Location: Wetherby, United Kingdom
Condition: Used
Current Price: £4.99 GBP
Time Left: 20d 8h 39m 47s
Bids: 0
Greenhills Scalextric BMW 318i Autosport No.16 C571 - Used - 22418 - Fixed Price

Location: Wetherby, United Kingdom
Condition: Used
Current Price: £18.99 GBP
Time Left: 22d 3h 39m 52s
Bids: 0
SCALEXTRIC BMW 318i Westminster Boxed with Lights Fast postage - Fixed Price

Location: Altrincham, United Kingdom
Condition: Used
Current Price: £32.99 GBP
Time Left: 25d 7h 15m 2s
Bids: 0
SCALEXTRIC MINT BOXED BMW 318I AUTOSPORT NO 17 REF C690 RARE L@@K - Fixed Price

Location: Livingston, United Kingdom
Condition: New
Current Price: £34.50 GBP
Time Left: 26d 1h 34m 36s
Bids: 0
SCALEXTRIC HORNBY C587 BMW318i BENZINA LIGHTS RUNNING UNBOXED (WM508) - Fixed Price

Location: Bexleyheath, United Kingdom
Condition: Used
Current Price: £24.99 GBP
Time Left: 27d 2h 35m 30s
Bids: 0
F462 - Greenhills Scalextric Carrera Unpainted Seated Spectator 1.32 Scale - NEW - Fixed Price

Location: Wetherby, United Kingdom
Condition: New
Current Price: £11.26 GBP
Time Left: 27d 5h 20m 26s
Bids: 0
VINTAGE SCALEXTRIC C462 BMW WESTMINSTER NEAR MINT CONDITION FULL WORKING LIGHTS - Fixed Price

Location: London, United Kingdom
Condition: Used
Current Price: £25.00 GBP
Time Left: 29d 1h 13m 14s
Bids: 0
BMW 318i on ebay US

Search For: 'scalextric (462,bmw 318i)'
Ending Soonest
BMW 318i on ebay Australia

Search For: 'scalextric (462,bmw 318i)'
Ending Soonest