Car Year Details
1979 - BMW Turbo 320

1

Car:
BMW Turbo 320
(Overall Item page)
Number:
1
Information:
---
Category:
Cars

Category Details:
Classic cars from all eras.
Car Category:
Rally

Car Category Details:
Point to point auto racing over many different terrains.
Make:
BMW

Logo:
BMW Logo
Logo Years:
---
Make Details:
Bayerische Motorenwerke started manufacturing cars in 1929, the BMW is now a household name.
Make Country:
Germany
Model:
3.0 CSL

Model Details:
The 3.0 CSL competed in the European Touring Car Championships and was nicknamed the 'Batmobile'.
Model Production Years:
1972 - 1975
Base Colour:
White

Colour Details:
The perfect colour.
Year:
1979
Catalogue Number:
C.128
Year Information:
No range of model racing cars would be complete without a representative from BMW's long list of successful racing saloons. Every one of the eleven races in the 1977 European Touring Car Championship was won by a BMW CSL against competition from XJ 5.3C Jaguars. The 3.0 litre CSL BMW in the Scalextric 1978 range follows the official liveries of the BMW Works teams - white body shell, with red, blue and purple bands. As in the real racing world, s Scalextric BMW is the ideal car to race against a Porsche as both these Scalextric models have similar handling characteristics.
Motor:
---
Publication Name:
Scalextric - Electric Model Racing - 20th Edition
Publication Type:
Catalogue
Publication Edition:
20th Edition

Logo & Box Design:


Item Ranking:
Current: 392 -
December 2020
Previous: 366 -
November 2020
Movement:

(-26)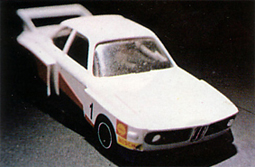 Car Year Details
(2)
Service Sheets
(2)
| SHEET NO | SERVICE SHEET NAME | ISSUE DATE |
| --- | --- | --- |
| 100C | C.109 Escort Mexico, C.110 Mini Clubman, C.112 Mini Clubman, C.113 Triumph TR7, C.114 Triumph TR7, C.115 Porsche Turbo 935, C.116 BMW 3.0 CSL, C.117 3.0 Ford Capri | September 1976 |
| 100C (Back) | C.109 Escort Mexico, C.110 Mini Clubman, C.112 Mini Clubman, C.113 Triumph TR7, C.114 Triumph TR7, C.115 Porsche Turbo 935, C.116 BMW 3.0 CSL, C.117 3.0 Ford Capri - Back | September 1976 |
BMW Turbo 320 on ebay UK

Search For: 'scalextric (128,bmw 3.0 csl)'
Ending Soonest
ITEM
DETAILS
3x Goodyear 128mm x 32mm s/a Vinyl Decals Scalextric SCX Carrera Ninco Vespa - Store Inventory

Location: Louth, United Kingdom
Condition: New
Current Price: £2.95 GBP
Time Left: 2d 16h 0m 25s
Bids: 0
SCALEXTRIC C128 BMW Turbo RED EXCELLENT BOXED - Fixed Price

Location: Birmingham, United Kingdom
Condition: Used
Current Price: £35.00 GBP
Time Left: 2d 20h 42m 34s
Bids: 0
Greenhills Scalextric BMW 3.0 CSL front axle and wheels Used P2197 - Fixed Price

Location: Wetherby, United Kingdom
Condition: Used
Current Price: £3.99 GBP
Time Left: 3d 21h 30m 14s
Bids: 0
Scalextric - Spectrum 48/128K - Boxed - Auction

Location: King's Lynn, United Kingdom
Condition: Good
Current Price: £1.20 GBP
Time Left: 3d 21h 42m 45s
Bids: 0
Vintage Scalextric BMW 3.0 CSL C/128 car - Auction

Location: Guildford, United Kingdom
Condition: Used
Current Price: £20.00 GBP
Time Left: 3d 21h 47m 29s
Bids: 0
Greenhills Scalextric BMW 3.0 CSL Front Tyre Pair - Used - P6191 - Fixed Price

Location: Wetherby, United Kingdom
Condition: Used
Current Price: £3.99 GBP
Time Left: 5d 11h 35m 43s
Bids: 0
SCALEXTRIC C128 BMW Turbo WHITE, RED & BLUE EXCELLENT BOXED MISSING WINDOW - Fixed Price

Location: Birmingham, United Kingdom
Condition: Used
Current Price: £25.00 GBP
Time Left: 5d 20h 27m 13s
Bids: 0
Vintage SCALEXTRIC BMW 3.0 CSL - Auction

Location: Kendal, United Kingdom
Condition: Used
Current Price: £10.00 GBP
Time Left: 6d 21h 15m 36s
Bids: 0
Scalextric Bmw 3.0 CSL Red - Auction

Location: Berkhamsted, United Kingdom
Condition: Used
Current Price: £18.00 GBP
Time Left: 8d 13h 47m 37s
Bids: 0
Scalextric car BMW 3.0 CSL Damaged - Auction

Location: Bath, United Kingdom
Condition: Used
Current Price: £8.00 GBP
Time Left: 8d 16h 40m 18s
Bids: 0
Tag Heuer Racing Decals - White size 128mm x 28mm x3, Slotcar Scalextric, SCX, - Store Inventory

Location: Louth, United Kingdom
Condition: New
Current Price: £2.85 GBP
Time Left: 9d 19h 32m 45s
Bids: 0
Scalextric C128 BMW Turbo 320 in red with superb box - Fixed Price

Location: Warrington, United Kingdom
Condition: Used
Current Price: £45.00 GBP
Time Left: 12d 16h 18m 56s
Bids: 0
Vintage Scalextric Slot Car C128 BMW Turbo 320 1970ís Boxed - Fixed Price

Location: Stafford, United Kingdom
Condition: Used
Current Price: £22.00 GBP
Time Left: 14d 11h 55m 56s
Bids: 0
Scalextric C128 BMW Turbo 320 in red - Fixed Price

Location: Burntwood, United Kingdom
Condition: Used
Current Price: £20.00 GBP
Time Left: 15d 21h 53m 12s
Bids: 0
Scalextric/Slot Car 1/43 & 1/64 Scale Waterslide Decals (inc. White) - Store Inventory

Location: Thames Ditton, United Kingdom
Condition: New
Current Price: £2.85 GBP
Time Left: 16d 15h 41m 53s
Bids: 0
Scalextric/Slot Car 1/43 & 1/64 Scale Waterslide Decals (inc. White) - Store Inventory

Location: Thames Ditton, United Kingdom
Condition: New
Current Price: £2.95 GBP
Time Left: 16d 15h 41m 53s
Bids: 0
Scalextric/Slot Car 1/43 & 1/64 Scale Waterslide Decals (inc. White) - Store Inventory

Location: Thames Ditton, United Kingdom
Condition: New
Current Price: £2.85 GBP
Time Left: 16d 15h 41m 53s
Bids: 0
Greenhills Scalextric Horse & Jockey Fairweather Lady C128 - Used - 20349 - Fixed Price

Location: Wetherby, United Kingdom
Condition: Used
Current Price: £35.19 GBP
Time Left: 17d 12h 30m 0s
Bids: 0
Scalextric Bmw 3.0 Csl Window - Fixed Price

Location: St. Ives, United Kingdom
Condition: Used
Current Price: £5.99 GBP
Time Left: 17d 13h 26m 34s
Bids: 0
Scalextric C128 BMW Turbo white,red,blue #1 Exc/B - Store Inventory

Location: Newark, United Kingdom
Condition: Used
Current Price: £30.00 GBP
Time Left: 17d 16h 13m 28s
Bids: 0
Scalextric BMW Turbo 320 C128 #17 - Fixed Price

Location: Blackwood, United Kingdom
Condition: Used
Current Price: £25.00 GBP
Time Left: 18d 11h 9m 27s
Bids: 0
Vintage Boxed BMW 320 Turbo Scalextric Slot Car, Scalextric C128 BMW Batmobile - Store Inventory

Location: Melton Mowbray, United Kingdom
Condition: Used
Current Price: £39.99 GBP
Time Left: 18d 16h 1m 47s
Bids: 0
MICRO SCALEXTRIC G128 BENETTON RENAULT F1 - BRAND NEW - RARE BLISTER PACK - Store Inventory

Location: Eastleigh, United Kingdom
Condition: New
Current Price: £44.99 GBP
Time Left: 23d 22h 57m 5s
Bids: 0
Tag Heuer Racing Decals - size 128mm x 28mm x3, Slotcar - Scalextric, SCX, NInco - Store Inventory

Location: Louth, United Kingdom
Condition: New
Current Price: £2.85 GBP
Time Left: 24d 18h 49m 46s
Bids: 0
Scalextric 'The Computer Edition' Game for the ZX Spectrum 48/128 B30 - Store Inventory

Location: Bridlington, United Kingdom
Condition: Used
Current Price: £4.99 GBP
Time Left: 25d 21h 34m 27s
Bids: 0
VINTAGE SCALEXTRIC C128 BMW 3.0 CSL c 1978 RED No17 VGB - Fixed Price

Location: United Kingdom
Condition: Used
Current Price: £30.00 GBP
Time Left: 28d 12h 5m 8s
Bids: 0
Scalextric 'The Computer Edition' Game for the ZX Spectrum 48/128 B26 - Store Inventory

Location: Bridlington, United Kingdom
Condition: Used
Current Price: £4.99 GBP
Time Left: 28d 16h 41m 40s
Bids: 0
Scalextric C128 BMW 320 CSL Turbo EXCELLENT Boxed - Store Inventory

Location: Redcar, United Kingdom
Condition: Used
Current Price: £28.00 GBP
Time Left: 29d 22h 36m 20s
Bids: 0
BMW Turbo 320 on ebay US

Search For: 'scalextric (128,bmw 3.0 csl)'
Ending Soonest
BMW Turbo 320 on ebay Australia

Search For: 'scalextric (128,bmw 3.0 csl)'
Ending Soonest