Car Year Details
1979 - UOP Shadow

Various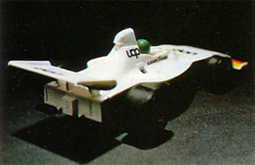 Car:
UOP Shadow
(Overall Item page)
Number:
Various
Information:
Transfer sheet supplied.
Category:
Cars

Category Details:
Classic cars from all eras.
Car Category:
F1GP

Car Category Details:
Formula One Grand Prix.
Make:
Shadow

Logo:
Shadow Logo
Logo Years:
1970 - 1980
Make Details:
Originally a US Formula 1 team, Shadow competed for eight years at the highest level of motor car racing.
Make Country:
United Kingdom
Model:
DN1

Model Details:
The DN1 positioned 8th in the 1973 Formula 1 World Constructors Championship.
Model Production Years:
1973 - 1974
Base Colour:
White

Colour Details:
The perfect colour.
Year:
1979
Catalogue Number:
C.123
Year Information:
The Shadow team under the leadership of Don Nichols entered Formula One in 1973 and quickly established themselves as one of the leading teams. Shadow won the 1975 Race of Champions at Brands Hatch in a DN5, but had to wait until Austria, in 1977, for their first Grand Prix victory. It should be the first of many victories for this highly professional outfit. A feature of the UOP Shadow was its wide monocoque and side radiators. The car possessed a central oil tank and was powered by a Ford Cosworth V8 engine. The UOP shadow is included in the Scalextric range in either white or black body colour.
Motor:
---
Publication Name:
Scalextric - Electric Model Racing - 20th Edition
Publication Type:
Catalogue
Publication Edition:
20th Edition

Logo & Box Design:


Item Ranking:
Current: 178 -
April 2021
Previous: 117 -
March 2021
Movement:

(-61)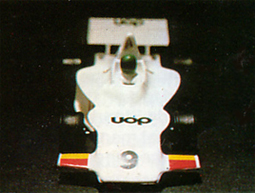 Car Year Details
(4)
Sets Included In
(1)
Service Sheets
(2)
| SHEET NO | SERVICE SHEET NAME | ISSUE DATE |
| --- | --- | --- |
| 99A | C.051 Yardley BRM P.160, C.120 Martini Brabham BT44B, C.123 UOP Shadow, C.124 Ferrari 312T | September 1976 |
| 99A (Back) | C.051 Yardley BRM P.160, C.120 Martini Brabham BT44B, C.123 UOP Shadow, C.124 Ferrari 312T - Back | September 1976 |
UOP Shadow on ebay UK

Search For: 'scalextric (123,shadow)'
Ending Soonest
ITEM
DETAILS
SCALEXTRIC " SHADOW " - Auction

Location: Sudbury, United Kingdom
Condition: Used
Current Price: £8.00 GBP
Time Left: 0d 14h 29m 16s
Bids: 0
VINTAGE SCALEXTRIC C.123 Black UOP Shadow Formula 1 Car in VGC - Boxed - Fixed Price

Location: Rotherham, United Kingdom
Condition: Used
Current Price: £20.00 GBP
Time Left: 1d 12h 19m 43s
Bids: 0
Scalextric C012 Shadow original box used as pictured excellent runner - Fixed Price

Location: Cannock, United Kingdom
Condition: Used
Current Price: £16.99 GBP
Time Left: 1d 12h 33m 24s
Bids: 0
Scalextric Car F1 C012 Shadow Ford Cosworth White UOP Vintage - Auction

Location: Sittingbourne, United Kingdom
Condition: Used
Current Price: £3.99 GBP
Time Left: 1d 16h 31m 59s
Bids: 0
Scalextric C123 Ford Sierra Cosworth Janspeed - Auction

Location: Newcastle, United Kingdom
Condition: New
Current Price: £19.99 GBP
Time Left: 2d 12h 21m 34s
Bids: 0
Scalextric vintage slot car C012 Shadow GP Formula I race car - Auction

Location: Yeovil, United Kingdom
Condition: Used
Current Price: £2.20 GBP
Time Left: 2d 12h 50m 15s
Bids: 4
Greenhills Scalextric Shadow F1 C123 Front Axle & Wheels Black Used P2332 - Fixed Price

Location: Wetherby, United Kingdom
Condition: Used
Current Price: £3.84 GBP
Time Left: 2d 12h 54m 34s
Bids: 0
Scalextric; Sauber C9; 1989 24h Le Mans 5th; Schlesser; RN62; Fair Unboxed - Auction

Location: Didcot, United Kingdom
Condition: Used
Current Price: £0.99 GBP
Time Left: 2d 17h 5m 20s
Bids: 0
Spanish Scalextric - H3735 BMW 123 BTCC 2015 Sam Tordoff No.7 - NEW - Auction

Location: Cardiff, United Kingdom
Condition: New
Current Price: £29.99 GBP
Time Left: 2d 17h 49m 34s
Bids: 0
Scalextric C123 Janspeed Cosworth - Fixed Price

Location: Warrington, United Kingdom
Condition: Used
Current Price: £30.00 GBP
Time Left: 3d 4h 43m 14s
Bids: 0
A scalextric 123 - Fixed Price

Location: Livingston, United Kingdom
Condition: New
Current Price: £1.00 GBP
Time Left: 3d 11h 12m 59s
Bids: 0
Scalextric C123 UOP shadow Formula 1 Car - Auction

Location: London, United Kingdom
Condition: Used
Current Price: £9.99 GBP
Time Left: 3d 12h 37m 37s
Bids: 0
Scalextric Shadow UOP Yellow - Repainted Re Liveried Unboxed - Store Inventory

Location: Redcar, United Kingdom
Condition: Used
Current Price: £20.00 GBP
Time Left: 3d 17h 25m 58s
Bids: 0
Scalextric Shadow UOP Red - Repainted Re Liveried Unboxed - Store Inventory

Location: Redcar, United Kingdom
Condition: Used
Current Price: £20.00 GBP
Time Left: 3d 17h 26m 48s
Bids: 0
Scalextric Shadow UOP Black - Re Liveried Unboxed - Store Inventory

Location: Redcar, United Kingdom
Condition: Used
Current Price: £20.00 GBP
Time Left: 3d 17h 27m 59s
Bids: 0
RARE POLISTIL SLOT CAR SHADOW CAN AM CAR LE MANS NOT SCALEXTRIC - Auction

Location: Newton Abbot, United Kingdom
Condition: Used
Current Price: £7.00 GBP
Time Left: 4d 14h 26m 37s
Bids: 0
Scalextric - BMW 123 BTCC 2015 Sam Tordoff No.7 - NEW / Unboxed - Auction

Location: Cardiff, United Kingdom
Condition: New
Current Price: £27.99 GBP
Time Left: 4d 15h 20m 18s
Bids: 0
DD Slots Scalextric UOP Shadow C12 Body Shell - Used - S1267 - Fixed Price

Location: Wetherby, United Kingdom
Condition: Used
Current Price: £7.00 GBP
Time Left: 5d 4h 56m 29s
Bids: 0
P5291 Greenhills Scalextric UOP Shadow Grooved Front Tyre Pair - Used - Fixed Price

Location: Wetherby, United Kingdom
Condition: Used
Current Price: £5.10 GBP
Time Left: 5d 8h 26m 54s
Bids: 0
Scalextric C/012 - Shadow F1 (racing no.9) - boxed - Fixed Price

Location: Salisbury, United Kingdom
Condition: Used
Current Price: £20.00 GBP
Time Left: 5d 14h 27m 10s
Bids: 0
Greenhills Scalextric UOP Shadow front axle and wheels black - Used - P3564 - Fixed Price

Location: Wetherby, United Kingdom
Condition: Used
Current Price: £3.84 GBP
Time Left: 6d 16h 27m 34s
Bids: 0
SCALEXTRIC Vintage 1970's C123 UOP SHADOW F1 #3 white - Auction

Location: Truro, United Kingdom
Condition: Used
Current Price: £9.99 GBP
Time Left: 7d 12h 10m 18s
Bids: 0
Vintage Scalextric UOP Shadow Black F1 Car #9 - Store Inventory

Location: Margate, United Kingdom
Condition: Used
Current Price: £11.99 GBP
Time Left: 7d 13h 34m 1s
Bids: 0
SCALEXTRIC C123 UOP BLACK SHADOW #11 VGC/ROBUST/SERVICED/FAST/EXCELLENT - Auction

Location: London, United Kingdom
Condition: Used
Current Price: £7.95 GBP
Time Left: 7d 14h 15m 27s
Bids: 0
SCALEXTRIC TWO YES TWO C12 SHADOW UOP F1'S WHITE USED BUT VGC NO AIRBOXES ONLY - Auction

Location: Port Erin, United Kingdom
Condition: Used
Current Price: £4.46 GBP
Time Left: 7d 16h 17m 53s
Bids: 0
SCALEXTRIC TWO YES TWO C12 SHADOW UOP F1'S WHITE USED IN VGC 100% COMPLETE - Auction

Location: Port Erin, United Kingdom
Condition: Used
Current Price: £4.46 GBP
Time Left: 7d 16h 25m 44s
Bids: 1
Vintage Scalextric C123 Shadow White No19 Running SERVICED - Fixed Price

Location: Westcliff-on-Sea, United Kingdom
Condition: Used
Current Price: £9.99 GBP
Time Left: 8d 10h 31m 4s
Bids: 0
Vintage Scalextric C123 Shadow Black No1 Running SERVICED (gear noise) - Fixed Price

Location: Westcliff-on-Sea, United Kingdom
Condition: Used
Current Price: £9.99 GBP
Time Left: 8d 10h 35m 28s
Bids: 0
Scalextric C12/105 "UOP" Shadow F1 rear wing re make tampo printed New product - Store Inventory

Location: Newark, United Kingdom
Condition: New
Current Price: £4.95 GBP
Time Left: 8d 12h 0m 33s
Bids: 0
Greenhills Scalextric UOP Shadow No.5 C123 Type 2 Body Shell - Used - S1899 - Fixed Price

Location: Wetherby, United Kingdom
Condition: Used
Current Price: £9.89 GBP
Time Left: 8d 14h 49m 52s
Bids: 0
Greenhills Scalextric Ford Sierra Cosworth Janspeed screens C123 Used -P3399 - Fixed Price

Location: Wetherby, United Kingdom
Condition: Used
Current Price: £5.97 GBP
Time Left: 9d 5h 45m 23s
Bids: 0
Greenhills Scalextric C12 Shadow Original Red Rear Wing - Used - P6311 - Fixed Price

Location: Wetherby, United Kingdom
Condition: Used
Current Price: £8.99 GBP
Time Left: 9d 13h 39m 13s
Bids: 0
Scalextric C/012 - UOP Shadow F1 Racing Car lot1 (racing no.9) - lot3 - Fixed Price

Location: Salisbury, United Kingdom
Condition: Used
Current Price: £16.00 GBP
Time Left: 9d 14h 13m 4s
Bids: 0
Scalextric C/012 - UOP Shadow F1 Racing Car - (racing no.12) metalic silver - Fixed Price

Location: Salisbury, United Kingdom
Condition: Used
Current Price: £16.00 GBP
Time Left: 9d 14h 13m 4s
Bids: 0
Scalextric C/012 - UOP Shadow F1 Racing Car - (racing no.9) - lot4 - Fixed Price

Location: Salisbury, United Kingdom
Condition: Used
Current Price: £16.00 GBP
Time Left: 9d 14h 13m 4s
Bids: 0
Scalextric C/012 - UOP Shadow F1 Racing Car lot1 (racing no.9) - lot2 - Fixed Price

Location: Salisbury, United Kingdom
Condition: Used
Current Price: £16.00 GBP
Time Left: 9d 14h 13m 4s
Bids: 0
Scalextric C/012 - UOP Shadow F1 Racing Car lot2 (racing no.4) - Fixed Price

Location: Salisbury, United Kingdom
Condition: Used
Current Price: £14.00 GBP
Time Left: 9d 14h 13m 4s
Bids: 0
Vintage Scalextric Car - C 012 Shadow - Missing Parts/Untested - Fixed Price

Location: Ashford, United Kingdom
Condition: Used
Current Price: £6.00 GBP
Time Left: 9d 14h 33m 22s
Bids: 0
Scalextric Car 1970s vintage C012 shadow F1 slotcar white/blue No 7 Scalextric - Fixed Price

Location: Hull, United Kingdom
Condition: Used
Current Price: £10.95 GBP
Time Left: 10d 14h 59m 7s
Bids: 0
Scalextric C123 UOP Shadow Formula 1 Grand Prix Slot Car Boxed - Fixed Price

Location: Huntingdon, United Kingdom
Condition: Used
Current Price: £14.95 GBP
Time Left: 11d 12h 55m 59s
Bids: 0
Scalextric Car 1970s vintage C0105 UOP shadow No 2 F1 slotcar black Scalextric - Fixed Price

Location: Hull, United Kingdom
Condition: Used
Current Price: £10.95 GBP
Time Left: 11d 12h 57m 12s
Bids: 0
Scalextric Car 1970s vintage C0105 UOP shadow No 7 F1 slotcar black Scalextric - Fixed Price

Location: Hull, United Kingdom
Condition: Used
Current Price: £10.95 GBP
Time Left: 11d 13h 22m 12s
Bids: 0
Scalextric - BMW 123 BTCC 2015 Sam Tordoff No.7 - NEW / Unboxed - Store Inventory

Location: Cardiff, United Kingdom
Condition: New
Current Price: £27.99 GBP
Time Left: 12d 16h 3m 53s
Bids: 0
Shadow Uop scalextric Cars Black White Spares Or Repair - Store Inventory

Location: Bedford, United Kingdom
Condition: Used
Current Price: £14.99 GBP
Time Left: 13d 5h 2m 42s
Bids: 0
Scalextric C123 Shadow Black EXCELLENT - Fixed Price

Location: Colchester, United Kingdom
Condition: Used
Current Price: £13.99 GBP
Time Left: 14d 4h 39m 22s
Bids: 0
Scalextric C123 Shadow White EXCELLENT - Fixed Price

Location: Colchester, United Kingdom
Condition: Used
Current Price: £13.99 GBP
Time Left: 14d 4h 39m 22s
Bids: 0
Scalextric C012 Shadow White and Blue - Fixed Price

Location: Colchester, United Kingdom
Condition: Used
Current Price: £12.99 GBP
Time Left: 14d 4h 40m 7s
Bids: 0
Scalextric Car F1 Grand Prix white UOP Shadow working with tail C012 1970 s - Fixed Price

Location: Uttoxeter, United Kingdom
Condition: Used
Current Price: £7.29 GBP
Time Left: 15d 4h 56m 12s
Bids: 0
Fly E123 Chevrolet Corvette C5R Cric Crac 20th Anniversary Scalextric SCX Ninco - Fixed Price

Location: Birmingham, United Kingdom
Condition: New
Current Price: £59.99 GBP
Time Left: 15d 17h 53m 43s
Bids: 0
Scalextric C123 UOP Shad F1, C124 312 T, C81 Copper F1 junior Poor or non runs - Fixed Price

Location: Westcliff-on-Sea, United Kingdom
Condition: Used
Current Price: £15.99 GBP
Time Left: 16d 6h 55m 11s
Bids: 0
Vintage 1970s Scalextric F1 Job Lot – Wolf C133 / Shadow C012 / JPS Lotus C050 - Fixed Price

Location: St. Albans, United Kingdom
Condition: Used
Current Price: £19.99 GBP
Time Left: 16d 6h 59m 44s
Bids: 0
Vintage Scalextric C123 White Martini Valvoline No1 Running - Fixed Price

Location: Westcliff-on-Sea, United Kingdom
Condition: Used
Current Price: £10.99 GBP
Time Left: 16d 9h 7m 4s
Bids: 0
Vintage Scalextric C123 White No5 Running but poor - Fixed Price

Location: Westcliff-on-Sea, United Kingdom
Condition: Used
Current Price: £9.99 GBP
Time Left: 16d 9h 11m 17s
Bids: 0
Vintage Scalextric C123 Shadow Black No1 Running missing header air intake - Fixed Price

Location: Westcliff-on-Sea, United Kingdom
Condition: Used
Current Price: £9.99 GBP
Time Left: 16d 9h 15m 37s
Bids: 0
Vintage Scalextric C123 Shadow Black No6 Running, hand made air intake - Fixed Price

Location: Westcliff-on-Sea, United Kingdom
Condition: Used
Current Price: £9.99 GBP
Time Left: 16d 9h 18m 34s
Bids: 0
DD Slots Scalextric UOP Shadow No.3 Body Shell C123 - Used - S1900 - Fixed Price

Location: Wetherby, United Kingdom
Condition: Used
Current Price: £7.00 GBP
Time Left: 16d 16h 38m 45s
Bids: 0
Greenhills Scalextric Ford Sierra Cosworth Janspeed / Fina cabin interior C12... - Fixed Price

Location: Wetherby, United Kingdom
Condition: Used
Current Price: £5.84 GBP
Time Left: 17d 12h 48m 24s
Bids: 0
DD Slots Scalextric UOP Shadow No.3 C123 - Used 19151 - Fixed Price

Location: Wetherby, United Kingdom
Condition: Used
Current Price: £11.00 GBP
Time Left: 17d 17h 2m 50s
Bids: 0
2x DD Slots Scalextric UOP Shadow C12 - Used - S1267 Spares / Repair Ref:55 - Fixed Price

Location: Ulverston, United Kingdom
Condition: Used
Current Price: £8.00 GBP
Time Left: 17d 17h 29m 8s
Bids: 0
Really Useful Spares Repro Scalextric RUA11 UOP SHADOW Rear aerofoil - Store Inventory

Location: Stockport, United Kingdom
Condition: New
Current Price: £4.95 GBP
Time Left: 18d 11h 16m 13s
Bids: 0
Scalextric UOP with controllers, shadow and white race cars and power supply - Fixed Price

Location: Midhurst, United Kingdom
Condition: Used
Current Price: £17.50 GBP
Time Left: 18d 14h 27m 55s
Bids: 0
Scalextric Car 1970s vintage C012 shadow F1 slotcar white/red No 6 Scalextric - Fixed Price

Location: Hull, United Kingdom
Condition: Used
Current Price: £10.95 GBP
Time Left: 18d 14h 58m 42s
Bids: 0
VINTAGE SCALEXTRIC SHADOW F1 RACING CARS - Fixed Price

Location: Chichester, United Kingdom
Condition: Used
Current Price: £10.99 GBP
Time Left: 18d 15h 54m 23s
Bids: 0
Greenhills Scalextric UOP Shadow No.6 C123 Type 1 - Used - 22203 - Fixed Price

Location: Wetherby, United Kingdom
Condition: Used
Current Price: £14.99 GBP
Time Left: 19d 7h 29m 16s
Bids: 0
Scalextric original UOP Shadow F1 Air box black mint original new - Store Inventory

Location: Newark, United Kingdom
Condition: New
Current Price: £2.95 GBP
Time Left: 19d 9h 6m 32s
Bids: 0
Greenhills Scalextric Ford Sierra Cosworth Janspeed No.10 C123 Type 2 - Used ... - Fixed Price

Location: Wetherby, United Kingdom
Condition: Used
Current Price: £21.99 GBP
Time Left: 19d 18h 1m 0s
Bids: 0
Greenhills Scalextric Ford Sierra Cosworth Janspeed C123 Screens Used P2210 #xx - Fixed Price

Location: Wetherby, United Kingdom
Condition: Used
Current Price: £4.94 GBP
Time Left: 20d 16h 27m 16s
Bids: 0
Nr MINT/C SLOT CAR SCALEXTRIC C123 FORD SIERRA COSWORTH JANSPEED No 10 RED - Store Inventory

Location: Alness, United Kingdom
Condition: Used
Current Price: £49.99 GBP
Time Left: 21d 13h 16m 52s
Bids: 0
RL c123 0760 SCALEXTRIC waterslide UOP SHADOW BRABHAM FERRARI LOGO #1 #8 ORIGINA - Store Inventory

Location: Stockport, United Kingdom
Condition: New
Current Price: £2.50 GBP
Time Left: 22d 11h 16m 37s
Bids: 0
Scalextric C/123 Ford Sierra Cosworth 'Janspeed' - racing no.10 - Store Inventory

Location: Salisbury, United Kingdom
Condition: Used
Current Price: £22.00 GBP
Time Left: 22d 12h 47m 26s
Bids: 0
scalextric f1 car c 012 shadow - scalextric shadow c 012 UOP - Store Inventory

Location: Basingstoke, United Kingdom
Condition: Used
Current Price: £7.99 GBP
Time Left: 22d 17h 2m 37s
Bids: 0
Greenhills Micro Scalextric Hand Controller Brown Trigger Grey Jack Plug - Us... - Fixed Price

Location: Wetherby, United Kingdom
Condition: Used
Current Price: £7.30 GBP
Time Left: 23d 7h 21m 3s
Bids: 0
Scalextric - BMW 123 BTCC Andy Priaulx No.111 - NEW / Unboxed - Store Inventory

Location: Cardiff, United Kingdom
Condition: New
Current Price: £27.99 GBP
Time Left: 24d 8h 24m 45s
Bids: 0
1/32 Scale Decals for Scalextric Shadow DN1 cars - 3 Variations - Fixed Price

Location: Fareham, United Kingdom
Condition: New
Current Price: £4.00 GBP
Time Left: 24d 9h 45m 34s
Bids: 0
1/32 Scale Decals for Scalextric Shadow DN1 cars - 3 Variations - Fixed Price

Location: Fareham, United Kingdom
Condition: New
Current Price: £4.00 GBP
Time Left: 24d 9h 45m 34s
Bids: 0
1/32 Scale Decals for Scalextric Shadow DN1 cars - 3 Variations - Fixed Price

Location: Fareham, United Kingdom
Condition: New
Current Price: £4.00 GBP
Time Left: 24d 9h 45m 34s
Bids: 0
Scalextric Bundle x2 - UOP Black Shadow F1 Car & Yardley BRM P160 White - 1:32 - Fixed Price

Location: Bangor, United Kingdom
Condition: Used
Current Price: £32.95 GBP
Time Left: 24d 14h 20m 20s
Bids: 0
MACC856 - Greenhills Reproduction Scalextric UOP Shadow White Rear Wing - NEW - Fixed Price

Location: Wetherby, United Kingdom
Condition: New
Current Price: £6.99 GBP
Time Left: 26d 14h 27m 19s
Bids: 0
MACC857 - Greenhills Reproduction Scalextric UOP Shadow Black Rear Wing - NEW - Fixed Price

Location: Wetherby, United Kingdom
Condition: New
Current Price: £6.99 GBP
Time Left: 26d 14h 27m 25s
Bids: 0
SCALEXTRIC C123 JANSPEED FORD SIERRA COSWORTH LIGHTS/SERVICED/VGC/MIRRORS/SUPERB - Fixed Price

Location: London, United Kingdom
Condition: Used
Current Price: £24.95 GBP
Time Left: 27d 9h 16m 24s
Bids: 0
Vintage 1970s Scalextric F1 Guide Blade Holder Fits Shadow Brabham BRM Ferrari - Store Inventory

Location: Birchington, United Kingdom
Condition: Used
Current Price: £1.99 GBP
Time Left: 27d 11h 38m 9s
Bids: 0
Scalextric / Superslot - H3735 BMW 123 BTCC 2015 Sam Tordoff No.7 - NEW - Store Inventory

Location: Cardiff, United Kingdom
Condition: New
Current Price: £34.99 GBP
Time Left: 30d 1h 40m 35s
Bids: 0
Greenhills Scalextric UOP Shadow Rear Tyre Pair C123 - Used - P5294 - Fixed Price

Location: Wetherby, United Kingdom
Condition: Used
Current Price: £3.84 GBP
Time Left: 30d 5h 32m 27s
Bids: 0
UOP Shadow on ebay US

Search For: 'scalextric (123,shadow)'
Ending Soonest
UOP Shadow on ebay Australia

Search For: 'scalextric (123,shadow)'
Ending Soonest
ITEM
DETAILS
Scalextric C012 - Vintage UOP Shadow F1 Car Black - 'Excellent Condition' - Auction

Location: Sale, VIC, Australia
Condition: Used
Current Price: $30.00 AUD
Time Left: 3d 5h 56m 52s
Bids: 0
scalextric vintage c12 shadow slotcar 1974(blue stripe) - Auction

Location: Caboolture, QLD, Australia
Condition: Used
Current Price: $35.00 AUD
Time Left: 4d 14h 40m 36s
Bids: 0
scalextric vintage c12 shadow slotcar 1974(red stripe) - Auction

Location: Caboolture, QLD, Australia
Condition: Used
Current Price: $35.00 AUD
Time Left: 4d 14h 40m 44s
Bids: 0
scalextric vintage c12 shadow slotcar 1974(red stripe) - Auction

Location: Caboolture, QLD, Australia
Condition: Used
Current Price: $35.00 AUD
Time Left: 5d 3h 32m 11s
Bids: 0
Scalextric 1:32 Shadow F1 Car. - Auction

Location: Colac, VIC, Australia
Condition: Used
Current Price: $15.00 AUD
Time Left: 5d 17h 27m 38s
Bids: 0
scalextric vintage c123 uop shadow slotcar 1976(black) - Auction

Location: Caboolture, QLD, Australia
Condition: Used
Current Price: $35.50 AUD
Time Left: 7d 8h 12m 13s
Bids: 0
scalextric vintage c123 uop shadow slotcar 1976(white) - Auction

Location: Caboolture, QLD, Australia
Condition: Used
Current Price: $35.50 AUD
Time Left: 7d 8h 16m 19s
Bids: 0