Car Year Details
1991 - Audi Quattro

14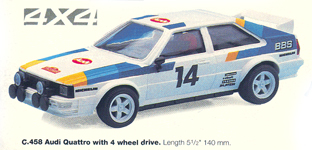 Car:
Audi Quattro
(Overall Item page)
Number:
14
Information:
Length - 5 1/2" - 139mm.
Category:
Cars

Category Details:
Classic cars from all eras.
Car Category:
Rally

Car Category Details:
Point to point auto racing over many different terrains.
Make:
Audi

Logo:
Audi Logo
Logo Years:
---
Make Details:
Audi is one of the 'German Big 3' luxury auto makers.
Make Country:
Germany
Model:
Quattro

Model Details:
The Quattro was a very successful road and rally car design.
Model Production Years:
1980 - 1991
Base Colour:
White

Colour Details:
The perfect colour.
All Colours:
White, Blue, Yellow



Year:
1991
Catalogue Number:
C.458
Year Information:
Rallying is organised to test car and driver to their limits. High speed 'stages' are run on private land (for public safety) over rough and mud-strewn tracks, the winner being the car over all stages combined. In between, there will be a controlled speed drive on public roads to the beginning of the next 'stage' where the process is repeated. The Scalextric cars depicted are typical of those that take part in rallying which has contributed greatly to the reliability and safety of vehicles of all types.
Motor:
---
Publication Name:
Scalextric - 32nd Edition - 1:32 Scale
Publication Type:
Catalogue
Publication Edition:
32nd Edition

Logo & Box Design:


Item Ranking:
Current: 278 -
January 2020
Previous: 486 -
December 2019
Movement:

(+208)
Car Year Details
(4)
Service Sheets
(0)
| SHEET NO | SERVICE SHEET NAME | ISSUE DATE |
| --- | --- | --- |
Audi Quattro on ebay UK

Search For: 'scalextric (458,audi quattro)'
Ending Soonest
ITEM
DETAILS
Scalextric Audi Quattro C.348 . - Auction

Location: Dursley, United Kingdom
Condition: Used
Current Price: £55.00 GBP
Time Left: 0d 9h 11m 49s
Bids: 0
W10714 Scalextric Spare Rear Axle Assembley for Audi Quattro - Fixed Price

Location: Eastleigh, United Kingdom
Condition: New
Current Price: £4.60 GBP
Time Left: 1d 2h 46m 12s
Bids: 0
Scalextric C349 Audi Quattro mint unused - Fixed Price

Location: Warrington, United Kingdom
Condition: Used
Current Price: £75.00 GBP
Time Left: 1d 6h 58m 40s
Bids: 0
Scalextric Joblot. C536. C432. C461 C458 - Auction

Location: Cheltenham, United Kingdom
Condition: Used
Current Price: £26.50 GBP
Time Left: 1d 13h 27m 53s
Bids: 4
Fly Audi Quattro A2 RAC Rally 1985 [ compatible with Scalextric ] - Auction

Location: Chester, United Kingdom
Condition: New
Current Price: £35.00 GBP
Time Left: 1d 13h 31m 38s
Bids: 0
Scalextric audi quattro excellent condition - Auction

Location: Wrexham, United Kingdom
Condition: Used
Current Price: £14.50 GBP
Time Left: 1d 13h 34m 9s
Bids: 8
Greenhills Scalextric Exin Audi Quattro Cabin Interior 4070 - Used - P4884 - Fixed Price

Location: Wetherby, United Kingdom
Condition: Used
Current Price: £3.99 GBP
Time Left: 4d 4h 54m 48s
Bids: 0
Scalextric Audi Quattro C458 unusual livery mint in box - Auction

Location: Swadlincote, United Kingdom
Condition: New
Current Price: £25.00 GBP
Time Left: 4d 12h 30m 24s
Bids: 0
Greenhills Scalextric Audi Quattro A4 Repsol No 4 C2034 - Used - 21398 - Fixed Price

Location: Wetherby, United Kingdom
Condition: Used
Current Price: £15.99 GBP
Time Left: 5d 1h 48m 13s
Bids: 0
Greenhills Scalextric Audi Quattro 4 x 4 C348/9/458 Cabin Interior - Used P1109 - Fixed Price

Location: Wetherby, United Kingdom
Condition: Used
Current Price: £3.99 GBP
Time Left: 5d 3h 27m 43s
Bids: 0
Greenhills Scalextric Exin Audi Quattro No 5 front tyre pair 4070 - Used - P4883 - Fixed Price

Location: Wetherby, United Kingdom
Condition: Used
Current Price: £3.49 GBP
Time Left: 7d 0h 4m 3s
Bids: 0
Scalextric Vintage Audi Quattro Metro - Fixed Price

Location: Wilmslow, United Kingdom
Condition: Used
Current Price: £30.00 GBP
Time Left: 7d 9h 8m 51s
Bids: 0
Greenhills Scalextric Audi Quattro Rear Axle & Wheels C 348/9/458 - Used P800 - Fixed Price

Location: Wetherby, United Kingdom
Condition: Used
Current Price: £4.99 GBP
Time Left: 7d 14h 15m 20s
Bids: 0
Scalextric C349 Audi Quattro No5 - Fixed Price

Location: Warrington, United Kingdom
Condition: Used
Current Price: £90.00 GBP
Time Left: 8d 2h 19m 8s
Bids: 0
Scalextric - Audi Quattro 4x4 Rally Car - Custom Marlboro Livery - Spanish - Ex. - Auction

Location: Bungay, United Kingdom
Condition: Used
Current Price: £50.00 GBP
Time Left: 8d 13h 12m 57s
Bids: 0
Scalextric - Audi Quattro 4x4 Rally Car - Custom BP Livery - Ninco Upgrades - Ex - Auction

Location: Bungay, United Kingdom
Condition: Used
Current Price: £40.00 GBP
Time Left: 8d 13h 14m 36s
Bids: 0
Scalextric 1:32 SCALE RACING CAR - Pre-owned - (#458) - Store Inventory

Location: Pudsey, United Kingdom
Condition: Used
Current Price: £15.00 GBP
Time Left: 9d 6h 0m 41s
Bids: 0
Audi Quattro Racing Car(shell Oils) White Rare Slot Car Vintage Scalextric 4070 - Fixed Price

Location: Uxbridge, United Kingdom
Condition: Used
Current Price: £29.99 GBP
Time Left: 9d 14h 44m 52s
Bids: 0
Greenhills Scalextric Exin Audi Quattro No.5 4070 Screens - Used - P4885 - Fixed Price

Location: Wetherby, United Kingdom
Condition: Used
Current Price: £4.99 GBP
Time Left: 12d 4h 6m 30s
Bids: 0
Vintage Scalextric Car Instructions - Coche Audi Quattro Ref 4070 - Fixed Price

Location: Leeds, United Kingdom
Condition: Used
Current Price: £6.00 GBP
Time Left: 14d 2h 56m 13s
Bids: 0
Greenhills Scalextric Audi Quattro A4 Rear Tyre Pair Used - P3160 - Fixed Price

Location: Wetherby, United Kingdom
Condition: Used
Current Price: £3.99 GBP
Time Left: 14d 5h 39m 53s
Bids: 0
Greenhills Scalextric Audi Quattro Shell Oils C348 Cabin interior - P1213 - Fixed Price

Location: Wetherby, United Kingdom
Condition: Used
Current Price: £3.99 GBP
Time Left: 14d 15h 4m 13s
Bids: 0
Scalextric Audi Quattro C458 New In Box - Fixed Price

Location: Sevenoaks, United Kingdom
Condition: New
Current Price: £35.00 GBP
Time Left: 17d 6h 14m 40s
Bids: 0
SCALEXTRIC C349 AUDI QUATTRO NO1 BRAND NEW BOXED LOFT FIND PRISTENE! - Fixed Price

Location: Birmingham, United Kingdom
Condition: New
Current Price: £75.00 GBP
Time Left: 17d 11h 42m 15s
Bids: 0
Scalextric Limited Edition 3 Car Set, Metro 6R4 / RS 200 / Audi Quattro C3372A - Store Inventory

Location: Belper, United Kingdom
Condition: New
Current Price: £135.00 GBP
Time Left: 19d 5h 11m 9s
Bids: 0
Scalextric Car F1 Kotzting C229 New Rear Tyres Slot Car 1:32 Lot 458 - Store Inventory

Location: Sudbury, United Kingdom
Condition: Used
Current Price: £14.25 GBP
Time Left: 21d 10h 38m 27s
Bids: 0
scalextric cars job lot c125 c616 metro x2 audi quattro etc 7 in total SPARES. - Store Inventory

Location: Cannock, United Kingdom
Condition: Used
Current Price: £59.99 GBP
Time Left: 21d 11h 38m 39s
Bids: 0
W10710 Scalextric Spare Underpan & Front Axle Assembley for Audi Quattro - Fixed Price

Location: Eastleigh, United Kingdom
Condition: New
Current Price: £8.40 GBP
Time Left: 23d 1h 4m 49s
Bids: 0
Greenhills Scalextric Audi Quattro 4 x 4 Rear grille C348/9 C458 - USED - P3878 - Fixed Price

Location: Wetherby, United Kingdom
Condition: Used
Current Price: £3.49 GBP
Time Left: 23d 12h 26m 24s
Bids: 0
Scalextric C348 Audi Quattro - Fixed Price

Location: Warrington, United Kingdom
Condition: Used
Current Price: £65.00 GBP
Time Left: 26d 1h 0m 24s
Bids: 0
Greenhills Scalextric Audi Quattro 4x4 C348/349/458 Front Sidelights Pair Use... - Fixed Price

Location: Wetherby, United Kingdom
Condition: Used
Current Price: £2.99 GBP
Time Left: 26d 2h 34m 28s
Bids: 0
Scalextric Limited Edition 3 Car Set, Metro 6R4 / RS 200 / Audi Quattro C3372A - Fixed Price

Location: Belper, United Kingdom
Condition: New
Current Price: £140.00 GBP
Time Left: 26d 8h 46m 27s
Bids: 0
Scalextric C.348 Audi Quattro - Store Inventory

Location: Southampton, United Kingdom
Condition: Used
Current Price: £30.00 GBP
Time Left: 26d 14h 9m 29s
Bids: 0
Greenhills Scalextric Exin Audi Quattro No.5 Front Side Light Lenses 4070 - U... - Fixed Price

Location: Wetherby, United Kingdom
Condition: Used
Current Price: £2.99 GBP
Time Left: 27d 2h 45m 29s
Bids: 0
Scalextric Audi Quattro Fina - Used But Running - Fixed Price

Location: Reading, United Kingdom
Condition: Used
Current Price: £40.00 GBP
Time Left: 28d 3h 0m 53s
Bids: 0
2 HORNBY SCALEXTRIC AUDI QUATTRO RALLY CAR - Fixed Price

Location: High Wycombe, United Kingdom
Condition: Used
Current Price: £24.99 GBP
Time Left: 28d 9h 27m 32s
Bids: 0
Audi Quattro on ebay US

Search For: 'scalextric (458,audi quattro)'
Ending Soonest
Audi Quattro on ebay Australia

Search For: 'scalextric (458,audi quattro)'
Ending Soonest