Set Year Details
1983 - Super Stox Set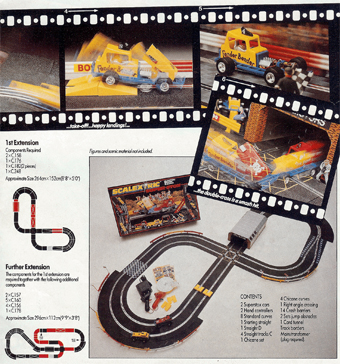 Item:
Super Stox Set
(Overall Item page)
Information:
---
Category:
Sets

Category Details:
Scalextric sets from all eras.
Year:
1983
Catalogue Number:
C.662
Year Information:
Every inch of this 17 feet track configuration is packed with tension and excitement as the 'Stickshifter' and 'Fenderbender' Stox cars are put through their paces. The right angle crossing, chicane curve, track borders, and jump obstacles establish a totally new form of Scalextric competition-all or nothing. The objective "to stay on the track as long as possible while attempting at the same time to eliminate one's opponent", not as easy as it sounds.
The formidable chicane curves together with the track borders require real skill and an ability to make instant decisions. When opponents are racing towards each other will they keep going and risk collision, or will one of them panic and turn at the last moment? The right angle crossing also offers a unique opportunity to catch one's opponent unawares by hiding in the Aeromotors hangar and racing out just as one's opponent is passing over the crossing, spinning his car around or even sending him crashing out of control.
C.663 Export version without Power Pack
Publication Name:
Scalextric - Electric Model Racing - 1983 Catalogue 24th Edition
Publication Type:
Catalogue
Publication Edition:
24th Edition

Logo & Box Design:


Item Ranking:
Current: 173 -
December 2021
Previous: 495 -
November 2021
Movement:

(+322)
Set Year Details
(3)
Set Items
(2)
Service Sheets
(0)
| SHEET NO | SERVICE SHEET NAME | ISSUE DATE |
| --- | --- | --- |
Super Stox Set on ebay US

Search For: 'scalextric super stox set'