Car Year Details
1993 - Williams Honda FW11

5
Car:
Williams Honda FW11
(Overall Item page)
Number:
5
Information:
Length - 5 1/4" - 133mm.
Category:
Cars

Category Details:
Classic cars from all eras.
Car Category:
F1GP

Car Category Details:
Formula One Grand Prix.
Make:
Williams
Logo:
Williams Emblem
Logo Years:
---
Make Details:
Williams Grand Prix Engineering Limited is a very successful Formula One team, having won 9 constructors championships and 7 drivers championships.
Make Country:
United Kingdom
Model:
FW11

Model Details:
The FW11 won the World Constructors Championship in 1986, driven by Nelson Piquet and Nigel Mansell.
Model Production Years:
1986 - 1987
Base Colour:
White

Colour Details:
The perfect colour.
All Colours:
White, Blue, Yellow



Year:
1993
Catalogue Number:
C.426
Year Information:
For the first time in over a decade and a half the World of Formula One racing has a British World Champion, Nigel Mansell. The chemistry between himself and the reliable Williams car was all domineering. His racing exploits up to and during the 1992 Hungarian Grand Prix kept all who watched that superb race on the edge of their seats. He is a truly remarkable driver and a worthy champion.
The Formula One drivers of tomorrow need not wait for the chance to drive these thoroughbreds of the circuit. Their chance can come the moment that they pick up a Scalextric hand throttle. Each Scalextric Formula One car is finely tuned to give the driver optimum performance. The majority of them are fitted with Magnatraction to give super roadholding but the 'Red 5' Williams also incorporates Turbo flash which creates the illusion of excess fuel being burnt off in the exhaust with a quick flash of light from an LED positioned at the rear of the car.
The superb detail can be seen on all the cars highlighted by the careful spraying and printing of sponsorship logos. This is shown to its fullest on the new Minardi F1 and of course on the Williams.
Motor:
---
Publication Name:
Scalextric - 34th Edition - 1:32 Scale
Publication Type:
Catalogue
Publication Edition:
34th Edition

Logo & Box Design:


Item Ranking:
Current: 117 -
August 2023
Previous: 61 -
July 2023
Movement:

(-56)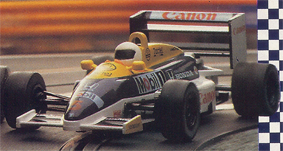 Car Year Details
(6)
Sets Included In
(3)
Service Sheets
(6)
| SHEET NO | SERVICE SHEET NAME | ISSUE DATE |
| --- | --- | --- |
| 142A | Lotus Renault, Williams Honda, Lotus Honda with Turboflash | July 1991 |
| 142A (Back) | Lotus Renault, Williams Honda, Lotus Honda with Turboflash - Back | July 1991 |
| 142B | Lotus Renault, Williams Honda, Lotus Honda with Turboflash | April 1992 |
| 142B (Back) | Lotus Renault, Williams Honda, Lotus Honda with Turboflash - Back | April 1992 |
| 142C | Williams Honda, Lotus Honda | July 1993 |
| 142C (Back) | Williams Honda, Lotus Honda - Back | July 1993 |
Williams Honda FW11 on ebay US

Search For: 'scalextric (426,williams fw11)'