Car Details
Ferrari 312T3

11

Years Released: 1979 1980 1981 1982 (Item Year pages)
Item released for 4 years.
Car:
Ferrari 312T3
Number:
11
Information:
---
Category:
Cars

Category Details:
Classic cars from all eras.
Car Category:
F1GP

Car Category Details:
Formula One Grand Prix.
Base Colour:
Red

Colour Details:
Various shades of red.
All Colours:
Red, White
Logo & Box Style:

1979
1980
1981
1982
Make:
Ferrari

Logo:
Ferrari Logo
Logo Years:
---
Make Details:
The most famous sports car brand in the world due to its exceptional racing history and iconic sports cars.
Make Country:
Italy
Model:
312T3

Model Details:
The 312T3 finished second in the F1 Constructors Championship in 1978.
Model Production Years:
1978
Item Ranking:
Current: 181 -
May 2022
Previous: 81 -
April 2022
Movement:

(-100)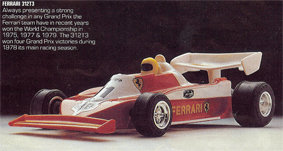 Car Year Details
(4)
Sets Included In
(2)
All Colours
(2)
| COLOUR | DETAILS | IMAGE |
| --- | --- | --- |
| Red | Various shades of red. | |
| White | The perfect colour. | |
Item Year Information
YEAR
INFORMATION
1979
This new addition to the Scalextric range is the latest in a long line of successful racing cars from the Ferrari team. Until 1978, when they lost the honour to the Lotus team, Ferrari had won more Grans Prix then any other marque of racing car; but there is no doubt that they will be fighting hard to regain the title in 1979. Ferrari won the World Championship in 1975 and 1977 with the irrepressible Niki Lauder as their driver, Ferrari surprised the racing world by switching from Goodyear to Michelin tyres.
1980
Another magnificent thoroughbred from the Ferrari stables. running throughout the 78 season on Michelin tyres Ferrari put up some fine performances. The T3 won 4 Grand Prix victories during that season. Ferrari have continued to make a tremendous impact on the racing scene during 1979.
1981
This particular car flew the flag for Ferrari during the 1978 and early 1979 Grand Prix seasons. "312T3" stands for 3 litre, 12 cylinders, 'transverse' gearbox in the 3rd redesign of the body.
1982
Always presenting a strong challenge in any Grand Prix the Ferrari team have in recent years won the World Championship in 1975, 1977 & 1979. The 312T3 won four Grand Prix victories during 1978 its main racing season.
An attractively decorated model the 312T3 is presented in the typical red Ferrari livery with white contrasts. The Michelin name features strongly in the decoration due to Ferrari switching to Michelin tyres for the 1978 season and subsequently remaining with them. The real-life 312T3, unlike the Scalextric model, was extremely heavy on tyres and this created considerable problems for the team. With its chrome effect wheels and the silvered engine this model will make a fine addition to any collection.
Service Sheets
(2)
| SHEET NO | SERVICE SHEET NAME | ISSUE DATE |
| --- | --- | --- |
| 102C | C.126 Lotus 77, C.131 March Ford 711, C.134 Elf Renault Turbo RS-01, C.135 Elf Tyrrell 008, C.136 Ferrari 312 T3, C.137 Ligier JS11, C.138 Saudia Leyland Williams FW07B | February 1981 |
| 102C (Back) | C.126 Lotus 77, C.131 March Ford 711, C.134 Elf Renault Turbo RS-01, C.135 Elf Tyrrell 008, C.136 Ferrari 312 T3, C.137 Ligier JS11, C.138 Saudia Leyland Williams FW07B - Back | February 1981 |
Catalogue Images
(4)


C.136 Ferrari 312T3 - 1979

C.136 Ferrari 312T3 - 1980

C.136 Ferrari 312T3 - 1981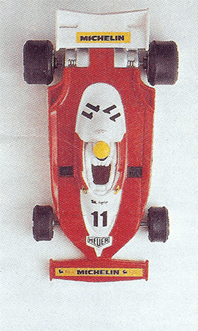 C.136 Ferrari 312T3 - 1982
Ferrari 312T3 on ebay US

Search For: 'scalextric (136,ferrari 312)'