Car Year Details
1982 - Ferrari 312T3

11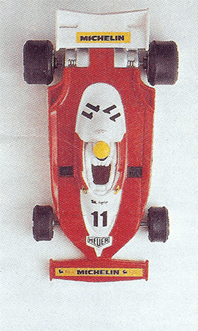 Car:
Ferrari 312T3
(Overall Item page)
Number:
11
Information:
---
Category:
Cars

Category Details:
Classic cars from all eras.
Car Category:
F1GP

Car Category Details:
Formula One Grand Prix.
Make:
Ferrari

Logo:
Ferrari Logo
Logo Years:
---
Make Details:
The most famous sports car brand in the world due to its exceptional racing history and iconic sports cars.
Make Country:
Italy
Model:
312T3

Model Details:
The 312T3 finished second in the F1 Constructors Championship in 1978.
Model Production Years:
1978
Base Colour:
Red

Colour Details:
Various shades of red.
All Colours:
Red, White


Year:
1982
Catalogue Number:
C.136
Year Information:
Always presenting a strong challenge in any Grand Prix the Ferrari team have in recent years won the World Championship in 1975, 1977 & 1979. The 312T3 won four Grand Prix victories during 1978 its main racing season.
An attractively decorated model the 312T3 is presented in the typical red Ferrari livery with white contrasts. The Michelin name features strongly in the decoration due to Ferrari switching to Michelin tyres for the 1978 season and subsequently remaining with them. The real-life 312T3, unlike the Scalextric model, was extremely heavy on tyres and this created considerable problems for the team. With its chrome effect wheels and the silvered engine this model will make a fine addition to any collection.
Motor:
---
Publication Name:
Scalextric - Electric Model Racing Catalogue - 23rd Edition 1982
Publication Type:
Catalogue
Publication Edition:
23rd Edition

Logo & Box Design:


Item Ranking:
Current: 152 -
August 2020
Previous: 155 -
July 2020
Movement:

(+3)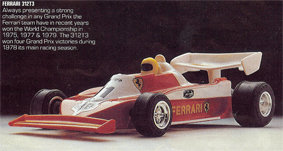 Car Year Details
(4)
Sets Included In
(2)
Service Sheets
(2)
| SHEET NO | SERVICE SHEET NAME | ISSUE DATE |
| --- | --- | --- |
| 102C | C.126 Lotus 77, C.131 March Ford 711, C.134 Elf Renault Turbo RS-01, C.135 Elf Tyrrell 008, C.136 Ferrari 312 T3, C.137 Ligier JS11, C.138 Saudia Leyland Williams FW07B | February 1981 |
| 102C (Back) | C.126 Lotus 77, C.131 March Ford 711, C.134 Elf Renault Turbo RS-01, C.135 Elf Tyrrell 008, C.136 Ferrari 312 T3, C.137 Ligier JS11, C.138 Saudia Leyland Williams FW07B - Back | February 1981 |
Ferrari 312T3 on ebay UK

Search For: 'scalextric (136,ferrari 312)'
Ending Soonest
ITEM
DETAILS
Greenhills Scalextric Ferrari 312T Rear axle and wheels chrome P1803 ##x - Fixed Price

Location: Wetherby, United Kingdom
Condition: Used
Current Price: £4.39 GBP
Time Left: 0d 14h 59m 12s
Bids: 0
scalextric car Ferrari 312 T - N/A

Location: East Molesey, United Kingdom
Condition: Used
Current Price: £15.00 GBP
Time Left: 0d 20h 47m 18s
Bids: 0
Scalextric C25 Ferrari 312 engine detail, original. - Auction

Location: Westerham, United Kingdom
Condition: Used
Current Price: £5.99 GBP
Time Left: 1d 12h 57m 44s
Bids: 0
Scalextric 1980s Retro Cars/Parts - C136 Ferrari 312 T3 & Ford Capri 3L Mk.3 - Auction

Location: Colchester, United Kingdom
Condition: Used
Current Price: £17.95 GBP
Time Left: 1d 20h 42m 8s
Bids: 0
Old Ferrari 312 B2 Scalextric Car Boxed Spare Repair - Auction

Location: Hillsborough, United Kingdom
Condition: Used
Current Price: £9.99 GBP
Time Left: 1d 21h 47m 36s
Bids: 1
Scalextric C025 FERRARI 312B in original case. - Auction

Location: Edinburgh, United Kingdom
Condition: Used
Current Price: £31.00 GBP
Time Left: 1d 22h 13m 27s
Bids: 0
scalextric C124 Vintage Ferrari 312T - Auction

Location: Dagenham, United Kingdom
Condition: Used
Current Price: £15.00 GBP
Time Left: 1d 22h 46m 19s
Bids: 0
SCALEXTRIC C350 Ferrari 312 T3 Gold Star F1 - RARE CAR BOXED - Car Mint - Auction

Location: Southampton, United Kingdom
Condition: New
Current Price: £27.00 GBP
Time Left: 1d 23h 41m 9s
Bids: 0
Vintage Scalextric C025 Ferrari 312 B - 2 Red - M Andretti - Very good condition - Auction

Location: Southampton, United Kingdom
Condition: Used
Current Price: £29.99 GBP
Time Left: 1d 23h 49m 47s
Bids: 0
Polistil Ferrari 312 Slot Car. Scalextric Compatible - good running order - Auction

Location: Wallington, United Kingdom
Condition: Used
Current Price: £18.00 GBP
Time Left: 2d 10h 42m 7s
Bids: 0
DD Slots Scalextric Ferrari 312BT No.6 C124 Body Shell - Used - S1307 - Fixed Price

Location: Wetherby, United Kingdom
Condition: Used
Current Price: £6.50 GBP
Time Left: 2d 11h 31m 4s
Bids: 0
Vintage Airfix MRRC Ferrari 312T Nicki Lauda Slot Car Decal Scalextric NOS - Fixed Price

Location: Ashbourne, United Kingdom
Condition: New
Current Price: £8.50 GBP
Time Left: 2d 17h 53m 2s
Bids: 0
SCALEXTRIC Slot Car C377 L5184 Ferrari 312T3 Tyler Autos + Renault RS01 Indy Car - Fixed Price

Location: King's Lynn, United Kingdom
Condition: Used
Current Price: £30.95 GBP
Time Left: 2d 22h 29m 25s
Bids: 0
DD Slots Scalextric Ferrari 312T No.6 C124 Body Shell - Used - S1247 - Fixed Price

Location: Wetherby, United Kingdom
Condition: Used
Current Price: £4.00 GBP
Time Left: 3d 13h 43m 25s
Bids: 0
Greenhills Scalextric Ferrari 312 T3 Rear Tyre Pair - Used - P5875 - Fixed Price

Location: Wetherby, United Kingdom
Condition: Used
Current Price: £3.84 GBP
Time Left: 3d 14h 35m 7s
Bids: 0
Greenhills Scalextric Ferrari 312 T3 Screw Set x 4 - Used - P5877 - Fixed Price

Location: Wetherby, United Kingdom
Condition: Used
Current Price: £3.29 GBP
Time Left: 3d 14h 35m 13s
Bids: 0
Slot Car Ferrari 312 T4, 1979, Scalextric, Slot Car Company, Very Rare - Auction

Location: Buckfastleigh, United Kingdom
Condition: Used
Current Price: £36.00 GBP
Time Left: 3d 23h 2m 46s
Bids: 4
SCALEXTRIC C136 RENAULT LAGUNA BTCC - Auction

Location: Wrexham, United Kingdom
Condition: Used
Current Price: £12.99 GBP
Time Left: 3d 23h 7m 58s
Bids: 0
Scalextric C2558a - McLaren M23 & Ferrari 312T2 'Hunt & Lauda ' - Brand New. - Fixed Price

Location: Bristol, United Kingdom
Condition: New
Current Price: £309.95 GBP
Time Left: 4d 18h 31m 24s
Bids: 0
Greenhills Scalextric Ferrari 312T Qudos Front Axle & Wheels C228 - Used - P4016 - Fixed Price

Location: Wetherby, United Kingdom
Condition: Used
Current Price: £3.84 GBP
Time Left: 4d 19h 47m 46s
Bids: 0
Greenhills Scalextric Ferrari 312 B2 C25 Engine Block and Rear Springs - Used... - Fixed Price

Location: Wetherby, United Kingdom
Condition: Used
Current Price: £4.39 GBP
Time Left: 4d 19h 47m 51s
Bids: 0
Scalextric Cars x2,1987 vintage C0124/CO357 ferrari 312T RED/ No7 YELLOW - Fixed Price

Location: Hull, United Kingdom
Condition: Used
Current Price: £11.95 GBP
Time Left: 4d 21h 7m 54s
Bids: 0
Scalextric Ferrari 312T3 - Fixed Price

Location: Bristol, United Kingdom
Condition: Used
Current Price: £18.00 GBP
Time Left: 5d 18h 11m 4s
Bids: 0
SCALEXTRIC FERRARI 312 T3 F1 NO11 BOXED LOOKS LITTLE USED SUPERB EXAMPLE!! - Fixed Price

Location: Birmingham, United Kingdom
Condition: Used
Current Price: £42.00 GBP
Time Left: 5d 20h 59m 17s
Bids: 0
Greenhills Scalextric Ferrari 312T Quodos No.15 C147 Front Axle & Wheels - Us... - Fixed Price

Location: Wetherby, United Kingdom
Condition: Used
Current Price: £4.22 GBP
Time Left: 6d 13h 35m 11s
Bids: 0
Greenhills Scalextric Ferrari 312 B2 Front Tyre Pair C25 - Used - P4913 - Fixed Price

Location: Wetherby, United Kingdom
Condition: Used
Current Price: £3.84 GBP
Time Left: 7d 15h 13m 58s
Bids: 0
Scalextric Ferrari 312T Stone Avionics no.4 Bodyshell C386 Spares or Repair - Fixed Price

Location: Haywards Heath, United Kingdom
Condition: Used
Current Price: £3.99 GBP
Time Left: 8d 0h 18m 45s
Bids: 0
Scalextric C136 Ferrari 312T3 F1 #11 Exc/B - Store Inventory

Location: Newark, United Kingdom
Condition: Used
Current Price: £25.00 GBP
Time Left: 8d 12h 57m 39s
Bids: 0
SCALEXTRIC C377 FERRARI 312 T TYLER AUTOS spares or repairs - Fixed Price

Location: Huddersfield, United Kingdom
Condition: Used
Current Price: £9.00 GBP
Time Left: 8d 15h 28m 17s
Bids: 0
Greenhills Scalextric Ferrari 312 T3 C136 Front Axle & Wheels - Used - P4562 - Fixed Price

Location: Wetherby, United Kingdom
Condition: Used
Current Price: £3.84 GBP
Time Left: 8d 15h 43m 29s
Bids: 0
Vintage Scalextric C.124 Ferrari 312T Slot Car - Fixed Price

Location: Hull, United Kingdom
Condition: Used
Current Price: £19.99 GBP
Time Left: 8d 15h 49m 45s
Bids: 0
Scalextric PAIR of F1 Cars White Ferrari 312 Qudos # 15 and McLaren MP4 # 5 - Auction

Location: Edinburgh, United Kingdom
Condition: Used
Current Price: £12.00 GBP
Time Left: 8d 17h 8m 47s
Bids: 0
Greenhills Scalextric Ferrari 312 B2 Engine, Brackets & Type 21 Guide C25 - U... - Fixed Price

Location: Wetherby, United Kingdom
Condition: Used
Current Price: £10.99 GBP
Time Left: 8d 19h 26m 41s
Bids: 0
NEW Genuine Scalextric Spares W9424 Wing Mirrors For Ferrari 312T F1 Formula 1 - Store Inventory

Location: Birchington, United Kingdom
Condition: New
Current Price: £2.49 GBP
Time Left: 8d 20h 2m 17s
Bids: 0
Scalextric Car,1970/80s vintage C124 FERRARI 312 T Red slotcar scalex with box - Fixed Price

Location: Hull, United Kingdom
Condition: Used
Current Price: £10.95 GBP
Time Left: 8d 20h 11m 19s
Bids: 0
Greenhills Scalextric Ferrari 312T Yellow Air Box - Used - P5908 - Fixed Price

Location: Wetherby, United Kingdom
Condition: Used
Current Price: £4.39 GBP
Time Left: 8d 22h 57m 33s
Bids: 0
1/32 Scale Decals for Scalextric Ferrari 312B2 - 2 Variations - Fixed Price

Location: Fareham, United Kingdom
Condition: New
Current Price: £4.00 GBP
Time Left: 9d 12h 44m 8s
Bids: 0
1/32 Scale Decals for Scalextric Ferrari 312B2 - 2 Variations - Fixed Price

Location: Fareham, United Kingdom
Condition: New
Current Price: £4.00 GBP
Time Left: 9d 12h 44m 8s
Bids: 0
1/32 Scale Decals for Scalextric Ferrari 312B2 - 2 Variations - Fixed Price

Location: Fareham, United Kingdom
Condition: New
Current Price: £4.00 GBP
Time Left: 9d 12h 44m 8s
Bids: 0
VINTAGE SCALEXTRIC FERRARI 312B2 C025 BOXED - Auction

Location: Tring, United Kingdom
Condition: Used
Current Price: £17.00 GBP
Time Left: 9d 21h 43m 32s
Bids: 0
Like Scalextric: MMK (Le Mans film) Ferrari 312P #18 LM '69 new - see close-ups! - Auction

Location: Spilsby, United Kingdom
Condition: New
Current Price: £65.00 GBP
Time Left: 9d 21h 51m 45s
Bids: 0
Scalextric C.136 Ferrari 312 T3 - For Spares/Repairs - Untested. - Fixed Price

Location: Southend-on-Sea, United Kingdom
Condition: Used
Current Price: £7.00 GBP
Time Left: 10d 16h 57m 30s
Bids: 0
Greenhills Scalextric Ferrari 312 B2 C25 Front Axle & Wheels Used - P2757 - Fixed Price

Location: Wetherby, United Kingdom
Condition: Used
Current Price: £4.39 GBP
Time Left: 11d 0h 21m 51s
Bids: 0
Greenhills Scalextric Ferrari 312T Qudos No.15 Front Axle & Wheels C147 - Use... - Fixed Price

Location: Wetherby, United Kingdom
Condition: Used
Current Price: £3.84 GBP
Time Left: 11d 21h 31m 54s
Bids: 0
Stunning Scalextric Pre Production Ferrari 312 - Clear with Red Spoiler - Fixed Price

Location: Leeds, United Kingdom
Condition: Used
Current Price: £450.00 GBP
Time Left: 11d 21h 54m 37s
Bids: 0
Stunning Scalextric Pre Production Printing Proof for Ferrari 312 Service Sheet - Fixed Price

Location: Leeds, United Kingdom
Condition: Used
Current Price: £90.00 GBP
Time Left: 11d 21h 54m 37s
Bids: 0
Greenhills Scalextric Ferrari 312 B2 C25 Rear Tyre Pair Used - P2760 - Fixed Price

Location: Wetherby, United Kingdom
Condition: Used
Current Price: £4.94 GBP
Time Left: 11d 23h 35m 40s
Bids: 0
Greenhills Scalextric Ferrari 312 B2 C25 Rear Axle & Wheels Used - P2758 - Fixed Price

Location: Wetherby, United Kingdom
Condition: Used
Current Price: £4.39 GBP
Time Left: 12d 22h 54m 5s
Bids: 0
PAIR SCALEXTRIC FERRARI 312T'S RED AND BLACK - Fixed Price

Location: United Kingdom
Condition: Used
Current Price: £22.50 GBP
Time Left: 12d 23h 49m 6s
Bids: 0
PAIR SCALEXTRIC FERRARI 312T'S STONE AVIONICS AND BILSTEIN - Fixed Price

Location: United Kingdom
Condition: Used
Current Price: £22.50 GBP
Time Left: 13d 0h 1m 51s
Bids: 0
SCALEXTRIC C377 FERRARI 312 T TYLER AUTOS - Fixed Price

Location: Retford, United Kingdom
Condition: Used
Current Price: £6.50 GBP
Time Left: 13d 14h 7m 45s
Bids: 0
Scalextric Ferrari 312 T3 "Michelin" - V/G Condition Boxed Used Ref C136 - Fixed Price

Location: United Kingdom
Condition: Used
Current Price: £21.99 GBP
Time Left: 13d 19h 42m 52s
Bids: 0
KF01C - Ferrari 312 PB **Watkins Glen 72** - Scalextric compatible - Brand New. - Fixed Price

Location: Bristol, United Kingdom
Condition: New
Current Price: £72.95 GBP
Time Left: 14d 23h 9m 40s
Bids: 0
Greenhills Scalextric Ferrari 312T High Tech Front Axle & Wheels C437 - Used ... - Fixed Price

Location: Wetherby, United Kingdom
Condition: Used
Current Price: £3.84 GBP
Time Left: 15d 18h 0m 28s
Bids: 0
Greenhills Scalextric Ferrari 312 T3 Front Axle & Wheels Chrome C136 - Used -... - Fixed Price

Location: Wetherby, United Kingdom
Condition: Used
Current Price: £3.84 GBP
Time Left: 16d 10h 32m 29s
Bids: 0
Greenhills Scalextric Ferrari 312T Stone Avionics C386 Front Axle & Wheels Us... - Fixed Price

Location: Wetherby, United Kingdom
Condition: Used
Current Price: £3.84 GBP
Time Left: 16d 11h 19m 58s
Bids: 0
Greenhills Scalextric Ferrari 312T Stone Avionics C386 Rear Axle & Wheels Use... - Fixed Price

Location: Wetherby, United Kingdom
Condition: Used
Current Price: £4.39 GBP
Time Left: 16d 11h 20m 3s
Bids: 0
Greenhills Scalextric Ferrari 312 T3 No 11bodyshell C136 - Used - S2155 - Fixed Price

Location: Wetherby, United Kingdom
Condition: Used
Current Price: £8.79 GBP
Time Left: 16d 14h 49m 14s
Bids: 0
SCALEXTRIC FERRARI 312 - BOXED (C0136) - Fixed Price

Location: Welwyn Garden City, United Kingdom
Condition: Used
Current Price: £25.00 GBP
Time Left: 17d 17h 37m 24s
Bids: 0
Slot.it - Ferrari 312 PB '1st Monza 72' - *Scalextric Compatible* - Brand New. - Fixed Price

Location: Bristol, United Kingdom
Condition: New
Current Price: £79.95 GBP
Time Left: 17d 20h 26m 14s
Bids: 0
Vintage SCALEXTRIC C377 L5184 Formula 2 Slot Car Ferrari 312T3 Tyler Autos BOXED - Fixed Price

Location: Ipswich, United Kingdom
Condition: Used
Current Price: £29.99 GBP
Time Left: 18d 18h 58m 58s
Bids: 0
Scalextric rare vintage C124 Ferrari 312 F1 car green air box Superb spares - Store Inventory

Location: Sandbach, United Kingdom
Condition: Used
Current Price: £2.99 GBP
Time Left: 19d 0h 7m 49s
Bids: 0
DD Slots Scalextric Ferrari 312T No.11 C136 Body Shell – Used –S2187 - Fixed Price

Location: Wetherby, United Kingdom
Condition: Used
Current Price: £6.00 GBP
Time Left: 20d 12h 13m 33s
Bids: 0
1/32 Scale Decals for Scalextric Ferrari 312T, 312T3 - 4 Variations **UPDATED** - Fixed Price

Location: Fareham, United Kingdom
Condition: New
Current Price: £4.00 GBP
Time Left: 20d 16h 21m 10s
Bids: 0
1/32 Scale Decals for Scalextric Ferrari 312T, 312T3 - 4 Variations **UPDATED** - Fixed Price

Location: Fareham, United Kingdom
Condition: New
Current Price: £4.00 GBP
Time Left: 20d 16h 21m 10s
Bids: 0
1/32 Scale Decals for Scalextric Ferrari 312T, 312T3 - 4 Variations **UPDATED** - Fixed Price

Location: Fareham, United Kingdom
Condition: New
Current Price: £4.00 GBP
Time Left: 20d 16h 21m 10s
Bids: 0
1/32 Scale Decals for Scalextric Ferrari 312T, 312T3 - 4 Variations **UPDATED** - Fixed Price

Location: Fareham, United Kingdom
Condition: New
Current Price: £4.00 GBP
Time Left: 20d 16h 21m 10s
Bids: 0
1/32 Scale Decals for Scalextric Ferrari 312T, 312T3 - 4 Variations **UPDATED** - Fixed Price

Location: Fareham, United Kingdom
Condition: New
Current Price: £4.00 GBP
Time Left: 20d 16h 21m 10s
Bids: 0
2 Scalextric F1 SLOT CARS C135 TYRRELL ELF 008 +C136 FERRARI 312 T3 1good1issues - Store Inventory

Location: Southampton, United Kingdom
Condition: Used
Current Price: £34.99 GBP
Time Left: 21d 12h 18m 18s
Bids: 0
Vintage '80s SCALEXTRIC C377 L5184 Formula 2 Slot Car Ferrari 312T3 Tyler Autos - Store Inventory

Location: Selkirk, United Kingdom
Condition: Used
Current Price: £25.49 GBP
Time Left: 21d 17h 37m 39s
Bids: 0
Scalextric, Ferrari 312 T2, C2799, 1976 Clay Regazzoni, Very Rare, Slot Car - Fixed Price

Location: Buckfastleigh, United Kingdom
Condition:
Current Price: £79.00 GBP
Time Left: 22d 16h 50m 0s
Bids: 0
C025 Scalextric French box Ferrari 312, as new mint boxed - Fixed Price

Location: Warrington, United Kingdom
Condition: Used
Current Price: £60.00 GBP
Time Left: 22d 18h 4m 25s
Bids: 0
Greenhills Scalextric Ferrari 312 B2 Screws C25 - USED - P4912 - Fixed Price

Location: Wetherby, United Kingdom
Condition: Used
Current Price: £3.29 GBP
Time Left: 23d 0h 11m 4s
Bids: 0
Scalextric C136 Ferrari 312 T3 new old stock - Fixed Price

Location: Warrington, United Kingdom
Condition: Used
Current Price: £65.00 GBP
Time Left: 24d 17h 19m 49s
Bids: 0
Greenhills Scalextric Ferrari 312T3 Tyler Autos C377 Front Axle & Wheels Used... - Fixed Price

Location: Wetherby, United Kingdom
Condition: Used
Current Price: £4.39 GBP
Time Left: 25d 15h 44m 31s
Bids: 0
Vintage Scalextric Ferrari 312T F1 with Box - Fixed Price

Location: Tarporley, United Kingdom
Condition: Used
Current Price: £20.00 GBP
Time Left: 25d 18h 15m 32s
Bids: 0
Greenhills Scalextric Ferrari 312T Front Axle & Wheels C437 - Used - P4069 - Fixed Price

Location: Wetherby, United Kingdom
Condition: Used
Current Price: £3.84 GBP
Time Left: 25d 21h 16m 55s
Bids: 0
Scalextric Ferrari see listing for details - Fixed Price

Location: Romney Marsh, United Kingdom
Condition: Used
Current Price: £25.00 GBP
Time Left: 27d 10h 5m 55s
Bids: 0
Greenhills Scalextric Ferrari 312T High Tech Airbox - Used - P5484 - Fixed Price

Location: Wetherby, United Kingdom
Condition: Used
Current Price: £4.39 GBP
Time Left: 28d 12h 50m 46s
Bids: 0
SCALEXTRIC C136 RENAULT LAGUNA IN NEAR MINT CONDITION FRONT AND REAR LIGHTS - Fixed Price

Location: Manchester, United Kingdom
Condition: Used
Current Price: £19.99 GBP
Time Left: 28d 16h 32m 50s
Bids: 0
Scalextric Car 1980s vintage C0377 FERRARI 312 T2 TYLER Blue Excellent Rare - Fixed Price

Location: Hull, United Kingdom
Condition: Used
Current Price: £12.95 GBP
Time Left: 28d 21h 11m 34s
Bids: 0
Scalextric Car ,1987 vintage C0228 ferrari 312T QUDOS white/Yellow No 15 good - Fixed Price

Location: Hull, United Kingdom
Condition: Used
Current Price: £9.95 GBP
Time Left: 28d 21h 50m 23s
Bids: 0
Greenhills Scalextric Ferrari 312T Stone Avionics No 4 C386 - Used - 21418 - Fixed Price

Location: Wetherby, United Kingdom
Condition: Used
Current Price: £13.99 GBP
Time Left: 29d 0h 49m 47s
Bids: 0
Scalextric C147 Ferrari 312T Qudos Yellow / Green EXCELLENT Unboxed - Store Inventory

Location: Redcar, United Kingdom
Condition: Used
Current Price: £10.00 GBP
Time Left: 29d 15h 23m 20s
Bids: 0
Scalextric yellow Qudos Ferrari 312T F1 car Good Runner / Good Tyres C147 - Fixed Price

Location: Bristol, United Kingdom
Condition: Used
Current Price: £15.00 GBP
Time Left: 29d 18h 0m 26s
Bids: 0
Scalextric red Ferrari 312T F1 car Good Runner / Good Tyres C124 - Fixed Price

Location: Bristol, United Kingdom
Condition: Used
Current Price: £15.00 GBP
Time Left: 29d 18h 4m 31s
Bids: 0
Ferrari 312T3 on ebay US

Search For: 'scalextric (136,ferrari 312)'
Ending Soonest
Ferrari 312T3 on ebay Australia

Search For: 'scalextric (136,ferrari 312)'
Ending Soonest
ITEM
DETAILS
Scalextric C124 Ferrari 312T - Auction

Location: Warragul, VIC, Australia
Condition: Used
Current Price: $25.00 AUD
Time Left: 2d 9h 42m 55s
Bids: 0